April • May • June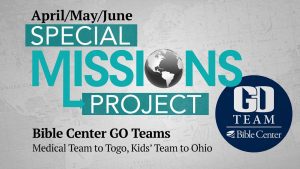 The Special Missions Project for April-June will assist our  Medical GO Teams to Togo and our Kids GO Team to Ohio.
The Togo team is a medical team which will assist the staff at Hôpital Baptiste Biblique (HBB). HBB is a hospital run by our global partners, Michael & Cheryl Gayle.
To support summer GO Teams, you may: 
Give online (choose Special Missions), or
Mark your check or envelope Special Missions Project, and place it in the offering or in a Response Box.