Monday, June 12 • 6:30 PM • Room 2104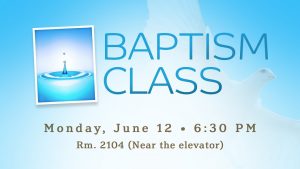 If you are interested in being baptized, we ask that you attend our Baptism class. Please come prepared with your salvation testimony written out and bring a current photo or be prepared to have one taken.
The next baptism service will be held on Sunday, July 16.
If you have any questions about what it means to be baptized, contact Pastor Thompson or check the "Baptism" box on the Connection Card in the bulletin.
Save