Sunday, June 4 • 6 PM • Worship Center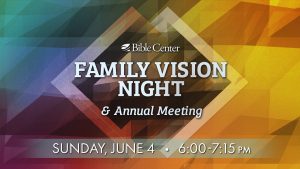 If you call Bible Center your church home then you're invited to the next Family Vision Night & Annual Meeting! A few times per year, we host a Family Vision Night to keep everyone updated on the latest church news. Please join us in celebrating what God has done in the church and around the community!
Dress casually–and bring the kids!
Find out about upcoming staff transitions
Learn about some good financial news from Pastor Lee Walker
Submit questions: Our pastoral panel will answer pre-submitted questions about any area of their ministries. Please fill out a Connection Card or submit a question via the website (BibleCenterChurch.com/ask).
And socialize! After the meeting, there will be an ice cream social—an excellent way to fellowship and get to know others in the church!
On the same evening, a Financial Details Meeting will be held from 5-5:30 PM in Room 3101 for anyone who would like detailed information on the church budget (not just the overview). Anyone in the church family is invited to attend this meeting!