Pastor's Letter
Dear Friends,
Welcome to Bible Center! I'm glad you're here.
At the end of both services we'll enjoy communion, a time when we pass out small cups of bread and juice and invite all Christians to partake together.
Have you ever wondered why we practice communion? Curiosity is healthy as long as it drives us to the Bible for answers.
First, Jesus told us to do it in his remembrance. On the night before He was crucified, Luke records, "He took bread, gave thanks and broke it, and gave it to them, saying, 'This is my body given for you; do this in remembrance of me.' In the same way, after the supper he took the cup, saying, 'This cup is the new covenant in my blood, which is poured out for you'" (Luke 20:19-20).
Furthermore, communion reminds today's church that we are connected to yesterday's church. (It even points back to the ancient Jewish Passover celebration.) God has shown mercy and salvation to His people for millennia! We are a small (but significant) generation in a long lineage of grace. As you enjoy communion today, try imagining a future banquet when believers of all ages are reunited in the new heavens and new earth.
Finally, communion reminds us that the Lord is still with us today. About communion, C. S. Lewis wrote, "Here a Hand from the hidden country touches not only my soul but my body."
May God encourage you through today's communion service!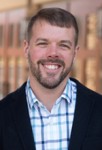 For the City,
Matt Friend • Senior Pastor
@PastorMattBCC
Next Sunday's Message:
Is the Bible full of errors?
Psalm 19:1-14
Announcements
Got Questions?
If you're new, have questions, or need help, hosts and hostesses are available. Look for them standing under the (?) sign at the Info Desk. They'll be happy to assist you!
April-June Special Missions Project
Gifts will go towards assisting our GO Teams to Togo and Ohio to offset travel expenses. Please mark your gift "Special Missions."
Baptism Class
Anyone interested in being baptized should plan to attend our Baptism class tomorrow, Monday, June 12. We will meet in Room 2104 at 6:30 PM. Please come prepared with your salvation testimony written out, and bring a current photo or be prepared to have one taken. The next baptism service will be Sunday, July 16.
Food Items Needed For Crossroads
Sign up on BC Central or contact Sheri Skidmore to donate food items for the Union Mission Crossroads Dinner & Gospel Service. The meal will be prepared on Thursday, June 22, solely from the food collected here. All items must be received by the end of June 21. Volunteers are also needed to prepare and to serve.
The Bible Center App
Use the Bible Center app to look up or register for an event, submit a prayer request, or let us know you visited. Download it from your usual app store or go to BibleCenterChurch.com/app.
Girlfriends Grow 2gether Fall Event Pre-Sale
You won't want to miss this Fall's women's event, Heartmade Worship! Take advantage of the special price ($10 off the $50 regular ticket price—online or on the app) during our pre-sale. Plus, the first 250 people who buy tickets will get a free copy of Made Well by Jenny Simmons, singer, author, and this year's guest speaker. The conference (Sept. 15 & 16) will feature music by the Bible Center GO Team Band. For questions, contact Paula Toney.
Vacation Bible School: Galactic Starveyors
(Colossians 1:15-16)
July 9-13 • 6-8 PM • Children age 4 to graduated 5th graders • As kids focus their telescopes on the marvelous sky, they will discover that the God who created everything up there wants a personal relationship with them! This year's motto: Searching the visible, discovering the invisible. Children and volunteers can register now. For questions, call or email Pastor Richard or Pam Howie.
Vacation Bible School Volunteers Needed
If you would like to serve for only a short-term in a super fun environment, then register for VBS! Sign up now to help with registration, crafts, or in a classroom. Middle school-age students through adults are welcome! Register on or before June 25 to reserve your spot and a VBS tee ($5). Register online to volunteer. For more information, contact Pastor Thompson or Pam Howie.
BCS Summer Yard Sale: Save Your Spot!
Reserve your table for Bible Center School's 2nd Annual Yard Sale (July 8)! De-clutter your home while having a great time! Reserve a table and 8 sq. ft. of floor space for $25. Proceeds from table rentals benefit the school. Payment is by cash or check (made out to Bible Center School). Email Jessica Bacchus to participate.
BCS Summer Craft & Vendor Show
Crafters and vendors…reserve your booth now! For information, go to BibleCenterSchool.com/craftshow or facebook.com/bcscraftshow.
RAM Center Open Gym Hours
Thursdays • 8-10 PM • Bible Center School's RAM Center has open gym hours for basketball play for men 18+ years old. Contact Dick Riffe for more information.