Pastor's Letter
Each year, our leaders encourage my family and me to get away for a few weekends. Today is one of those Sundays. Even though my job is to be your Senior Pastor, Sarah and I consider Bible Center to be part of our family. We miss you when we're away.
Join us again next Sunday to hear guest speaker, Pastor Shawn Thornton. Shawn was our Senior Pastor from 1997-2008, before being called to Calvary Community Church in Westlake Village, CA. God used him to accomplish much during his 11-year tenure here, including the building of our Southridge Campus. I hope you'll join us again next Sunday, spread the word that Shawn will be here, and bring a friend.
I'm also confident you'll be blessed by today's preacher–one of our staff pastors, Chad Cowan. As the Pastor of Care, Chad's goal is to make sure everyone receives a pastoral touch, especially when they need some type of care. Chad spends most days in our area hospitals or making other visits.
Why am I glad to have Chad speaking today? Because he's one of the most gifted teaching pastors I know. The first time I heard him, I told Sarah, "Outside of seminary, I've only met a few speakers who overwhelmingly demonstrate the spiritual gift of teaching. Chad is one of those guys." His love for God, the Bible, his family, and this church will be evident.
May today's service encourage your heart!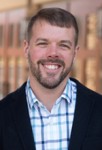 For the City,
Matt Friend • Senior Pastor
@PastorMattBCC
Next Sunday's Message:
How Can the Bible Help Me Daily?
Announcements
Service Time Change
Beginning Sunday, August 6th, the 10:45 AM service start time is changing to 10:30 AM. The 9 AM service will remain the same.
Our pastors and staff have shortened the gap between worship services to encourage participation in Adult Bible Fellowships, serving and student ministry. Changing the second  service's start time encourages people to stay and enjoy the activities and opportunities available throughout the morning. And because the duration of our worship services will be shortened a bit as well, everyone will still have 25 minutes between services. If you currently serve, please note that second service volunteers should arrive at their locations 15 minutes earlier. For more information, go to BibleCenterChurch.com/time.
Got Questions?
If you're new, have questions, or need help, hosts and hostesses are available. Look for them standing under the (?) sign at the Info Desk. They'll be happy to assist you!
April-June Special Missions Project
Gifts will go towards assisting the Bible Center GO Teams to Togo and Ohio. Funds will be used to offset travel expenses. Please mark your gift "Special Missions."
End-of-Year Giving
Traditionally the two largest giving months at Bible Center are June and December. Since June is the end of our financial year, we normally keep the congregation informed as to the final amount needed to end in the black with all bills paid. The congregation always responds and, thus, we budget with that in mind. This year the expectation for June is: $336,000. The Lord has been good to us! Let's join together to make sure we hit our marks this year as well–ending the year with all bills paid and a little left over.
BCS Summer Yard Sale
Saturday, July 8 • 8 AM-2 PM • Do you love a brag-worthy find? If so, then come to the Summer Yard Sale! Have a fun time and see something new every year! If you are interested in setting up a table, email Jessica Bacchus.
Men's Fellowship Breakfast
Tuesday, July 11 • 7:30 AM • Shoney's • Dutch treat • Because the first Tuesday of July is a holiday, the breakfast has been rescheduled for the 11th. All men are invited!
BCS Summer Craft & Vendor Show
Saturday, July 15 • 10 AM-4 PM • With 40 booths to visit, shop some great merchandise–many are one-of-a-kind! Invite your friends, like our Facebook page and bring the whole family! To register as a vendor, go to BibleCenterSchool.com/craftshow.
Baptism
The next baptism service will be Sunday, July 16. Contact Pastor Richard or any other pastor if you are interested in being baptized or have questions about what baptism is.
Save the Date: All-Church BBQ Picnic
August 2 • 6:30 PM • Come join us for food, live music from Bible Center Band, and games! Everyone's invited!
RAM Center Open Gym Hours
Thursdays • 8-10 PM • Bible Center School's RAM Center has open gym hours for basketball play for men 18+ years old. For more information, contact Dick Riffe.
The Bible Center App
Use the Bible Center app to look up or register for an event, submit a prayer request, or let us know you visited. Download it from your usual app store or go to BibleCenterChurch.com/app.
Notes of Thanks
Bible Center now has a page where anyone may leave a thank you note to the church. To write or view messages, go to BibleCenterChurch.com/thanks.