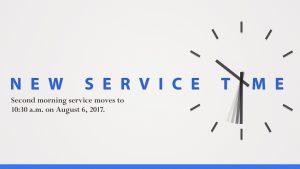 Please mark your calendars for Sunday, August 6th. Our 9 AM service time will remain the same; however, the 10:45 AM service time is changing to 10:30 AM.
Our pastors and staff have made the adjustment to shorten the gap between worship services in order to encourage…
Adult Bible Fellowship participation – Our new Pastor of Group Life, Mike Graham, begins July 1 and is eager to multiply our Adult Bible Fellowships so that all classrooms are eventually used on Sunday mornings and more people have a place to belong.
Serving participation – Our Early Childhood Director, Michelle Thompson, is particularly thankful to make the 9 AM serving hour more enjoyable, providing "2nd shift" relief much earlier with the 10:30 AM servant team.
Student ministry participation – We are heavily investing in Student Ministry this summer in order to minister to more middle and high schoolers on Sundays. Changing the serving time from 10:45 to 10:30 AM encourages them to stay and enjoy the activities in the new Student Ministry spaces downstairs.
As with all of life, change brings challenge. For instance, we are aware of potential parking challenges but are planning to adjust accordingly. Our Executive Pastor, Lee Walker, reminds us that the time between services is not new for Bible Center. Prior to moving from our old building (1111 Oakhurst Drive) in 2008, our services began 90 minutes apart.
Now is a great time time to jump in and serve with one of our Sunday morning teams! Your service as a greeter, coffee host, children's teacher, children's assistant, student ministry leader, nursery worker, musician, parking lot bus driver, usher or parking attendant could be the key to someone's enjoyable Sunday experience.
To help with this transition, let me encourage you to reach out to our Volunteer Coordinator, Christy Corbin.
For the city,
Matt Friend • Senior Pastor