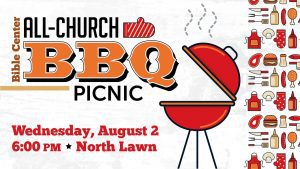 Wednesday, August 2 • 6 PM
It's time for a picnic! Everyone in the church is invited for a delicious BBQ, potluck, live music from Bible Center Band, and lots of games! Parents may want to bring a towel and a change of clothes for kids who plan to play in The Splash Zone!
Want to help make this summer's church picnic the best ever?
What to Bring:
Church family will bring, according to last name:
A – J
Side Dishes (coleslaw, potato salad, pasta salad, mac-n-cheese, green or baked beans, etc.)
K – P
Dessert (there will be a designated section for sugar-free and gluten-free)
Q – Z
One case of water (at least 24 bottles) & one 12-pk of canned soda (please drop off at the Mission Wall by Sunday, July 30)
The church will provide BBQ & buns and all paper products.
How to Help:
Students and adults can…
Assist at the food drop-off station
Help with traffic flow and parking.
Get soaked at The Splash Zone while kids have a blast.
Volunteers, plan to arrive at 5:15 PM.
Sign up to volunteer: