Pastor's Letter
Dear Friends,
Welcome to Bible Center!
I hope you'll join me here this Wednesday (6 PM) for our annual BBQ Picnic. The details are on the back of this bulletin; however, imagine the evening with me…
As you meander up the driveway, the smell of Ridge View BBQ captivates your attention. Your eyes dart to what will soon be an explosion of water balloons on the south lawn. Small children are running through The Splash Zone and students are launching themselves on a 75-foot slip & slide down the hill.
Before parking, you stop at the Food Drop-off. A team unloads your dish with the hustle of a NASCAR pit crew.
As you walk to the north side of the building (to the picnic tables), you see your pastors challenging anyone and everyone to games of corn hole and putt-putt. Your ears dance with the sounds of laughter, the giggles of children, pop cans cracking open, and the band playing in the background.
While walking toward the food tent, you think, "Short lines! No waiting! Awesome!" You engineer your plate to fit all your favorite foods: BBQ, baked beans, a brownie, watermelon, green beans, another brownie, potato casserole, and… one more brownie.
With the warm plate resting on your lap, several folks introduce themselves. You join the ranks of adults who simply want to relax, enjoy a good meal, listen to the live concert, and avoid the t-shirt rockets being launched from the roof.
Sarah and I will be right there with you. Join us for a great evening!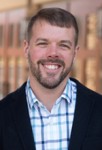 For the City,
Matt Friend • Senior Pastor
@PastorMattBCC
Next Sunday's Message:
Why is Bible Center in Charleston?
Ephesians 3
Announcements
Got Questions?
If you're new or have any questions, stop by the Info Desk anytime! Our volunteers would be happy to assist you.
Come By… 9-to-5!
We want you to view the church campus as a regular part of your life, so come by! The Bible Center building is open weekdays, 9 AM-5 PM. You'll find open doors and smiling faces.
Relax in the Gathering Space, use the Prayer Room, or enjoy the new Library.
Bike, walk, or jog through the outdoor areas God has provided us.
Men's Breakfast
Tuesday, August 1 • 7:30 AM • Shoney's • Dutch treat • All men of the church are invited!
Service Time Change
Beginning next Sunday, the 10:45 AM service start time is changing to 10:30 AM. The 9 AM service will remain the same. Our pastors and staff have shortened the gap between worship services to encourage participation in Adult Bible Fellowships, serving and student ministry. If you currently serve, please note that second service volunteers should arrive at their locations 15 minutes earlier.
GEMS Luncheon (A New Ministry for Widows)
Saturday, August 12 • 12 PM •  As fellow believers, we are called by God to care especially for those who are hurting and feel alone. It is with this in mind that Bible Center launched GEMS, a ministry to  widows. Join us for our kick-off luncheon by registering on the app, online or on the Connection Card.
Hearts on Fire Conference (Middle/High School)
August 18-19 • Cost: $50 • Meet at the church at 4:30 PM • You are invited to attend a local two-day conference, Hearts on Fire. They passionately reach out to believers by encouraging them in their walk with the Lord while challenging them to walk in the truth and integrity of Christ. To get the full conference experience, students will be staying at youth leaders' homes on Friday night. Register online or through our app by August 6.
Special Mission Project Update
Thank you for giving towards the April-June Special Missions Project. Contributions in the amount of $6706.74 were collected for the Togo and Ohio GO Teams.
July-September Special Missions Project
The Special Missions Offering will go toward offsetting travel costs for the Thailand GO Team, which leaves February 2018. Perhaps the most challenging missions trip yet, the Thailand GO Team will be going into W.A.R. International's safe houses to encourage and invest in the lives of men, women, and children who have been rescued from human trafficking. Please designate your payment: Special Missions Project.
Bible Center School: Dates to Remember
Th Aug. 10 • Preschool Fall Kick-off • 6 PM
M Aug. 14 • 1st Day of Preschool
M Aug. 14 • Elementary Open House • 6 PM
Tu Aug. 15 • Middle School Open House • 6 PM
W Aug. 16 • 1st Day of School, K-8th
Baptism Class
Monday, August 21 • 6:30 PM • Room 2104 If you are interested in being baptized, we ask that you attend our Baptism Class. Come prepared with your salvation testimony written out and bring a photo or be prepared to have one taken. If you have questions about what baptism means, contact Pastor Richard or fill out a Connection Card. Our next baptism service (the Outdoor Baptism) will be on September 10.
The Bible Center App
Use the Bible Center app to look up or register for an event, submit a prayer request, or let us know you visited. Download it from your usual app store or go to BibleCenterChurch.com/app.