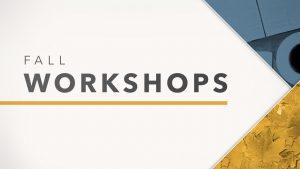 Various evenings • 6:45 – 7:45 PM
Workshops are Bible Center's short-term evening classes aimed at developing more maturing followers of Jesus Christ by educating followers in various aspects of life.
Tuesdays • August 29 – November 4
Old Testament Overview
Pastor Mike Graham
This Old Testament overview will give participants a solid, working knowledge of the major themes throughout the OT. In the OT, God reveals His faithful nature and redemptive plan for the world while Israel struggles to believe and obey. Expect fun and lively discussion with intentional personal application.
Tuesdays • August 29 – September 19
Anxiety: Hope and Help When it Seems Like Too Much
Jessica VonCrist
Recent studies show that anxiety is on the rise in a big way—and it's not just in the U.S. Why are we so anxious? What are we so afraid of? Will enough faith "heal" me? How do I deal with the day-to-day? How can I help someone I know? We'll discuss these questions and more, offering encouragement and hope through stories, Scripture and songs.
Wednesdays • September 27 – November 15
Parenting is Heart Work
Mitri & Heather Ghareeb
Are you struggling to see your parenting strategies work? There are countless ways to try to get a child's attention and to effect change-but here's the truth-unless you deal with a child through his or her heart, you are not likely to see lasting change. In this 8-part video series, you can learn to truly reach your child's heart to teach, train and build a tremendous relationship. Topics such as: teaching kids to listen and follow instructions, teaching children to accept "no," and correction ideas will all be included.
Thursdays • August 31 – November 16
Finding Hope in the End Times
Pastor Chad Cowan
Blood moons, red heifers, and Middle East conflicts are commonly associated as signals that the end is near, but how should we be thinking about the end times? In this class, we will take an in depth look at the end of all things, the hope it can bring us today, and the nature of the Church and Israel in the discussion.
About Workshops
Workshops are short-term, evening classes designed to educate believers in various aspects of the Christian life. There are no prerequisites. Attend as many classes as you like and anyone is invited. Classes begin at 6:45 PM and end at 7:45 PM. For questions, email Pastor Chad or call the church office at (304) 346-0431.