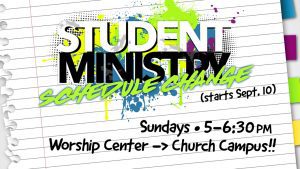 Sundays • 5-6:30 PM • Church Campus
What We Are Doing?
Moving Student Ministry to Sunday evenings.
Why We Are Doing It?
To glorify God by producing MORE maturing followers of Jesus.
M • MORE MINISTRY // Our students will have the opportunity to serve with adults more on Sunday mornings and on Wednesday evenings in AWANA.
O • ONE CHURCH // Bringing our students to the church campus helps us communicate in more tangible ways that we are one church. We believe students are part of the church now.
R • REACH OUR CULTURE // We will be able to have a greater reach into our community because we will not be competing with Wednesday evening extracurricular activities.
E • ENERGY // Moving to Sunday nights allows us to meet year-round, instead of just September through April. We can take advantage of summer and do more ministry, creating more energy within Element & Fusion.
When & Where Are We Doing It?
Sunday Nights, 5-6:30 PM. (Doors open at 4:30 PM.) Meet at Bible Center Church campus.
Element & Fusion will begin September 10.
More Info