September 12 – November 1 • 6:30-8 PM • Tuesdays • Rm. 2104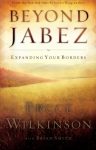 Beyond Jabez: Expanding Your Borders by Dave Wilkinson
This study, led by Susan Beeler, follows Bruce Wilkinson's breakthrough teaching in The Prayer of Jabez. For each of the prayer's four sections, Wilkinson explains important biblical distinctions, answers misconceptions about the prayer, offers practical steps to praying the prayer, and shows potential results in readers' lives.