September 21 – October 26 • 6:45-8:15 PM •  Room 2104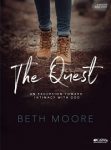 The Quest – An Excursion Toward Intimacy with God by Beth Moore
In this 6-session Bible study, delve into Scripture to explore how God created us to seek after Him—a God who desires to be found and known. In this lifelong quest of faith, learn to develop your intimacy with Him and embrace the adventure that comes with living a life for God. Led by Carolyn McMillen.