Wednesday, November 22 • 11:45 AM – 1 PM
Speaker: Mike Graham, Pastor of Group Life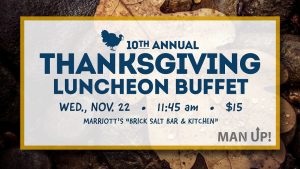 You're invited! Join us for the ManUp! 10th Annual Thanksgiving Luncheon at the Brick Salt Restaurant inside the Charleston Marriott Hotel. Enjoy a delicious buffet lunch with music, good fellowship and guaranteed blessings! Registration is not required. Cost is $15.