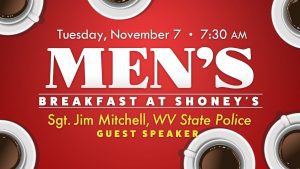 All men of the church are invited to attend the monthly Men's Breakfast. We will welcome Sgt. Jim Mitchell, WV State Police, as our guest speaker.
Tuesday, November 7 • 7:30 AM
Shoney's on Kanawha Blvd. E
Dutch Treat
Join us for breakfast and for a great time of fellowship. Hope to see you there!