Sunday, December 24 • 10 AM • 3 PM • 5 PM
The Angels' Song of Peace

You're invited to join us at Bible Center Church for a beautiful Christmas Eve service. Each of the one-hour  services will feature Christmas music, a children's story, a brief devotional from the current sermon series. Services will end with all of us singing Silent Night while holding a candle representing Jesus, the Light of the World.
Three identical services on Sunday, December 24:
10 AM (child care for those 2 years old and under)
3 PM (child care for those 2 years old and under)
5 PM (no child care)
[clear]
[clear-line]
How to Find Us
100 Bible Center Drive • South Charleston, WV 25309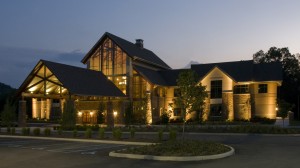 The Church Campus is located just off Rt. 119 (Corridor G). If you are traveling south turn left onto Parkway Road (mile marker 74.4) just past the Southridge Shopping Area. Parkway Road is the first left past Moses Factory Car Outlet. Turn right onto Bible Center Drive.
[iframe src="https://maps.google.com/maps?f=q&source=embed&hl=en&geocode=&q=100+Bible+Center+Dr,+Charleston,+WV+25314&aq=0&sll=37.0625,-95.677068&sspn=49.043149,114.169922&ie=UTF8&hq=&hnear=100+Bible+Center+Dr,+Charleston,+Kanawha,+West+Virginia+25309&t=h&z=14&iwloc=A&ll=38.316474,-81.721802&output=embed" width="100%" height="350″ frameborder="0″ marginwidth="0″ marginheight="0″ scrolling="no"]
View Larger Map