Pastor's Letter
Dear Friends,
Thanks for spending your Sunday morning with us! I trust you'll make yourself at home, grab a cup of coffee, and take another step in your spiritual journey.
It's my privilege to host today's guest speaker, Dr. Eric Mounts. Eric was raised in Springfield, Ohio, and graduated from Cedarville College in 1981 with a degree in Business Administration. He was recognized as a third team NAIA All-American basketball player in 1981 and holds several records at Cedarville.
Eric graduated from Dallas Theological Seminary (1985) and earned a Doctorate in Ministry at Trinity Evangelical Divinity School (2003). He has served in pastoral ministry for over 30 years.
Eric and his wife, Andi, were married in 1982 and have three grown children: Caleb (an IT Director in Springfield, OH); Ben (a lawyer in Columbus); and Abbey (a nurse in Dayton).
Pastor Mounts is my predecessor, having served as Bible Center's Senior Pastor from 2011 to 2015. Under Eric's leadership, we expanded our global outreach, launched a ministry to hurting families in southern West Virginia, built a gym at the Bible Center School campus, and reduced our debt.
Since moving away from Charleston, Eric has served as the Senior Pastor of Calvary Baptist Church in Covington, Kentucky where he enjoys writing, preaching, leading, and spending time with Andi and their grandchildren.
As we celebrate our church's 75th Anniversary for the next three weeks, join me in welcoming Pastor Eric and Andi back to Bible Center.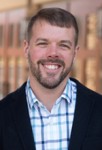 For the City,
Matt Friend • Senior Pastor
@PastorMattBCC
Announcements
Bible Center in 5 (BC in 5)
After the 9 AM and 10:30 AM services, Jane Jackson-Fowler will take 5 minutes to share our church's vision and mission. If you're new, please meet her at the front right of the Worship Center.
Nominating Committee
Members of the congregation are invited to submit names for consideration for the positions of Deacons and Elders for the new fiscal year starting July 1, 2018. To nominate someone, email Jane Jackson-Fowler, use the Connection Card, or use the form on the app. The committee is in the process of determining the nominees for next year.
Items for 75th Anniversary
As we prepare to celebrate Bible Center's 75th Anniversary, we are looking for a variety of photos, printed materials, and keepsakes that can be displayed during the weekend of March 3-4. If you have any photos we can scan or items we can borrow, you may leave them at the front desk, or contact Jessica VonCrist or Christy Corbin. Photos will be scanned and returned promptly, and all other items will be returned after March 4.
OWLS Presidents' Day Luncheon (55+ years old)
Today • Noon • Bible Center School, The RIM • $5 • Bill Donegan impersonates FDR.
Baptism Class
Tomorrow • 6:30 PM • Rm. 2104 • If you are interested in being baptized, we ask that you attend our Baptism Class. Come with your salvation testimony written out and bring a photo or be prepared to have one taken. Our next baptism service will be on Mar. 11.
Foster Parent Certification Class
Mondays • Begins tomorrow • 6-9 PM • Are you interested in becoming a foster parent? Would you consider becoming a certified respite provider to give foster parents some much needed time away? Bible Center will be hosting the necessary classes to help you make that happen. The classes will be held each Monday evening, beginning Feb. 19-Apr. 23 (except Apr. 2). Register online or contact Michelle Thompson.
Bible Center School Open House
Thursday, Feb. 22 • 6:30-8 PM • If you missed the first one, BCS will be hosting another Open House:
Tour the facility and meet the staff
Middle school preview for 4th & 5th graders
A light dinner will be served
No registration necessary
Questions? Contact Nancy Keefer at (304) 941-1704.
New Workshop: Survey of World Religions
Wednesdays • Feb. 21-Mar. 21 • 6:30 PM • Rm. 3105/06 • Ever wonder how some religions differ from Christianity? Nick Munoz will lead this workshop in order for us to better understand how to share our faith in this ever changing world.
Help Feed the Hungry
Thursday, Feb. 22 • 4 PM • Provide supplies, monetary donations, or volunteer for the Union Mission Crossroads Dinner. Sign-up/donate online or on the BCC app. Contact Sheri with questions.
Insomnia (6th-12th Grades)
Begins 8:30 PM on Friday, Feb. 23, ends 6 AM on Saturday, Feb. 24 • Drop off and pick-up at school campus • $40 • Register now!
Singles 45+ Movie Night
Saturday, Feb. 24 • 6-8:30 PM • Rm. 3101/02
Men's Breakfast at Shoney's
Tuesday, Mar. 6 • 7:30 AM • Dutch treat • Guest Speaker: Rev. Jim Alexander, AWANA Missionary WV. All men are invited!