Pastor's Letter
Dear Friends,
Thanks for joining us on this special day! Make yourself at home, grab a cup of coffee, and be encouraged as you seek to follow Jesus.
It's my privilege to host today's guest speaker, Pastor Shawn Thornton. Shawn accepted the call to become Bible Center's 4th Senior Pastor in 1997 when he was only 30 years old. Together, for nearly eleven years, the church—and Shawn—grew! During his tenure, our current church building was built, and we relocated to these 96 acres.
Since moving away from Charleston in 2008, Shawn has served as the Senior Pastor of Calvary Community Church in Westlake Village, CA. In 2016, his memoir, "All But Normal: Life on Victory Road" was released by Tyndale Publishers. It's a powerful story of growing up in a chaotic home with a mother affected by a traumatic brain injury (TBI). Shawn's radio teaching ministry, All Things New, currently broadcasts throughout the country on XM Radio.
We're also grateful to have his wife, Lesli, as our honored guest. Throughout their marriage, Lesli has been an elementary school teacher, a stay-at-home mom, and currently works in the Academic Support Services Department of Oaks Christian School in Westlake Village. Shawn and Lesli have three adult children: Jon, Katie and Megan.
As we continue celebrating our church's 75th Anniversary, please join me in welcoming my friend, my mentor, and the man who gave me my first job here at Bible Center over ten years ago… Pastor Shawn Thornton.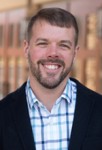 For the City,
Matt Friend • Senior Pastor
@PastorMattBCC
Announcements
Bible Center in 5 (BC in 5)
After the 9 AM and 10:30 AM services, Jane Jackson-Fowler will take 5 minutes to share our church's vision and mission. If you're new, please meet her at the front right of the Worship Center.
Nominating Committee
Members of the congregation are invited to submit names for consideration for the positions of Deacons and Elders for the new fiscal year starting July 1, 2018. To nominate someone, email Jane Jackson-Fowler, use the Connection Card, or use the form on the app. The committee is in the process of determining the nominees for next year.
Men's Breakfast at Shoney's
Tuesday, Mar. 6 • 7:30 AM • Guest Speaker: Rev. Jim Alexander. All men are invited!
Bridal Shower
Saturday, Mar. 10 • 2-4 PM • All ladies are invited to a bridal shower for Christi Stricker.  RSVP to Cari Stricker (304-343-3289) or Rebecca Pickens (304-687-6450) by Mar. 7.  Christi is registered at Walmart, Target, Kohl's, and Bed Bath & Beyond.
Our Daily Bread Devotionals
The latest edition is at the Info Desk.
Early Childhood/Special Needs Training
Saturday, Mar. 17 • 9-10:30 AM • BASE Camp • Exciting things are happening! We'll introduce our new directors, talk about the great things that are coming, and provide program information during. If you currently serve or want to, this training is required. Register online or on the app.
Workshop: Survey of World Religions 
Wednesdays until Mar. 21 • 6:30 PM • Rm. 3105/06 • Ever wonder how some religions differ from Christianity? Nick Munoz will lead this workshop in order for us to better understand how to share our faith.