Honoring our past… embracing our future!
Bible Center Church will reach a great milestone this spring! We will give thanks, party, and celebrate God's provision over the past 75 years and look to Him for direction as we embrace the next 75 years.
Just think:
Where would you be in someone hadn't stepped up 75 years ago?
Schedule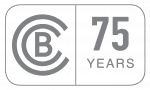 Celebration events are being planned throughout the year. Stay tuned… Refer to our website for the latest!
February 4
BCS Emphasis Sunday
8 AM | 9 AM | 10:30 AM
February 18
Pastor Eric Mounts, Special Guest
9 AM | 10:30 AM
February 25
Pastor Shawn Thornton, Special Guest
9 AM | 10:30 AM
March 3
Drop-in Reception
2-5 PM
100 Bible Center Drive, Charleston
March 4
75th Anniversary Sunday
Pastor Bob Spradling, Special Guest
8 AM | 9 AM | 10:30 AM