Pastor's Letter
Dear Friends,
"Today is the first day of the rest of your life." John Denver and Matt Maher sang it. Comedian Steve Martin tweeted it. Charles Dederich and Abbie Hoffman quoted it. No one knows its origin for sure, but I like it. It's short, sweet, and full of meaning.
Similarly, today is the first Sunday of our church's next 75 years. Who can forget last week's 75th Anniversary with encouraging words from Senator Manchin, Speaker Armstead, Mayor Jones, and our third Senior Pastor, Bob Spradling (1968-1994)? You'll want to download and watch the previous two week's sermons from Shawn Thornton (our fourth Senior Pastor, 1997-2008) and Eric Mounts (our fifth Senior Pastor, 2011-2015). They are the most inspiring messages I've heard on the Good Samaritan and Jesus' care for those with sickness.
As we look forward to the next 75 years, let's remember why we exist: to glorify God by producing more maturing followers of Jesus. In an attempt to glorify God, we seek to make Him known to the Kanawha Valley. Like a telescope makes distant objects seem near and knowable, so Bible Center Church seeks to show that God is near and can be known. As we share Jesus' good news and do good works in our city, we're passionate about becoming a church Charleston can't live without.
I hope you'll join me on the journey! You can download the Bible Center app from the App Store, click "Sign-up" and subscribe to my weekly All-in email list.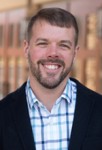 For Charleston,
Matt Friend • Senior Pastor
@PastorMattBCC
Announcements
Bible Center in 5 (BC in 5)
After the 9 AM and 10:30 AM services, Jane Jackson-Fowler will take 5 minutes to share our church's vision and mission. If you're new, please meet her at the front right of the Worship Center.
Nominating Committee
Members of the congregation are invited to submit names for consideration for the positions of Deacons and Elders for the new fiscal year starting July 1. To nominate someone, email Jane Jackson-Fowler, submit a Connection Card, or use the app.
Gym Night (3rd-5th Grades)
Friday, Mar. 16 • 6:30-9 PM • Bible Center School, RAM Center • Fun, food, and games. Cost is $5/child. Register online or in BASE Camp.
Monthly Union Mission Crossroads Dinner
Thursday, Mar. 22 • Serve Jesus one "plate" at a time! Supplies, monetary donations, and volunteers are needed. Volunteers should arrive at 4 PM. Donate or register online, or contact Sheri Skidmore.
CedarMania (6th-8th Grades)
Mar. 24 • Cedarville, OH • $30 plus dinner money • Join us for an action-packed Saturday! Cedarmania features a speaker, worship led by Cedarville University's very own Heartsong, small groups led by Cedarville students, games, competitions, and more! Register online by Mar. 14.
OWLS Lasagna Dinner & Bingo
Friday, Mar. 23 • 6-8 PM • the RIM, Bible Center School • $10 • The OWLS will sponsor a Lasagna Dinner and Bingo to benefit the University of Charleston Physician Assistant students' medical mission trip to Haiti. They will be treating the underserved in Haiti through Hope, International. Please sign up online or email Judy by Sunday, Mar. 18.
Good Friday Service
Mar. 30 • 7 PM • Families are invited to join us for a special service as we reflect on Christ's sacrifice for us on the cross.
Fitness with Friends (Ladies)
Tuesdays & Thursdays • Apr. 10-May 17 • 6-7 PM • Lunchroom (A-209), Bible Center School • Ladies, bring your mats and get fit for spring at this 6-week, Christ-centered yoga class, led by Poozie Null. Cost is $25. You may join anytime throughout the session. Register online or on the app.
Singles 45+
The next gathering will be on Saturday, Mar. 24, at 6 PM at Southridge Golf Range & Larobi's Pizza. Mark your calendar, and join us for this fun event.
Alpine Camp (Ages 8-11)
July 23-27 • It's that time again! Summer camp will be here before you know it! Registration forms and $50 deposit are due by Sunday, Apr. 22. Space is limited. Forms are available online or in BASE Camp.
Follow Along While the Word is Being Read
If you'd like a Bible to follow readings, they are at the back of the Worship Center on either side.
Pastor Matt's Books
If you'd like to see a list of all the books Pastor Matt has recommended in his sermons, go to BibleCenterChurch.com/books.