Saturday, March 17 • 9-10:30 AM • Base Camp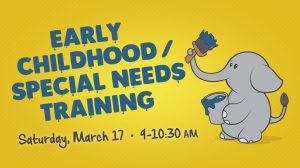 Exciting things are happening in the Early Childhood and Special Needs departments! We'll introduce you to our new directors, talk about the great things that are coming, and provide necessary information during this fun-filled training.
Breakfast and child care will be provided.
If you are serving or want to serve in the either of these departments, this training is required.
Register online or on the app.