Sunday, April 29 • 10 AM • Municipal Auditorium
(244 Virginia St., East)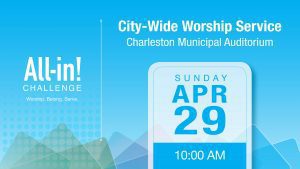 We're excited to invite you to join us  at the Municipal Auditorium on Sunday, April 29, at 10 AM. This year, we are celebrating our 75th Anniversary in Charleston, and we'd love to welcome you to this special service in the heart of the city!
Pastor Matt will be sharing about how Jesus and hope are both still alive in the Kanawha Valley. We'll gather to worship and proclaim our commitment to our risen Savior and to the city we love. Come early for some high-energy fun and surprises!
9:40 AM – Fun and Giveaways
10 AM – Worship Service
11:30 – Ice cream & balloon artists
Lunch – Consider visiting one of the many downtown restaurants!
[su_vimeo url="https://vimeo.com/266728650″ width="640″ height="460″ autoplay="no"]
Parking
Concerned about parking? We've got you covered… ample parking will be available, and our parking attendants will be there to help you find a spot! We're even ready for any overflow parking. Hope to see you there!