Pastor's Letter
Dear Friends,
Thanks for joining us on this special Sunday!
Today, as you sit in the largest theater in West Virginia, you're making history. If these Art Deco walls could whisper, they would tell stories of hundreds of thousands of people who've entered to watch and hear dance recitals, choral and band festivals, fashion shows, symphonies, Gospel sings, cooking schools, stage plays, operas, plus country and rock & roll shows.
Before the Civic Center was completed, this stage hosted circus tigers and elephants, and more than one Morris Harvey College (now University of Charleston) basketball game. President Harry Truman gave his most famous campaign speech from this location, broadcast live to the nation on October 1, 1948. Other notables include Bob Hope, Ray Charles and Billy Joel.
At the same time this building was dedicated (1939), a small group of Christians began meeting a few blocks away for Bible study and prayer. In 1943 that fledgling group of believers launched their first worship service as The City Bible Center Church, and are known as Bible Center Church 75 years later.
Take a moment to meet someone around you. Since we have three-year-olds in our service, please help by sliding to the middle of your section, offering a kind word, or lending a helping hand. I hope you enjoy the ice cream, special prizes for adults, and surprises for kids; but, above all, let's ask God to increase our love for His Gospel and our city.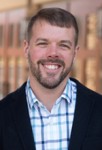 #ForCharlieWest,
Matt Friend • Senior Pastor
@PastorMattBCC
Announcements
Welcome to our All-in! launch service! This year, we've celebrated 75 years in Charleston. God is faithful, and we're striving to be for the Gospel and for the city even more during the next 75 years! Dream with us. Give with us. Pray with us.
CHURCH LIFE
Men's Breakfast at Ryan's
Saturday, May 5 • 8 AM • May's breakfast will be at Ryan's in Southridge. All men are invited! Speaker: Chuck Kinder. Dutch treat.
How to Study Your Bible Workshop
Friday, May 18 • 6:30-9 PM • Worship Center • Get the most out of your Bible. Led by Pastor Mike Graham. Activities for children and teens provided.
Save-the-Date: Family Fun Day
Saturday, June 16 • Food, games, water slide, face painting, and more! Proceeds will go toward providing scholarships to BCS students. Stay tuned.
NEXT STEPS
Belong: Membership Weekend
Want to know more about BCC, or desire to become a member? Join Pastor Matt, the Pastors, and Staff for Membership Weekend! Because food and childcare will be provided, registration is required. Contact Jane Jackson-Fowler for questions.
Get Connected Class
Want to know more about Bible Center? Want to get plugged in? Join us for this 3-week class, led by Daniel & Dorothy Prudich. Please register if you plan to attend.
EARLY CHILDHOOD & CHILDREN
Save-the-Date: Vacation Bible School (4 years old-graduated 5th graders)
July 15-19 • 6-8 PM • Kids, realize that God has given you His ultimate playbook to "Gear Up! Get Ready! Game On!" Registration opens in June.
Special Needs Ministry
Sundays • 10:30 AM • We've recently constructed a room specifically designed for children and students with special needs. Our team of volunteers are ready to welcome all children and families into a place where they can worship, belong, and serve! BibleCenterChurch.com/specialneeds
STUDENTS
Burger Bash (Middle & High Schoolers)
Tonight • 5-6:30 PM • Gathering Space • Free • There will be a Gospel presentation and games too, so bring your friends!
Middle School Missions Trip: Camp BaYouCa
July 1-7 • Smithville Flatts, NY • $90 deposit due today • BaYouCa hosts Precious Jewels Camp for students and adults affected by special needs. Our team will lead chapel services and assist campers in daily activities. Cost: $290 (incl. meals, lodging, transportation, and end-of-the-week fun day).
Graduation Sunday
Submit names (by May 6) of those graduating high school and above. We will honor our 2018 graduates during the 9 and 10:30 AM services on May 20.
Tuesdays This Summer (Middle & High Schoolers)
6-8:30 PM • Starts June 5 • Students are invited to Magic Island for pizza, games at the park, and tubing on the river. Bring $5 for food, and invite your friends! In case of rain, we'll meet at the church. Waiver required.