Rejuvenate your spiritual life. Share your faith more easily! And dig deeper into the Bible!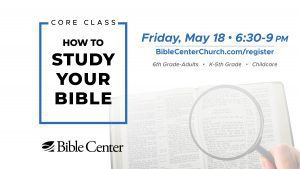 Bible Center will begin offering core classes to continue forming and building our foundation and direction around Scripture. The first of these classes will be held Friday, May 18, from 6:30-9 PM.
Through these classes, we want to help believers to become faithful disciples established in the faith and to be fruitful witnesses equipped to do ministry.
Classes Include:
How to Study the Bible (May 18, 2018 / 6:30-9 PM) – register now
Spiritual Growth and Renewal
How to Reach Your Neighbor
Developing a Theological Vision
Bible Study Methods
The Gospel
Worship
Biblical Doctrines
Reaching the City
and More…
We will offer:
2 one-night intensives per year
2-3 six-to-ten-week classes per year (offered at multiple times on Thursdays)