Saturday, August 25 • 9 AM – 1 PM • Rm. 3105/06
For all present and potential group leaders
Led by Pastor Mike Graham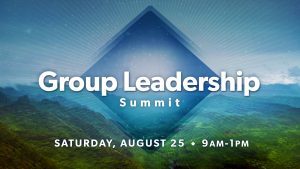 Are you a group leader or interested in being one?
Are you a group leader or a group host at Bible Center Church? Do you lead or host a Sunday Group, Community Group (CG), or one of our many Men's or Women's study groups?
Are you curious about leading or hosting one in the future? If so, you're invited to our Group Leadership Summit.
Think of it as a learning lab!
We're providing a day of training and encouragement for all current and future group leaders and hosts. Since groups are only as strong as their leaders, we want to equip you with the latest tips and ideas to lead your groups in care, outreach and discipleship. Think of the Group Leadership Summit as a learning lab!
What else do I need to know?
There is no charge for the summit; however, registration is necessary to prepare for food and child care. Breakfast and lunch will be provided, so come hungry!
Contact Sheri Skidmore with questions, or call the church office at (304) 346-0431.
Registration
Please register here so we can have printed materials, along with complementary breakfast and lunch, prepared for you.
Hope to see you there!