Dear Friends,
Today is week #7 of 11 in our "Blueprints of a Healthy Church" series, walking verse-by-verse through the book of 1st Timothy. If you don't already have a Bible-reading plan, try reading through this short book each day for a month. It will encourage your spiritual journey. You can also read the Going Deeper study guide and catch up on previous sermons by downloading the Bible Center app.
In our 75-year history, Bible Center has repeatedly hosted some of the world's finest teachers. Today's guest speaker, Dr. Rob Plummer, continues that tradition.
Rob serves as the Professor of New Testament Interpretation at The Southern Baptist Theological Seminary, where he has taught since 2002. In addition to being one of my favorite professors, Rob and I served together as Pastors in Louisville during my tenure there.
Rob graduated from Duke University, earned his Ph.D. from The Southern Baptist Theological Seminary, and completed additional studies at Jerusalem University College. Rob is a biblical scholar with a missionary heart, having served churches in China, Israel, Trinidad, Ghana, Malaysia and Turkey.
You'll want to pick up a copy of his book, 40 Questions About Interpreting the Bible. I keep it nearby as I prepare sermons and lessons. Many of Rob's articles have appeared in Westminster Theological Journal, Journal of the Evangelical Theological Society, New Holman Bible Dictionary, and The Southern Baptist Journal of Theology.
Join me in welcoming Rob to Charleston!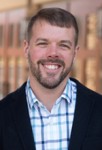 With you for the gospel and for the city,
Matt Friend • Senior Pastor
@PastorMattBCC
Trunk or Treat
We're hosting Trunk or Treat again! What a great opportunity to connect with our community and to build relationships. You and your friends can join the church family in serving Charlie West! Help with any of the following:
Decorate your vehicle and pass out candy:
Go as simple or as elaborate as you like
Winner receives the coveted Trunk or Treat trophy
Please register online or on the app as soon as possible
Help with the event:
Parking, snacks, marshmallow roasting, tear-down, etc. Register to sign up.
Donate candy:
Drop off candy in the Gathering Space starting today.
For questions, contact Jane Jackson-Fowler.
Union Mission Thanksgiving Food Collection
Begins today • To help those who are in need, Bible Center will be collecting non-perishable food for the annual Gospel Service & Thanksgiving Food Distribution. Because Union Mission has changed their food distributions, Thanksgiving will be the only opportunity to donate and serve this year.
How You Can Help:
Drop off donated items here or at Bible Center School now through Sunday, November 11.
Food distribution on Saturday, November 17. If you'd like to help at this event, register today.
CHURCH LIFE
Financial Health Seminar: Retirement Planning
Monday, Nov. 5 • 6:30 PM • Rm. 3105/06 • Free • Topics for our next seminar will cover retirement issues, such as ROTH versus other IRAs, Social Security/Medicare, RMDs, and more! Church-sponsored and conducted by BCC-attender Gary Swingle, CPA, PFS. Registration is preferred, but not required. All adults are invited!
CHILDREN
Children's Choir Practice Begins Today (K-5th grade)
Rehearsals for the Christmas season will take place between the Sunday services (10:20-10:50 AM) in Room 1124 (South AWANA Room), now to mid-Dec. Contact Mary Ann Nelson.
Child Dedication is Nov. 4th
Child dedications highlight parents' commitments to raise their children to know and love the Lord. Register today or contact Jess Backus.
BELONG
Belong: Membership Weekend
Nov. 2 & 3 • Free • Want to know more about BCC, become a member, or meet the Ministry Staff? Join us at Membership Weekend! To register, use the BCC app or go to BibleCenterChurch.com/register. Food and childcare will be provided. Questions? Contact Jane Jackson-Fowler.
Men's Breakfast
Saturday, Nov. 3 • 8 AM • Ryan's • All men are invited! Dutch treat.
SERVE
Habitat for Humanity – One Day Build
Saturday, Oct. 27 • 8 AM-4 PM • Come and help us work on a home for a local family (no experience needed), or volunteer to help make and serve lunch. Visit BibleCenterChurch.com/city, or contact Michelle Thompson if you have questions.
Union Mission Crossroads Dinner
Thursday, Nov. 1 • Sign up online to volunteer, bring supplies, or make a monetary donation. Volunteers must register and should arrive at 4 PM. Questions? Contact Sheri.