Dear Friends,
Welcome to church!
Today, we continue our 5-week Good News series, learning about the gospel of Jesus Christ. Increasingly so, I enjoy teaching verse-by-verse through a book of the Bible. Occasionally, I'll speak on a stand-alone topic from a particular Bible verse. However, in this 5-week doctrinal series, we're studying an ancient truth that is still essential and relevant today.
The entire gospel story spans the Bible—cover to cover—just as it spans history from the beginning to eternity. We summarize this true story with 10 words: God Creates (three weeks ago), Sin Breaks (two weeks ago), Jesus Saves (last Sunday), Jesus Transforms (today), and God Restores (next Sunday). You can watch or listen to the entire series (and download the study notes) from our app or website.
Everyone needs transformation and recovery. We all have hurts, hang-ups and habits. The old adage, "Time heals all wounds," isn't true. Time makes some wounds even worse. Thankfully, Jesus loves to transform lives!
Does transformation and recovery happen over night? Not at all. It's a process. It's an expedition. Thankfully, it's a journey with Jesus, with His Word, and with His people. I'm walking this road with you… and so is the person sitting beside you.
There are many ways we grow, transform, change and recover here at Bible Center, but I'm excited to introduce a new vehicle of change: Celebrate Recovery! In today's service, Pastor Ted Tanzey and I will tell you all about it.
Transforming with you,
Matt Friend • Senior Pastor
@PastorMattBCC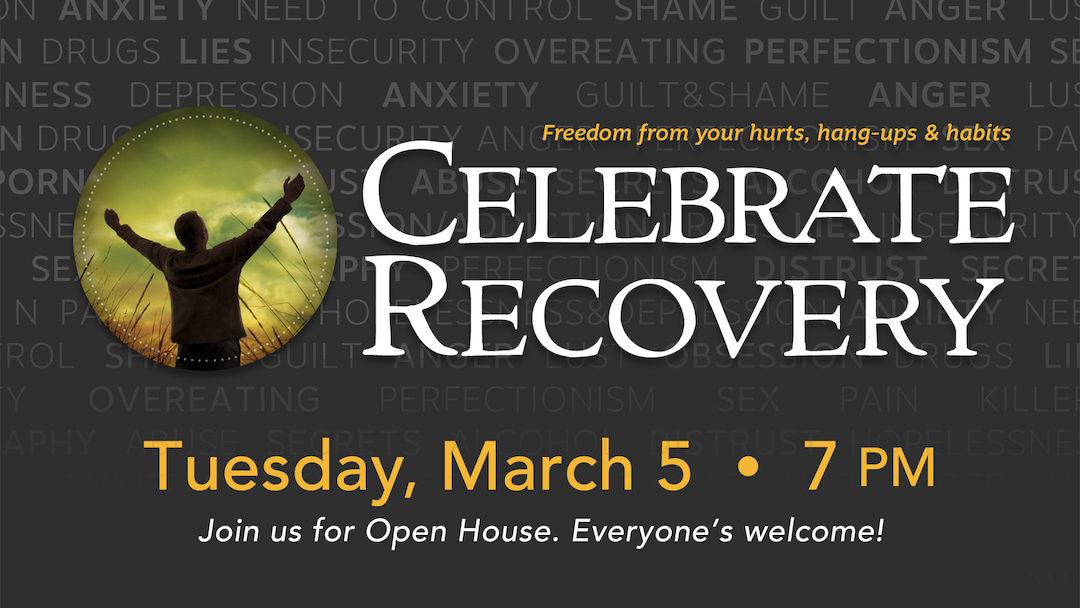 Don't suffer alone. Gain support from people who understand and meet others who struggle with the same things. Confidentiality is a priority. For more info, contact Pastor Ted Tanzey.
OPEN HOUSE | Tuesday, March 5
Not sure what Celebrate Recovery is all about or if it's a good fit for you? Come check it out during our Open House!
EVENING SCHEDULE:
7:00-8:00 | Large Group Session
8:00-8:20 | Newcomers 101
8:00-9:00 | Open Share Groups
9:00-9:30 | Solid Rock Cafè
9:30  | Building closes
CHURCH LIFE
Belong: Membership Weekend
Feb. 8 (6:30-8:30 pm) & Feb. 9 (8:30 am-1 pm) Want to become a member, know more about BCC, or meet the Ministry Staff? Then you're invited! At the conclusion of this event, there will be no pressure to join. Because food and child care will be provided (at no cost), registration is preferred, but not required. Questions? Contact Jane.
Upcoming Core Class: God's Word
Thursdays, Feb 7, 14, and 21 • 6:15 AM, noon, or 6:15 PM • Study guide & 50 Core Truths of the Christian Faith (will be used for all 2019 Core Classes): $25. Register online/app, or contact Sheri.
Financial Health Seminar: Taxes
Monday, Feb. 11 • 6:30 PM • Rm. 3105/06 • CPAs Gary Swingle and Saundra Uy will discuss individual tax planning and preparation with emphasis on the new 2018 tax law. This will be a relatively informal session with opportunities for participants to ask questions and seek tax advice.
---
BELONG 
Fitness with Friends (Ladies) 
Mondays & Thursdays • Jan. 28-Mar. 7 • 6-7 PM • $30 • This session, primarily yoga, will be held at Bible Center School in the RIM. Led by Poozie Null. Questions? Contact Paula.
Men's Breakfast
Saturday, Feb. 2 • 8 AM • Ryan's • All men are invited! Dutch treat.
OWLS "Souper" Bowl Luncheon (Adults 55+) 
Saturday, Feb. 2 • 12:30-2:30 PM • The RIM, school campus • $3 • Register online to bring food. Contact Judy.
Join a Group!
Community Groups are starting and this is a great time to join! Leaders will be available at the Groups Wall after each service to answer questions and help you find a group that suits your needs.
Girlfriends Get 2gether: IF:Gathering 
Feb. 8 • 6:30- 9:30 PM • Family Room (Rm. 3101/02) • You are invited to a live simulcast of the IF:Gathering. Register online or on the BCC app. There is no charge but please bring a crockpot of soup, a snack, or a sweet to share. Invite friends, and bring your slippers and a cozy blanket to curl up with while we listen to some inspiring speakers together and ponder how to better reach women in our city for the gospel. More info at BibleCenterChurch.com/register.
---
SERVE 
Foster Care Informational Meeting & Luncheon
Rm. 1122/23 • Have you ever considered foster parenting? NECCO foster agency will host an informational luncheon today after the 11 AM service. Attending is not committing; come and explore the possibility! Just show up or contact Michelle Thompson. 
---
STUDENTS 
HSM/MSM Winter Retreat (Grades 6-12) 
Episode 19 • Feb. 22-24 • Beat the winter blues at this 3-day, high-energy, multi-venue event! The weekend will include food, engaging worship, guest speakers, small group time, and epic activities! Cost: $45. Register today!
Beach Camp (Current 6th-12th Graders)
June 17-21 • Students are invited to Beach Camp for worship and Bible study in the sand and surf! Experience a combination of God's beautiful creation and an unforgettable time in Christian community during this life-changing week. A $60 deposit is due today. The total cost is $399. Register online.
---
BIBLE CENTER SCHOOL
BCS Open House (Grades K-12) 
Sunday, Feb. 10 • 1-3 PM • Please join us for Open House! Meet our faculty and staff, and tour the facilities! A light lunch will be provided. Re-enrollment begins tomorrow, Jan. 28. Visit BibleCenterSchool.com for more info.