Dear Friends,
Welcome to church! Please make yourself at home.
I'm thrilled for today's celebration of Bible Center School! Thankfully, our church is comprised of students from all school choices (public, home, private); however, BCS is a strong contender among the rest. We are a K-8 school that also offers a Transitional Kindergarten (TK) and a preschool (ages 3-4).
Since 1981, BCS has played a major role in assisting parents with the education of their children. Our graduates have gone on to succeed at the highest levels of academia, and thousands now serve the Lord with careers and families of their own.
Our mission at BCS is to join with parents in pursuing academic excellence and developing students with passionate hearts fully surrendered to God, minds trained to think Biblically, and hands ready to serve others.
I couldn't be more thrilled with our Principal, Stephanie Schafer. She came to us last year highly recommended from a large Christian School in Florida and has already brought a unique balance of administrative and classroom excellence. Join me in commending the School Board for recruiting Mrs. Schafer.
Will you consider BCS for your child or grandchild next year? If so, stop by today's Open House at the school (across from Ashton Place). You can pick up an info packet from 1-3 PM, take a tour, meet our faculty and staff, and enjoy a complimentary light lunch.
As we say at BCS, "Start here… Go anywhere!"
With you for the next generation,
Matt Friend • Senior Pastor
@PastorMattBCC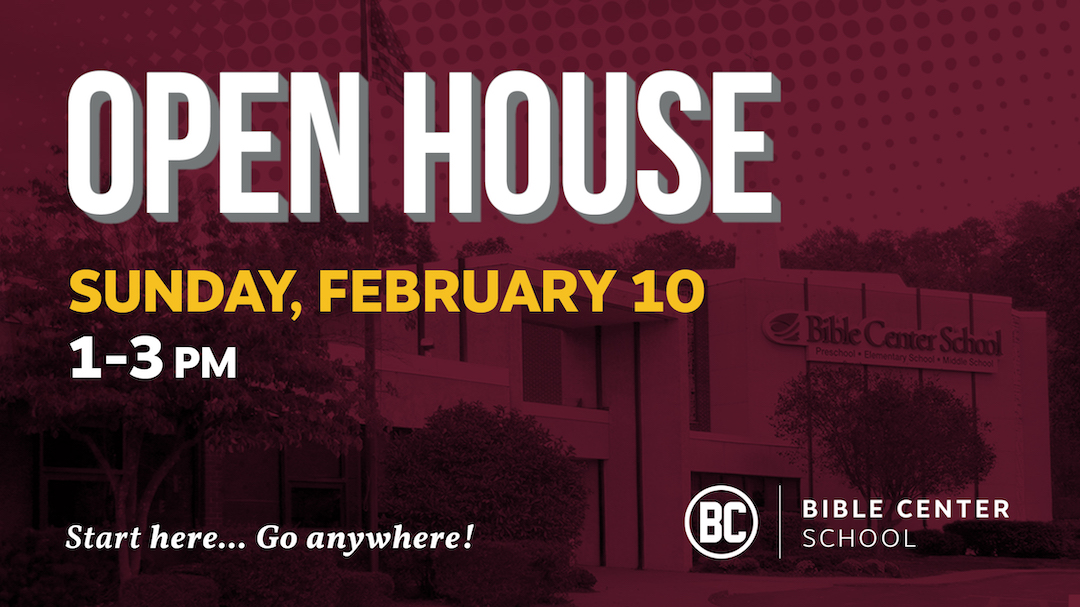 CHURCH LIFE 
Financial Health Seminar: Taxes
Tomorrow • 6:30 PM • Rm. 3105/06 • CPAs Gary Swingle and Saundra Uy will discuss individual tax planning and preparation with emphasis on the new 2018 tax law. This will be a relatively informal session with opportunities for participants to ask questions and seek tax advice.
Nominating Committee
Members of the congregation are invited to submit names for consideration for the positions of Deacons and Elders for the new fiscal year starting July 1. To nominate someone, email Jane Jackson-Fowler, submit a Connection Card, or use the app.
Communion is Next Sunday
Be prepared for a blessing next Sunday at Bible Center Church as we observe communion in the morning services.
Core Class: God's Word
Feb 14 & 21 • 6:15 AM, noon, or 6:15 PM • $25 • The study guide and 50 Core Truths of the Christian Faith (used for all 2019 Core Classes) will be available at the Info Desk today or in front of rm. 3105 before class begins. Contact Sheri Skidmore if you have any questions.
Celebrate Recovery: Open House
Tuesday, Mar. 5 • 7 PM • Everyone struggles with something—guilt, abuse, anger, drugs/alcohol—just to name a few. Don't suffer alone; gain support from people who understand, and meet others who struggle with the same things. Confidentiality is a priority. For more info and to see a detailed class schedule, go to BibleCenterChurch.com/CR or contact Pastor Ted Tanzey, a licensed counselor.
Not Getting Our Emails?
Some of our attenders with Suddenlink email addresses have reported not receiving our updates. If you have an address you'd rather us use (instead of a Suddenlink one), email Jessica VonCrist.
---
BELONG 
New Group Begins February 18
A group for new residents, those new to Bible Center, or those still looking for a place to belong, will begin Feb. 18, at 6:30 PM in the Living Room (2101), led by Charlie and Leah Jennings. They'll be available at the Group Wall today—stop by and meet them!
OWLS Bingo & Lasagna Dinner (Adults 55+)
Friday, Mar. 1 • 5:30-7:30 PM • the RIM, Bible Center School • The OWLS will host a lasagna dinner and bingo. Proceeds will help provide money for mission trips to Haiti for the University of Charleston Physician Assistant Program. Cost is $10 at the door.
---
SERVE
Special Needs Prom Volunteers 
A special needs prom, Celebrate, Charleston!, will be held in the Worship Center on Friday, Mar. 22, featuring a fun evening of music, dancing, food, and friends to celebrate with students who are affected by special needs.
Register to attend | Register to volunteer
---
STUDENTS
High School Students' Weekly Community Group (Grades 9-12)
Today • 6-9 PM • A community group for all high school students will resume for the first night at the home of Pastor Mike & Jennifer Graham (100 Woodshire Pl., Chas.). Pizza will be served, so come hungry! Subsequent meetings will take place at the home of Larry & Lisa Pack (2146 Presidential Dr., Chas.). For more info, contact Pastor Mike, 502-812-9246) or Lisa Pack, 304-552-4500). 
HSM/MSM Winter Retreat (Grades 6-12)
Episode 19 • Feb. 22-24 • Beat the winter blues at this 3-day, high-energy, multi-venue event! The weekend will include food, engaging worship, guest speakers, small group time, and epic activities! Cost: $45. Register today!