Dear Friends,
Welcome to church!
Is there a neighbor, friend, coworker, or family member you're hoping to bring with you next Sunday? Three identical Easter services (7 AM Sunrise, 9 AM Multigenerational, and 11 AM Modern) provide a great opportunity to invite whomever the Lord may be placing on your heart.
This year I'll be answering the question, "Why Easter?" The Christian faith is much more than resurrection, but it is certainly not less. Jesus doesn't promise us an easy life, freedom from burdens, unending prosperity, or immediate healing from disease… But He does promise resurrection to those who put their faith in Him!
Death swallowed by triumphant Life! Who got the last word, oh, Death? Oh, Death, who's afraid of you now? It was sin that made death so frightening and law-code guilt that gave sin its leverage, its destructive power. But now in a single victorious stroke of Life, all three—sin, guilt, death—are gone, the gift of our Master, Jesus Christ. Thank God! -1 Corinthians 15:54-57 (MSG)
What neighbor, friend, coworker, or family member comes to mind? Consider inviting them to next Sunday's service and sharing Easter lunch afterward. Be creative! Some are already planning to attend the 7 AM acoustic sunrise service and enjoy Easter brunch afterward.
The ushers will be handing out Easter invite cards at the doors as you exit, so feel free to take as many as you'd like.
With you for the gospel and for the city,
Matt Friend • Senior Pastor
@PastorMattBCC
Help us welcome our community!
Sign up to: 
• Donate candy (drop off in the lobby). How much? Think Trunk or Treat, but in the Spring!
• Stuff eggs on April 13 at 9-11 AM.
• Help with set-up & tear-down, parking, prizes, first aid, face-painting, refreshments, the Petting Zoo, and more!
For questions, contact Jane.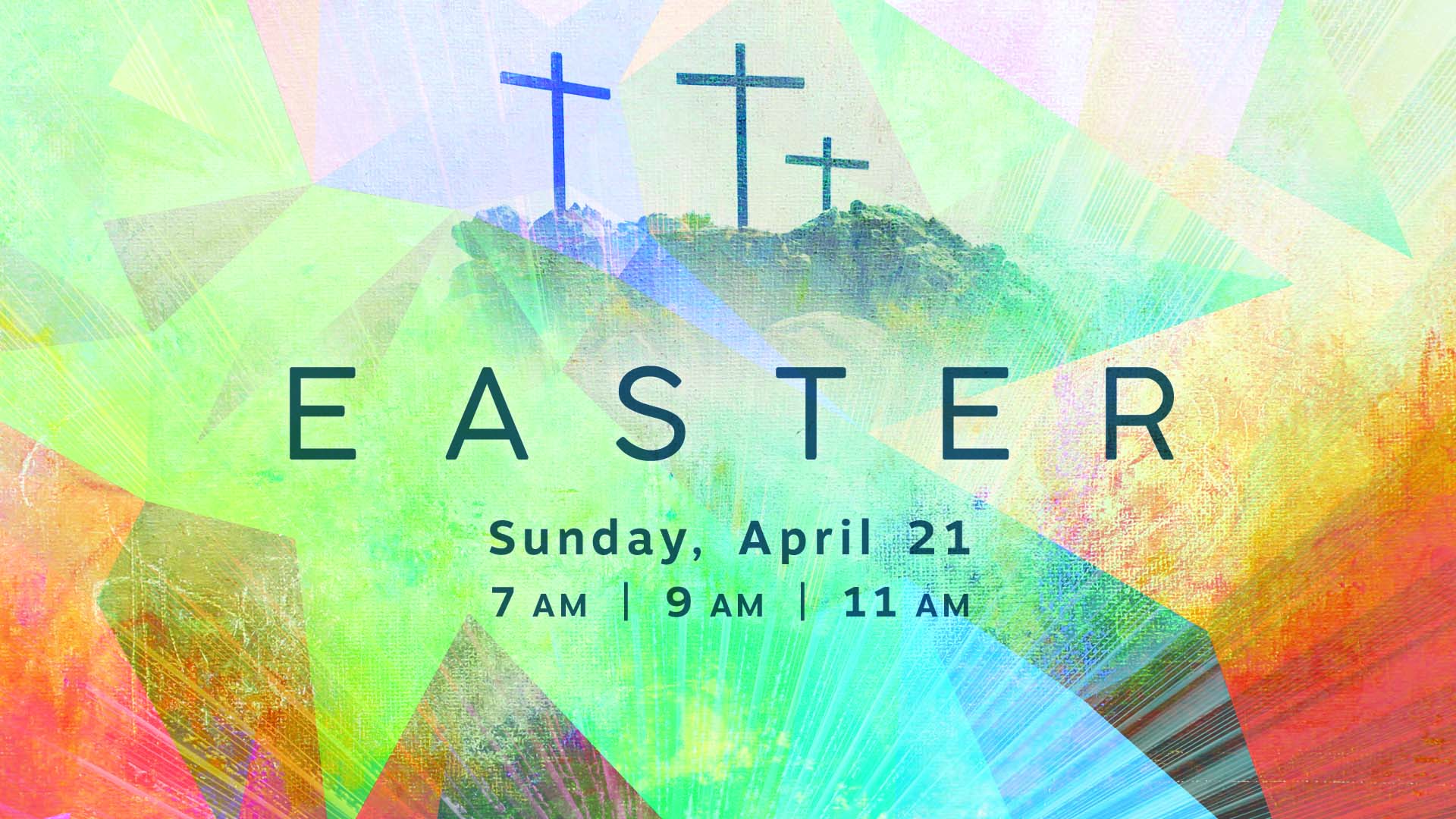 Good Friday
April 19 • 7 PM
Good Friday is a special time to look back in awe and wonder at the sacrifice Jesus made for us on the cross. All ages (including kids!) are invited to join us for a contemplative and creative hour of Scripture reading, singing, communion, and prayer as we proclaim in ancient and modern ways, Hallelujah, What a Savior!
---
CHURCH LIFE 
Jesus the Messiah Core Class (Part of the Bible Doctrine Series)
Thursdays, April 25-May 16 • 6:15 AM, Noon, or 6:15 PM • Register online or on the app • Study guide: $5. Everything in all of human history points to the Messiah. How has He changed the world, everything in it, and me?
Easter Egg Hunt on April 20
Be the face of Bible Center and welcome the community! Help out by signing up for set-up & tear-down, parking, prizes, first aid, face-painting, refreshments, the Petting Zoo, and more! Register online.
Matt Maher Concert
Thursday, April 25 • 7:30 PM
Come for an intimate evening of praise and worship! Matt will encourage and uplift you with songs like, "Lord, I Need You" and "All The People Said Amen." Tickets on sale now.
Trauma Informed Training 
Thursday, May 9: Faith-based ($10) -or- Friday, May 10: CEU credits offered ($25) • Anyone is invited to a conference to learn how a traumatic childhood can affect an individual in adulthood. Ideal for law enforcement, social workers, attorneys, and medical staff. More info online.
---
SERVE
Union Mission Crossroads Dinner
Thursday, April 25 & May 2
Sign up online to volunteer, bring supplies, or make a monetary donation. Volunteers must register and arrive at 4 PM. Questions? Contact Sheri.
May We Serve
Each year, Bible Center focuses even more on serving our community for our May We Serve initiative. We desire to represent Jesus by reaching out to local ministries and organizations in Charleston. Opportunities are available nearly every day in May. Visit the group wall, our website, or our app for a list of projects and sign-up information.
---
CHILDREN & STUDENTS 
AWANA Save the Dates (Kindergarten-Grade 5)
April 17 – No AWANA (Easter Break)
April 24 – Closing Program
Student Ministry Wednesday Schedule (Middle & High School)
April 17 & 24 – No Student Ministry
May 1, 15 & 22 – Regular program
May 8 – Small Group Night Out
May 29 – Burger Bash
Beach Camp (Middle & High School)
The final balance is due on May 8.