Dear Friends,
​Welcome to church! Today we launch a new 7-part series, We Value… 
Our mission here is to glorify God by producing more maturing followers of Jesus. But, what motivates us to do what we do? Why are we so passionate to fulfill this mission? Only our values can answer that question.
I love coffee, so I'll put it in terms that make sense to me. Just as each coffee brand embodies a unique combination of aroma and flavor, every church has a value-combination unique to its location, people, and time in history. Here at Bible Center, we want our values to align with God's heart for the greater Charleston area.
How did our Elder Board, Pastors and Staff arrive at the values described in this series? Thankfully, the process has involved almost a year of prayer, collaboration, Bible-study, vision-discussion, and listening to stories—from many of you—about God's grace to our church over its 76-year history.
While I'm out on vacation one last day with my family, Pastor Mike is kicking it off by teaching on our first value, Gospel. I'll be back next Sunday to teach on the value of Learning. Over the following five weeks, we'll also study the values of City, Family, Generosity, Innovation, and Growth.
Please pray with me for Pastor Mike as he teaches, and for each of us that we'll be motivated by this entire series like never before!
With you for the gospel,
Matt Friend • Senior Pastor
@PastorMattBCC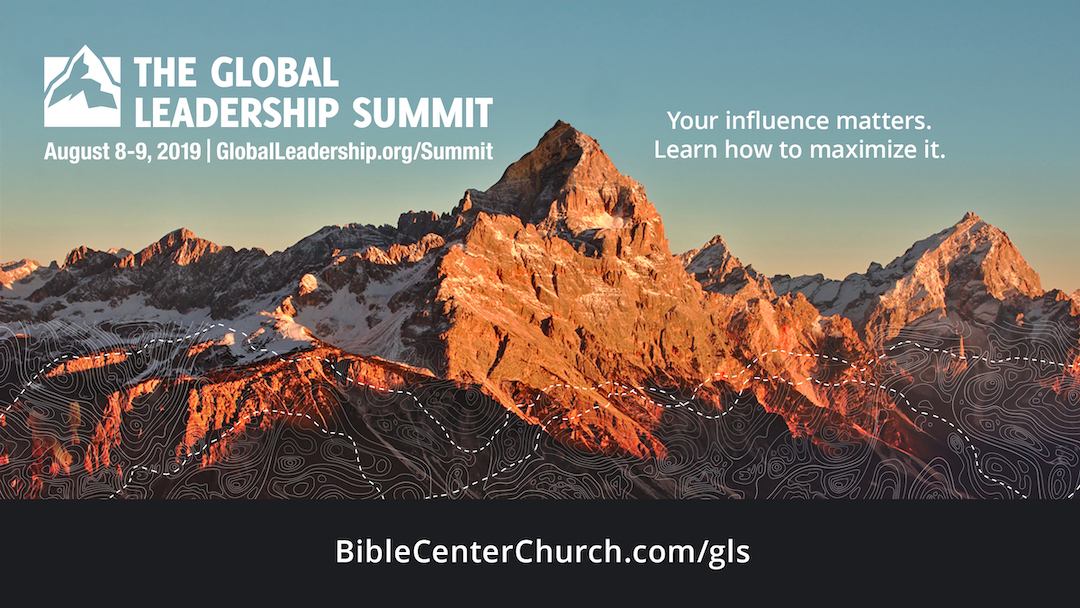 Thursday, August 8 | 9:30 AM-5:30 PM 
& Friday, August 9 | 9:30 AM-4:30 PM 
No matter where your influence is — in your family, school, work or church — you are invited to join 405,000 of your peers to learn how to maximize it.
Get a unique blend of vision, inspiration and skills you can immediately apply
Learn from a faculty representing multiple sectors and backgrounds
Leverage the Summit as a resource to transform yourself and community
Network with influencers in your community who are committed to living out God's purposes in our world
CHURCH LIFE
Celebrate Recovery Open House
Tuesday, July 30 • 6 PM • Auditorium • Everyone's welcome! Free BBQ dinner followed by Christian rock band The Shine Effect. This is a great time to learn what CR is about. Call Poozie Null (304-747-8836) for info or just show up.
Bible Center Preschool Employment Opportunities
• Full-time Aide – 10 AM-6 PM, 4-year-old children • Full-time Assistant Cook/Preschool Aide – 9 AM-5 PM • Contact Director Machelle Huffman (304-941-1710).
Bob Smiley: A Night of Laughs
Saturday, August 24 • 7 PM • Auditorium • $15.50 • Invite your friends and family to see "Christian comedian and hotel shampoo collector" Bob Smiley! Get tickets at the Info Desk (cash or check only) or at TheConcertSpot.com.
Financial Peace University
Sundays at 6 PM • September 15-November 10 • Do you struggle to keep your finances in check? Are you spending more than you make? Do you want to learn how to save and invest? Plan for retirement? Financial Peace is for you! Sign up online today!
---
BELONG
Men's Breakfast
Saturday, August 3 • 8 AM • Ryan's in Southridge • All men are invited! Speaker: Andrew Jones. Dutch treat.
GEMS Luncheon (Widows)
Saturday, August 10 • 12-2 PM • Panera (Southridge) • All are invited! Dutch treat. RSVP to Suzanne Lackey (304-610-3034) or just join us!
Women's Conference: How to Be a Not so Secret Agent of Grace
Fri., September 13 (7:00-9:30 PM ) & Sat., September 14 (9 AM-Noon) • Speaker: Becky McDonald, Musical Guest: Unspoken • Purchase your ticket online ($30-$50), or treat a special woman in your life! All ages are welcome.
---
SERVE
Serve in the Special Needs Ministry
We are growing! Additional buddies and leaders are needed. Serve on Sundays (9 or 11 AM) or Wednesdays (6-7:30 PM); no experience required. Contact Emily King or stop by room 1106 ("The Lodge" on Level 1) after the service. Background check required.
Join the Choir
Looking for somewhere to serve? Love to sing? Contact Mary Beth Malcolm to find out more.
Union Mission Crossroads Dinner
August 1 • 5:30 PM • Sign up online to donate items, make a contribution, or to serve. Volunteers needed at 4 PM. Contact Sheri with questions.
---
MARK YOUR CALENDARS