Dear Friends,
​This morning we're talking about money. Did you wince? That's okay. The person sitting beside you probably did too. Actually, in today's sermon, I'm teaching on the value of generosity, but money will come up.
Why would we talk about money on a Sunday? Actually, we all talk about money every day. Couples argue about it, students ask for more of it, and friends make their plans around it.
Be assured of my heart for you… I'm not just talking about our church's ministry goals (and the financial needs to accomplish them). I'm actually more concerned with your needs as a follower of Jesus. I want you to live with margin so you can live on mission. I want you to be able to pay cash for your next vacation, to save for your children's education, to save for retirement, to create an emergency fund, and to live generously in all aspects of life. I want something FOR you, not from you.
If you'd like to grow in this area, sign up for our next Financial Peace University class—beginning September 15—led by Financial Coach Brett Ashley. Along with being my good friend, Brett is a Bible Center School graduate from yesteryear, and is the son of long time Bible Center members. The advice he'll share has transformed (and is still transforming) the way Sarah and I look at money. I want that same freedom for you!
Sign up on the app or at BibleCenterChurch.com/events.
With love,
Matt Friend • Senior Pastor
@PastorMattBCC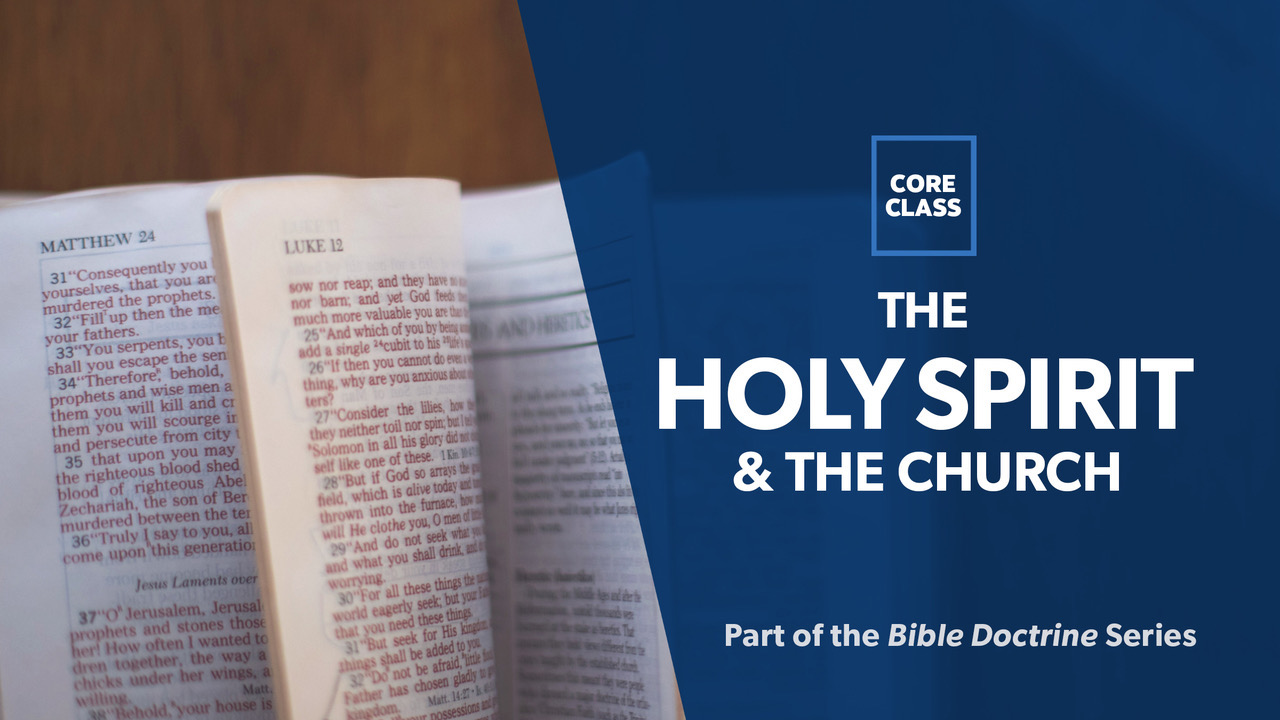 The Holy Spirit & The Church
Thursdays • September 5-26
6:15 AM • Noon • 6:15 PM | Room 3105/06
The Holy Spirit is real, active, and fully God. What is His role in creation, conviction, Christian growth, and the church? Register today!
Workbook: $5
(optional) 50 Core Truths of the Christian Faith by Gregg Allison: $20
CHURCH LIFE
Bible Center School Employment Opportunity
BCS is looking for a part-time Aftercare Attendant. Email Principal Stephanie Schafer to apply.
Outdoor Baptism is September 8
2:30 PM • Davis Creek • See the website, app, or pick up a baptism packet at the Info Desk; or contact Jane.
Financial Peace University
Sundays at 6:00-7:30 PM • September 15-November 10 • Rm. 3101/02 • Struggling to keep your finances in check? Spending more than you make? Want to learn how to save and invest? Planning for retirement? Register now.
Cards for College Students
The Care Ministry would love to send cards to our students who are attending a college, grad school, or trade school! Fill out a Connection Card or email Wanda Casto. Include the student's name, school, address, major, year, email, and birthday.
---
CHILDREN
Parent Meet & Greet (K-5th Grade)
September 11 • 6 PM • Middle School Room (#1106) • Parents, we'd love to meet you, answer any questions, share who we are, and inform you about future events for you and your child! Food and drinks provided. Casual dress.
---
BELONG
OWLS Fall Picnic and Hay Ride (Adults 55+)
Friday, September 6 • 5:30 PM • North Woods • $5 • Food, hayride, and yard games. Register online or email Judy.
Men's Breakfast
Saturday, September 7 • 8 AM • Ryan's in Southridge • All men are invited! Speaker: BCC Deacon TJ Meadows. Dutch treat.
Celebrate Recovery In-Depth 12-Step Study
Through this confidential, intensive study, the truth of God's Word will transform you, freeing you from addictions, dysfunction, and compulsive behaviors. Info available at CR meetings (every Tuesday at 7 PM) or contact Poozie (304-747-8836). Meets weekly for 10-12 months. BibleCenterChurch.com/CR
Men: Tuesdays starting September 10 • 7-9 PM.
Women: Sundays starting September 8 • 6-8 PM
Thursdays starting September 12 • 10 AM-Noon
Fall Event: How to Be a Not so Secret Agent of Grace (Women)
Fri., September 13 (7:00-9:30 PM ) & Sat., September 14 (9 AM-Noon) • Speaker: Becky McDonald, Musical Guest: Unspoken • Purchase tickets in the Lobby today or online ($30-$50).
---
SERVE
Serve in the Special Needs Ministry
We are growing! Additional buddies and leaders are needed. Serve on Sundays (9 or 11 AM) or Wednesdays (6-7:30 PM); no experience required. Contact Emily King or stop by Rm. 1106 ("The Lodge" on Level 1) after the service. Background check required.
City Ministry Opportunities
Visit BibleCenterChurch.com/city (or check the app) for several ways you can serve the city:
Maker's Center work projects
At concession stands at football games
Assist our "Grandparents Raising Grandchildren" ministries
Join the City Ministry Refreshment Team
---
COMING UP…
Sept. 5-26 | The Holy Spirit & The Church Core Class (Thursdays)
6 | OWLS Picnic & Hayride
7 | The Maker's Center Work Day (8 AM-2 PM)
8 | Outdoor Baptism (2:30 PM)
8 | Celebrate Recovery Step Study Begins
11 | Parent Meet & Greet
13-14 | Women's Fall Event
15 | Financial Peace University course (ends Nov. 10)
22 | Lunch on the Lawn
27-28 | Belong: Membership Weekend