Dear Friends,
​
Welcome to church! I pray today's service helps you take another step in your walk with Jesus. Please grab a cup of coffee and snack from the lobby, and make yourself at home.
Since we're still on the front-end of our new We Value… series, you've come at a great time. Last Sunday we heard a powerful and clear message about our first and primary value, the Gospel. If you weren't able to hear it live, you can always listen to the podcast or check out the video on our website and app.
Over the next six weeks, we'll be sharing our remaining six values in no particular order. Today I'm teaching on the value of Learning. As the Master Teacher, Jesus invites us to continually learn. While we teach our children, our neighbors, and our friends… the Bible must first teach us. As maturing followers of Jesus, we're thirsty to learn more of what God has said, and we're increasingly eager to submit our lives to the truth found in His Word. We believe that when we live life by God's design and see the world from His perspective, we find our deepest joy.
Join us next Sunday for a BIG announcement about a special ministry in the city. Jesus has poured out His favor on us and is paving the way for us to saturate our city with the gospel. To God be the glory!
With you for the gospel and for the city,
Matt Friend • Senior Pastor
@PastorMattBCC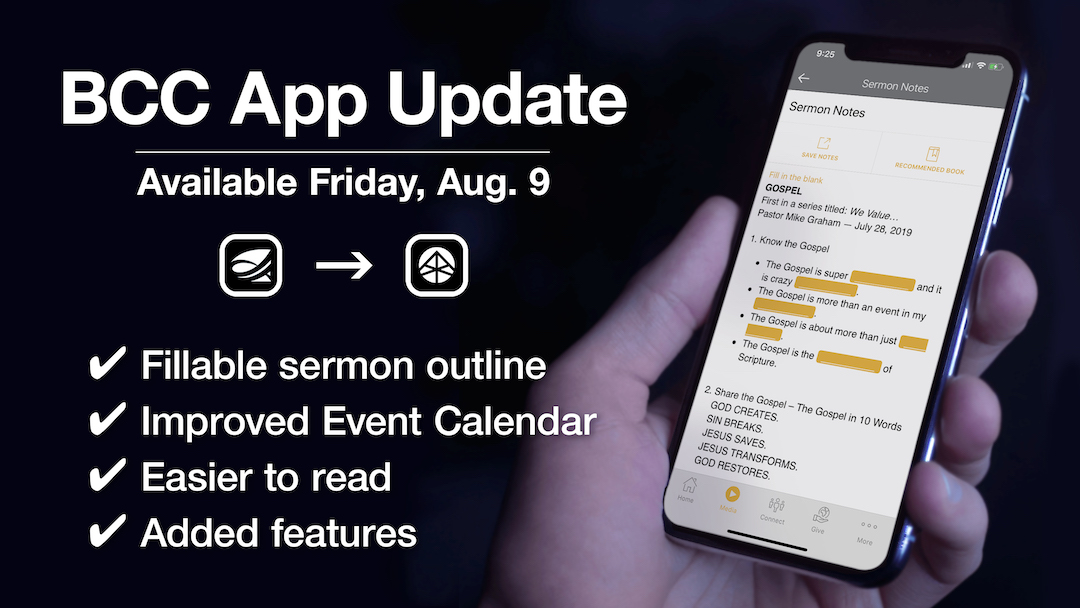 Exciting Updates Coming to the Bible Center App
Available August 9
Simpler, user-friendly interface.
Events calendar with ability to save to your own calendar.
Fillable sermon outline & notes. Save them or send to someone else.
Podcasts, videos, and livestream
Custom notifications
After the app updates, launch it, create your account, and select the notifications you want to receive. If you don't have the Bible Center App yet, plan to download it on Friday!
CHURCH LIFE
Bible Center School Employment Opportunities
Full-time Aide (Preschool) – 10 AM-6 PM
Full-time TK Aide (Preschool) – 10 AM-6 PM, 4-year-old children
Full-time Assistant Cook/Aide (Preschool) – 9 AM-5 PM
Part-time Aftercare Coordinator (School) – 3:00-5:30 PM
Email Principal Stephanie Schafer or Preschool Director Machelle Huffman if you are interested.
Global Leadership Summit
August 8-9 • $119 • Your influence matters… Maximize it by gaining insight and practical tips from industry leaders such as Craig Groeschel, Danielle Strickland, Patrick Lencioni, and more! BibleCenterChurch.com/GLS.
Bob Smiley: A Night of Laughs
Saturday, August 24 • 7 PM • Auditorium • $15.50 • Invite your friends and family to see "Christian comedian and hotel shampoo collector" Bob Smiley! Get tickets at the Info Desk (cash or check only) or at TheConcertSpot.com.
Financial Peace University
Sundays at 6 PM • September 15-November 10 • Do you struggle to keep your finances in check? Are you spending more than you make? Do you want to learn how to save and invest? Plan for retirement? Financial Peace is for you!
---
BELONG
Group Leadership Summit
August 24 • 9 AM-1 PM • Free • All BCC group leaders and interested individuals are required to come to this yearly leader training. Learn how best to shepherd your group, as well as relax and be with others who share similar responsibilities. Registration is necessary to prepare for breakfast and lunch. Contact Pastor Mike or Sheri if you have any questions.
GEMS Luncheon (Widows)
Saturday, August 10 • 12-2 PM • Panera (Southridge) • All are invited! Dutch treat. RSVP to Suzanne Lackey (304-610-3034) or just join us!
Women's Conference: How to Be a NOT SO Secret Agent of Grace
Fri., September 13 (7:00-9:30 PM ) & Sat., September 14 (9 AM-Noon) • Speaker: Becky McDonald, Musical Guest: Unspoken • Purchase your ticket online ($30-$50), or treat a special woman in your life! All ages are welcome.
---
SERVE
Serve in the Special Needs Ministry
We are growing! Additional buddies and leaders are needed. Serve on Sundays (9 or 11 AM) or Wednesdays (6-7:30 PM); no experience required. Contact Emily King or stop by room 1106 ("The Lodge" on Level 1) after the service. Background check required.
Join the Choir: Choir Kick-Off
Looking for somewhere to serve? Love to sing? Join the choir! The Choir Kick-Off will be on Wednesday, August 28 at 6:30 PM. Contact Mary Beth Malcolm to find out more or just show up!
Union Mission Crossroads Dinner
August 22 • 5:30 PM • Sign up online to donate items, make a contribution, or to serve. Volunteers needed at 4 PM. Contact Sheri with questions.
---
MARK YOUR CALENDARS