Dear Friends,
Welcome to church! Feel free to grab a cup of coffee and donut from the lobby and make yourself at home.
Is this the deepest meaning of life… Working 9-to-5 without really knowing anyone at work? Binge-watching Netflix alone every weekend? Having a million Facebook and Instagram friends without anyone really knowing you?
There's good news… You were Made for More!
The book of Ephesians teaches that we've been adopted into a new, spiritual family. We have a new identity as individual people and, collectively, as the people of God. We are supernaturally and spiritually empowered to live as the family of God because God has made us His beloved family.
Living within your unity in Christ is much more than finding a group of people who look like you, dress like you, vote like you, or spend their time like you. Spiritual friendship begins with a deeper foundation, commonalities rooted far beneath the surface. When we're aware of our communion as God's family, we're free to laugh together, to worship together, to party together, to pray together, and to show one another grace despite our different preferences and opinions.
Last week we launched this 8-week series with an introductory message. Today we begin journeying verse-by-verse through the book of Ephesians. We'll enjoy chapters 1-3 between now and Thanksgiving, resuming with chapters 4-6 in the new year. As we grow together, remember…
You were Made for More!
Matt Friend • Senior Pastor
@PastorMattBCC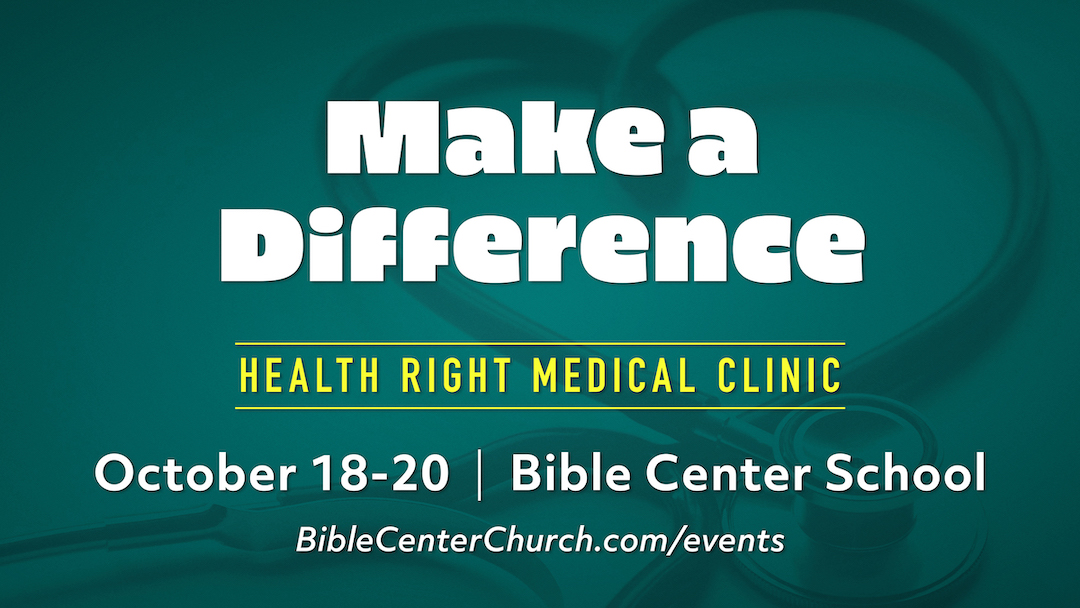 October 18-20 | Bible Center School
Share the love of Christ in a very tangible way: Join the medical team (
ramusa.org
) or interact with patients at Heath Right's Free Medical Clinic. 
Treat, welcome, feed, pray with, or shuttle those waiting for care. We will be working around-the-clock to help as many as possible over the weekend.
CHURCH LIFE
Big Daddy Weave Concert: The Alive Tour
Sunday, October 13 • 7 PM • $20 • Purchase tickets online or at the Info Desk.
Core Class: Salvation
October 17-November 7 • 6:15 AM, Noon, or 6:15 PM • Room 3105/06 • No sin is too great and no person is too broken for the saving work of Jesus. How does an act from 2000 years ago change me today? How does saving faith continue to transform me daily? Registration preferred. Workbook: $5
Save the Date: Guest Speaker
Bible Center Church is thrilled to welcome Dr. Gregg Allison April 25-26, 2020, for a 1-day theology intensive and for our Sunday services. Dr. Allison was one of Pastor Matt's favorite professors and mentors at The Southern Baptist Theological Seminary, where he has taught since 2003. His decades of ministry experience also include serving as a missionary, church elder, and consultant. He has written many books, including 50 Core Truths of the Christian Faith, which is being used for our current Core Class "Bible Doctrines" series. We hope you'll mark your calendars and plan to join us!
---
FAMILY
Parent Workshop: How to Talk to Your Kids About Sexuality
Wednesday, October 23 • 6-7:30 PM • Middle School Room (1105/06) • What do I say? How and when do I say it? If you've asked yourself these questions, this workshop is for you. Led by Pastor Steve Neill, this evening will be geared toward parents of young kids thru teenagers with the goals of removing fear and giving confidence when presenting a biblical worldview of sex and sexuality to your kids. We will give you the tools you need to address a topic that's often dreaded and awkward. Hope to see you there!
---
SCHOOL
Bible Center School Employment Opportunities
Email Principal Stephanie Schafer to apply:
Part-time Aftercare Attendant
Substitute Teacher, grades K-8. Flexibility with days and grade levels needed.
---
BELONG
Men's Breakfast
Saturday, October 5 • 8 AM • Ryan's in Southridge • All men are invited! Speaker: BCC Deacon Doug Ford. Dutch treat.
Fall Crafternoon (Women)
Saturday, October 12 • 2 PM • North Woods • $5 • Join us for crafting under the trees! Project: 2 fall candle holders (mason jars). Register by Sept. 30.
---
SERVE
Family Ministry Volunteers 
Would you like to change the world? Want to make an eternal difference in the life of a kid or student? We have some opportunities for you to do just that! We are looking for people who can smile, listen to a child, hold or comfort a child, play with a child, etc. Stop by our table in the lobby to find out how to get in on this! Opportunities are available to serve Birth-5 years old, K-5th, 6th-8th, 9th-12th, and Special Needs.
The Maker's Center Work Days
October 12 & 26 • 8 AM-4 PM • 602 Patrick St., Charleston • Painting, cleaning, demo, removing trash, etc. Drop by for an hour, or stay all day!
South Charleston Football Concession Stands
October 11, November 8 • South Charleston High School • Sell refreshments in partnership with The Fellowship of Christian Athletes (FCA) at two SCHS football games. Sign up on the BCC website or the app, or contact Tim Britton.
Trunk or Treat Volunteers & Donations
Trunk or Treat will be here before you know it, and we're excited to join with you in the effort this year! Donate candy, decorate a car, or choose one of a number of ways to plug in and welcome the community this October. Sign up today; drop candy off starting next Sunday.