Dear Friends,
Welcome to church! I'm so glad you're here. Feel free to grab a cup of coffee and donut from the lobby and make yourself at home.
Today we continue our Made for More series through the book of Ephesians. We're learning that the truest thing about us is what Jesus says. The most important thing about us is who we are in Christ.
The gospel changes us into new people: new in standing before God, new in identity, and new in relationships. Because of the finished work of Christ, there are realities positionally true about us that form the foundation for everything we think and do.
Instead of introducing new believers to the Christian life with a list of rules, Paul (in Ephesians chapters 1-3) starts by teaching who we are in Christ, both individually and as a church. Later, in chapters 4-6 (which we'll cover after the first of next year), Paul will teach us how to practically live together as a family and as spiritual friends.
To celebrate God's grace to us—His family—we'll celebrate communion together at the end of this morning's service. (If you're new to Bible Center, don't worry. We'll explain everything.)
As you enjoy communion, take a moment to reflect on the millions of other Jesus-followers meeting in hamlets and high-rises all over the world doing the same thing. We are a small (but significant) generation in a long lineage of grace.
We were made for more!
Matt Friend • Senior Pastor
@PastorMattBCC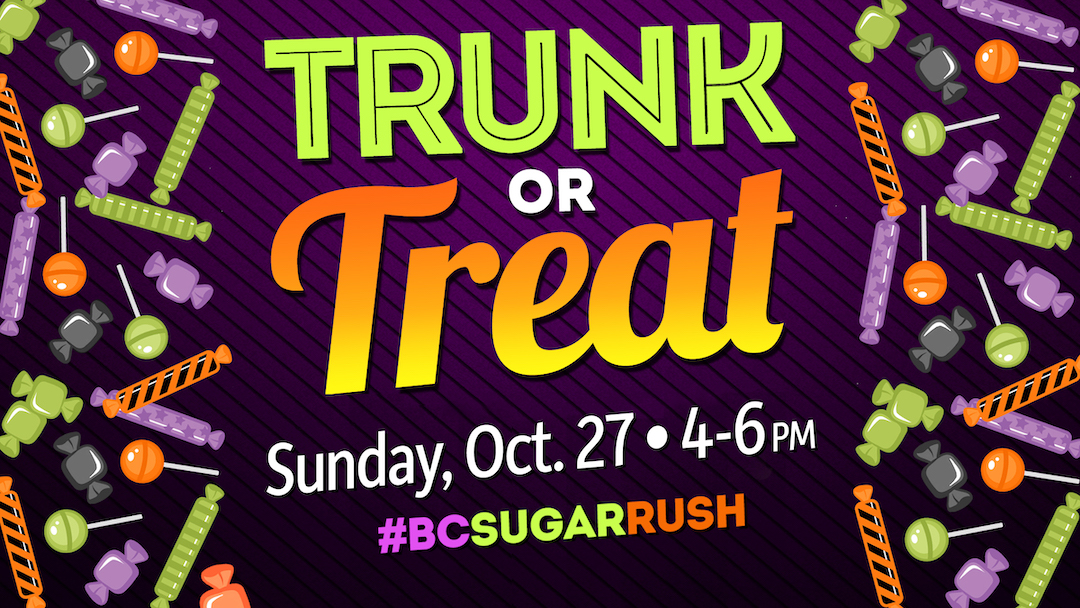 Trunk or Treat | Sunday | October 27 | 4-6 PM
Trunk or Treat will be here soon, and Bible Center and V100 Radio are excited to welcome the city once again! Here are the ways in which you can welcome new parents and kids:
Decorate a car
Candy donations
Guest info
First-aid
Fire pit/marshmallow roasting
Set-up or Tear-down
Parking & traffic flow
Candy runner
Candy drop off begins today, and invitations are also at the Info Desk. Take as many as you need!
Sign up
today!
CHURCH LIFE
Big Daddy Weave Concert: The Alive Tour
Tonight • 7 PM • $20 • Purchase tickets online or at the Info Desk.
Core Class: Salvation
October 17-November 7 • 6:15 AM, Noon, or 6:15 PM • Room 3105/06 • No sin is too great and no person is too broken for the saving work of Jesus. How does an act from 2000 years ago change me today? How does saving faith continue to transform me daily? Registration preferred. Workbook: $5
Info Meeting: Israel Trip 2020
Next Sunday • 4 PM • Rm. 3105/06 • Pastor Matt & Sarah would love for you to join them in Israel on Feb. 11-21! Details at BibleCenterChurch.com/events.
---
BELONG
Find Belonging in a Group
Group leaders will be available at the Group Wall after both services for anyone who'd like to know more about smaller settings for study, fun, and friendship.
Cozy Around the Campfire (Women)
Friday November 8 • 7 PM • Free • Join us at the fire pit for an evening of singing, story-telling, and roasting hot dogs and marshmallows. Bring a lawn chair, blanket, and friend! RSVP by Oct. 25.
---
FAMILY
Parent Workshop: How to Talk to Your Kids About Sexuality
Wednesday, October 23 • 6-7:30 PM • Middle School Room (1105/06) • Led by Pastor Steve Neill, this evening will be geared toward parents of young kids up to 5th grade with the goals of removing fear and giving confidence when presenting a biblical worldview of sex and sexuality to your kids.
Info Meeting: Spring Break Mission Trip (High School)
Next Sunday • High School Room (#2104) • After both services—15 minutes max! • Parents, we'd love to have your student join us in Jamaica this spring on our mission trip! Find out what we'll be doing, how much it will cost, and more!
HSM Leadership Retreat (High School)
October 25-27 • $30 due Oct. 20 • Paddle board, kayak, fish, and swim in the Greenbrier River! We'll leave the school campus at 5 PM and return to the church at noon. Register here. Questions? Email Pastor Matt.
---
SERVE
Family Ministry Volunteers
Would you like to change the world? Want to make an eternal difference in the life of a kid or student? Stop by our table in the lobby to find out how! Opportunities are available to serve—birth-12th grade and Special Needs.
Health Right's Free Medical Clinic
October 18-20 • School campus • Share the love of Christ in a tangible way: Welcome, feed, pray with, or shuttle those waiting for care. Physicians, dentists, and eye docs: Register at ramusa.org. Do not register on the church website. For everyone else: Register at BibleCenterChurch.com/events or the app. Questions? Email Todd Fowler.
The Maker's Center Work Days
October 26 • 8 AM-4 PM • 602 Patrick St., Charleston • Painting, cleaning, demo, removing trash, etc. Drop by for an hour, or stay all day!
---
SCHOOL
BCS Employment Opportunity: Aftercare Attendant
An aftercare attendant is needed 3:15-5:30 PM. This job opportunity would be perfect for a high school or college student. All applicants welcome. Email Principal Stephanie Schafer.