Dear Friends,
Welcome to church! With our Trunk or Treat only a few hours away, Sarah and I are thrilled to host a trunk with our community group and enjoy this event with you.
Why host this event again this year? Because…
It gives us all an opportunity to make new friends. Last year we hosted several thousand people, most of whom were children.
It's a living billboard for the love of Jesus. City and cultural rhythms like holidays give us the opportunity to connect with people where they live.
It gives us an opportunity to share the gospel. Our Gospel tracts will be given again this year.
It gives us an opportunity to leave the building and serve real people. People will only care how much we know when they know how much we care.
It positions us in the long line of church history. Did you know that Halloween (All Hallows Eve) was first a Christian idea? Halloween can be for us—like the early Christian church—an open door for sharing Christ. Halloween is not a time to curse the darkness, but a time to light a candle.
We'll have fun together. God invented fun, and He encourages us to enjoy life's simple pleasures. Even unbelievers were attracted to Jesus' joy.
Join me this evening from 4-6 PM! Decorate your car! Donate truckloads of candy! Involve your family or community group! Volunteer to serve!
With you for the city,
Matt Friend • Senior Pastor
@PastorMattBCC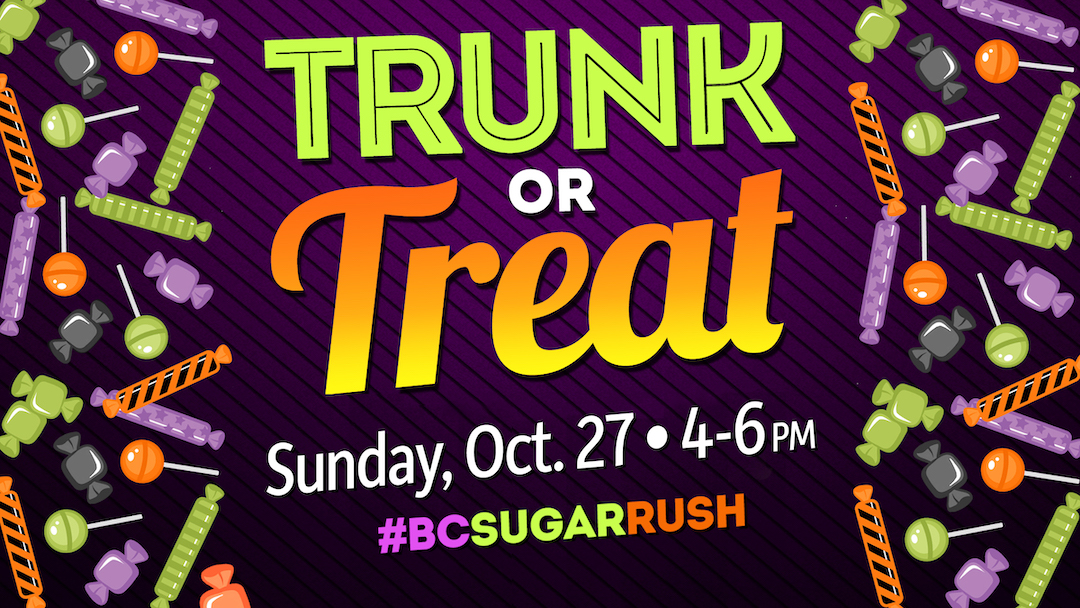 Trunk or Treat | Sunday | October 27 | 4-6 PM
Thanks for being for the Gospel and for the city! Here are some last-minute reminders. For questions, contact Jane: beside the fireplace,  (304) 549-9042, 
jjackson@BibleCenterChurch.com.
Decorating a Car
Parking begins at 2:30 PM. Have your vehicle parked, decorated (optional), and manned by 3:45 PM.
Groups must meet & enter together in order to park together. We cannot "save spaces."
Serving in the Event
Arrive by 2:45 PM.
Park on Peyton Rd. (service road on the hill). A shuttle bus can pick you up at your car.
Check in at the table under the canopy and pick up your ID lanyard.
Ponchos will be provided in case of rain.
CHURCH LIFE
You're Invited!
Saturday, November 2 • Gathering Space • The family of Hazel Hess invites you to her 90th birthday celebration. Drop in any time between 2-4 PM.
Daylight Saving Time Ends
Set your clocks back before you go to sleep on Saturday! DST ends November 3.
Baptism Class
Sunday, November 10 • 6 PM • Auditorium • Anyone interested in being baptized is invited to attend this class. Bring a photo or be prepared to have one taken. See Jane at the Connect Table beside the fireplace if you have any questions. The next baptism will be held on November 24.
Core Class: End Times
November 15 • 6:30 PM • Auditorium • He is coming back! One day all will be made new.  Are you ready for that day? We'll be covering Personal and Cosmic Eschatology. Registration preferred. Workbook: $5.
---
SCHOOL
BCS Employment Opportunities
Lunchroom Supervisor • Library Helper • Aftercare Attendant (appropriate for high school or college student) • Aftercare Coordinator (Part-time) • Email Principal Stephanie Schafer.
BCS Veterans Day Program
Monday, November 11 • 10 AM • Bible Center Church • Join the students and staff of BCS as we honor our veterans who have served and protected our country. The Guest Speaker will be Lt. Col. Steve Bohman.
Save the Date: Annual Gala
January 31, 2020 • 6 PM • Be our guest and plan to join us for dinner, a silent auction, and stories of impact from BCS students and alumni. Tickets will be on sale in December.
---
BELONG
Men's Breakfast
Saturday, November 2 • 8 AM • Ryan's in Southridge • All men are invited! Speaker: BCC Deacon Tom Minturn. Dutch treat.
Cozy Around the Campfire (Women)
Friday November 8 • 7 PM • Free • Join us at the fire pit for an evening of singing, story-telling, and roasting hot dogs and marshmallows. Bring a lawn chair, blanket, and friend! RSVP by Nov. 1.
---
SERVE
Union Mission Food Collection & Distribution
Beginning November 3, we'll collect non-perishable food for the annual Gospel Service & Food Distribution. Please drop off donations behind the fireplace or at Bible Center School. To participate in the Distribution (Nov. 23), register or contact Sheri Skidmore. 
South Charleston Football Concession Stands
November 8 • South Charleston High School • Sell refreshments in partnership with Fellowship of Christian Athletes (FCA) at a SCHS football game. Sign up on the BCC website or the app, or contact Tim Britton.
---
FAMILY
Child Dedication
Sunday, November 10 • Register online or on the app today. For questions, email or text Jess Backus, (304) 941-2836).
Insomnia (High School & Middle School)
Friday, November 15 • 9:30 PM-7 AM (Saturday) • Bible Center School • Join us for escape rooms, Sky Zone, bowling, swimming, and more! Sign up today. Questions? Contact Pastors Matt or Josh. Cost: Now-Nov. 8: $50; Nov. 8-14: $60.