With great pomp and circumstance that little bundle of joy (and tax deduction!) is born into your world. Whether you brought your baby home from the hospital or adopted him or her sometime later, the question niggles at your mind and won't go away…
How can I raise my child well?
Here are four tips from a parent who's still on the journey.
#1 – Take advantage of prime-time opportunities
The primary context for raising our children isn't in their schools, clubs, teams, or churches. Instead, it's in our homes, in our cars, at our dinner table, and by their bedside. All parents choose to "farm out" some aspect of their child's development, whether to a specific school, music teacher, co-operative group, or coach; but we—the parents—are primarily responsible for overseeing their development.
Teaching our children happens in planned moments when we lead guided discussions and in unplanned moments when our child is heartbroken or comes to us with questions.
This advice isn't new. Thousands of years ago, God gave a similar model to His people…
Love the Lord your God with all your heart and with all your soul and with all your strength. These commandments that I give you today are to be on your hearts. Impress them on your children. Talk about them when you sit at home and when you walk along the road, when you lie down and when you get up. (Deuteronomy 6:5-7)
When our girls were small, my wife and I found bedtime to be best for heart-to-heart discussions. When they were of preschool age, we discovered the dinner table to be the best time for reading and instruction (until they discovered how to unlatch their highchairs!). Now that they are both in their teens, car conversations seem to be the most productive.
Your prime-time opportunities may be different than mine, and they probably vary with each child; however, take advantage of those occasions.
Teaching our children happens in planned moments when we lead guided discussions and in unplanned moments when our child is heartbroken or comes to us with questions.
Click To Tweet
#2 – Be prepared to have your heart broken
This is difficult for us to envision when our children are small. We sometimes see them as beautiful Baby Gap models or porcelain dolls.
But all children grow up. Like we did with our parents, they will do some thing at some time to disappoint you or, perhaps, even to break your heart.
James K. A. Smith writes…
While I don't mean to rain on your parade, I do feel compelled to share the bad news, too: your child might break your heart. Actually, he or she will break your heart. Somehow. Somewhere. Maybe more than once. To become a parent is to promise that you'll love prodigals. Indeed, some days parenting is exactly how God is going to teach you to love your enemies. It will require absorbing all of your child's misplaced animosity, all their confused attempts to figure out who (and whose) they are. At those moments, Jesus' call to lay down your life and take up the cross will have a mundane tangibility you could have never imagined.
The more prepared we are for those moments, the less we'll be surprised… and the more our kids will know that we love them unconditionally.
#3 – Do life in community with other parents
Raising a child really does take a village. We need the encouragement of others, the accountability of others… and eyes to see what we can't.
My wife and I are deeply thankful for our children's coaches, teachers, music instructors, bosses, and mentors; however, we are most thankful for the community of faith—the church—where our children can grow up in the care of other Jesus-followers.
Having other Christian parents around continually protects us from making two common mistakes with our children:
Thinking they can do nothing wrong – Others can sometimes see areas of needed growth before we can.
Thinking they can do nothing good – Others can sometimes see good qualities before we do.
This past Sunday, at our church, all our members stood at the end of the service to read this statement aloud and commit together…
With joy and thanksgiving, as Christ's church, with God's help, we promise to love, encourage, support, and pray for our parents as they follow Christ and train their children in the faith.
#4 – Keep giving them back to God
Kids aren't commodities, burdens, or social opportunities. They are gifts from God—an unmerited reward.
The Bible teaches…
Don't you see that children are God's best gift? The fruit of the womb his generous legacy? (Psalm 127:3)
Since our kids already belong to God, it only makes sense to continually give them back to God. Many of us did this when our children were born; nevertheless, if you're like me, it's a decision and prayer that needs continual repeating…
Dear Lord, my children belong to You. I commit them to You. They are ultimately Yours, not mine. Help me to be a good steward by raising them the way You want me to. Your plans for them may be different than my plans for them… and that's okay.
Kids aren't commodities, burdens, or social opportunities. They are gifts from God—an unmerited reward.
Click To Tweet
Let's Be Honest
Have you made any mistakes as a parent? I have. More than I care to count. However, thankfully, Jesus is the Savior of both children and their parents. He is the promise-keeping God who is infinitely more faithful than us.
This kind of thinking frees us from the pressure to get everything right with our parenting. Basing our parenting on God's faithfulness, instead, frees us to be thankful and enjoy His good gifts when they come our way.
Notice how Jesus receives both children and adults…
People were bringing little children to Jesus for him to place his hands on them, but the disciples rebuked them. When Jesus saw this, he was indignant. He said to them, "Let the little children come to me, and do not hinder them, for the kingdom of God belongs to such as these. Truly I tell you, anyone who will not receive the kingdom of God like a little child will never enter it." And he took the children in his arms, placed his hands on them and blessed them. (Mark 10:13-16)
Commit your life to the Lord Jesus Christ today.
Matt Friend, a Charleston native and tenth generation West Virginian, graduated from the Southern Baptist Theological Seminary, has served in pastoral ministry since 2002 and at Bible Center Church since March 1, 2016 (as our sixth Lead Pastor). He and Sarah (his high school sweetheart) are raising two teenage daughters, Katie and Riley, and a son, Kadyn. Together, they are advocates for adoption and all things West Virginia. In his free time, he enjoys reading, camping, hiking, kayaking, golfing, and spending time with his family and two dogs, Queso and Wasabi.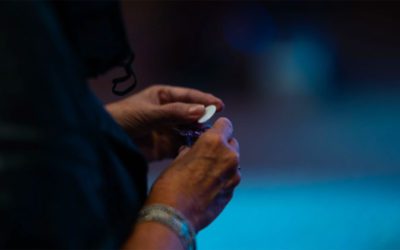 he church service is almost over. Stomachs are growling, infants are weepy, and the clock is ticking. It's at this point every week that I ask the congregation to take a minute of prayerful contemplation and self-examination, and then I...