Dear Friends,
Welcome to church! I'm so glad you're here. Today is our Thanksgiving Sunday, and I couldn't be more thrilled!
First, I'll be speaking on the subject, Why Thanksgiving? As Americans, most of us have grown up making a big deal about the holiday; however, why do we place such an emphasis on it as Christians? Even if you're not yet a follower of Jesus, I pray this message speaks to your heart and answers a few of your questions.
Furthermore, we'll celebrate baptism and communion. Jesus gave us both traditions to remind us of His perfect life, dreadful death, and glorious resurrection. For millennia, baptism and communion have stirred God's people to grateful worship. If you're new here… don't worry. I'll explain everything.
Finally, toward the end of the service, we'll take a few minutes and honor Pastor Lee Walker for 50 years of faithful service to the Lord. The career that was planted in 1969 has grown into a mighty oak from which we still benefit today. Lee doesn't like attention… but he has agreed to play along with our plan. I pray his story encourages us all to bloom where God has planted us.
As Paul the Apostle wrote nearly two thousand years ago, All this is for your benefit, so that the grace that is reaching more and more people may cause thanksgiving to overflow to the glory of God (2 Corinthians 4:15).
Happy Thanksgiving!
Matt Friend • Senior Pastor
@PastorMattBCC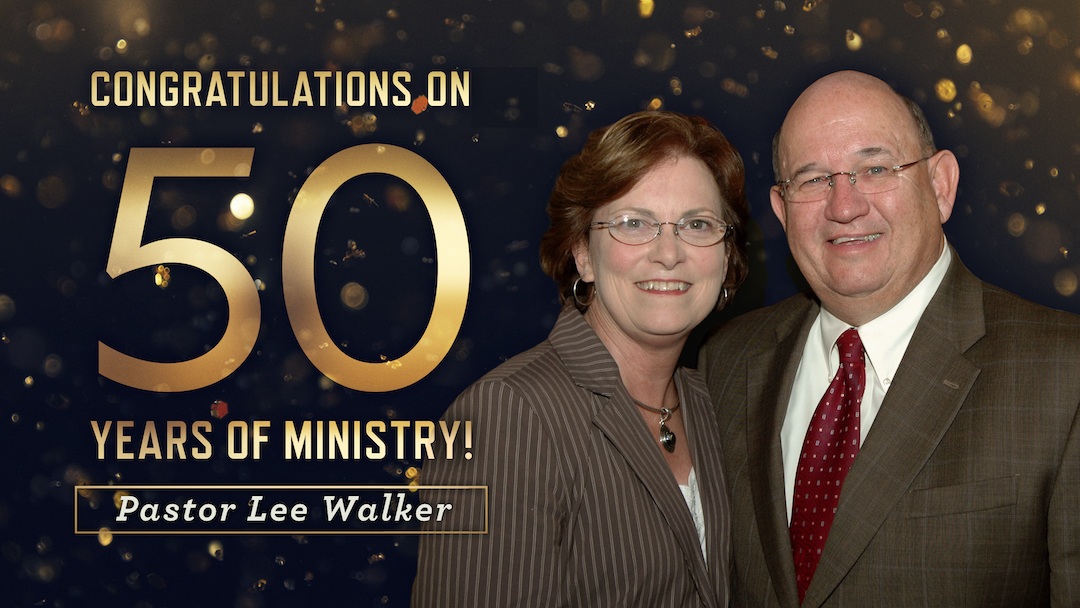 Congratulations on 50 Years of Ministry!
In honor of Pastor Lee Walker's 50 years in ministry, stop by the Lobby at the end of either service to greet him or share some stories!
Church Life
Offices Closed
Church offices will be closed on November 28 & 29. Happy Thanksgiving!
BCS Christmas Craft & Vendor Show
Friday, December 6, 3-4:30 PM & 6-8 PM • Saturday, December 7, 10 AM-1 PM • School campus, RAM Center • Bible Center School is excited to hold its first Christmas Craft and Vendor Show! View the variety of beautiful products from 20+ crafters and vendors. Shop for yourself or check some names off your Christmas list and help support BCS. Invite friends and bring the whole family!
Christmas Parade Helpers
Thursday, December 12 • BCC will participate in the Christmas Parade again! Opportunities are available to build the float, hand out candy along the route, or be a parade walker. Register or contact Jane.
Christmas in Charleston Concert
Saturday, December 14 & Sunday, December 15 • 6 PM • Auditorium • Invite your friends and family! Identical programs celebrating the birth of Jesus.
---
FAMILY
Wednesdays at BCC (Holiday Break) (K-12th Grade)
Wednesday night AWANAs & Student Ministries will resume on Jan. 8, 2020.
Save the Date: Dodgeball Tournament (3rd-5th Grade)
Saturdays, January 18-February 8 • 9-11 AM • Bible Center School • Gym • Break the winter blues with our annual Dodgeball Tournament. Not only is it tons of fun, but it's a great way to introduce your friends and family to Bible Center. Gather your team of 4-8, and register to play. Cost: $5 for food.
More Save the Dates!
Small Group Night Out (6-12th Grade) Wednesday, December 4 • 6 PM
Christmas Party (6-12th Grade) Saturday, December 7 • 6-8 PM • Auditorium
Pajama Party (K-5th Grade) Sunday, December 29 • 9 & 11 AM • Base Camp
---
Belong
Men's Breakfast
Saturday, December 7 • 8 AM • Ryan's in Southridge • All men are invited! Speaker: BCC Deacon Rick Bitzer. Dutch treat.
OWLS Christmas Brunch (Adults 55+)
Saturday, December 7 • 9-11 AM • Gathering Space • We will have a delicious breakfast and then assemble Christmas baskets to deliver to our elderly shut-ins and those with special needs within our church family. RSVP by Dec. 1.
OWLS Dinner & Christmas Lights (Adults 55+)
Thursday, December 19 • We'll travel to Chief Logan State Park for dinner and a ride through the Christmas lights at the park. Cost is $5 for gas plus money for dinner (payable that evening). We will leave Bible Center School (Wells Furniture end) at 4 PM. RSVP to Judy Mercer (304-346-0431).
GEMS: Cookies, Cupcakes & Christmas Music (Widows)
Friday, December 20 • 5:30-7:30 PM • Gathering Space • RSVP to the church office (304-346-0431) by Dec 10.
12th Annual Men's Thanksgiving Luncheon
This Wednesday • 11:45 AM – 1 PM • All men are invited to join Pastors Mike and John for lunch in the Gathering Space on Nov. 27. $12 at the door.
Registration
preferred. Go online, on the app, or contact
Sheri
(304-346-0431)
.