Dear Friends,
Welcome to church! We're so glad you're here.
Back on September 22, we launched this year's theme: Making Spiritual Friends. We learned that when Paul wrote the book of Ephesians, he was essentially "double-clicking" on Jesus' words in John 15…
As the Father has loved me, so have I loved you. Now remain in my love… I have told you this so that my joy may be in you and that your joy may be complete. My command is this: Love each other as I have loved you. Greater love has no one than this: to lay down one's life for one's friends. You are my friends if you do what I command. I no longer call you servants, because a servant does not know his master's business. Instead, I have called you friends, for everything that I learned from my Father I have made known to you. You did not choose me, but I chose you and appointed you so that you might go and bear fruit—fruit that will last—and so that whatever you ask in my name the Father will give you. This is my command: Love each other (vv. 9-17).
You can check out that message (and all the others) on the website or the app.
Today, as our own Pastor Mike preaches the second half of chapter 3, consider how your friendships not only bring you joy, but how they also bring God joy. Our unity is for His glory!
Much love in Jesus,
Matt Friend • Senior Pastor
@PastorMattBCC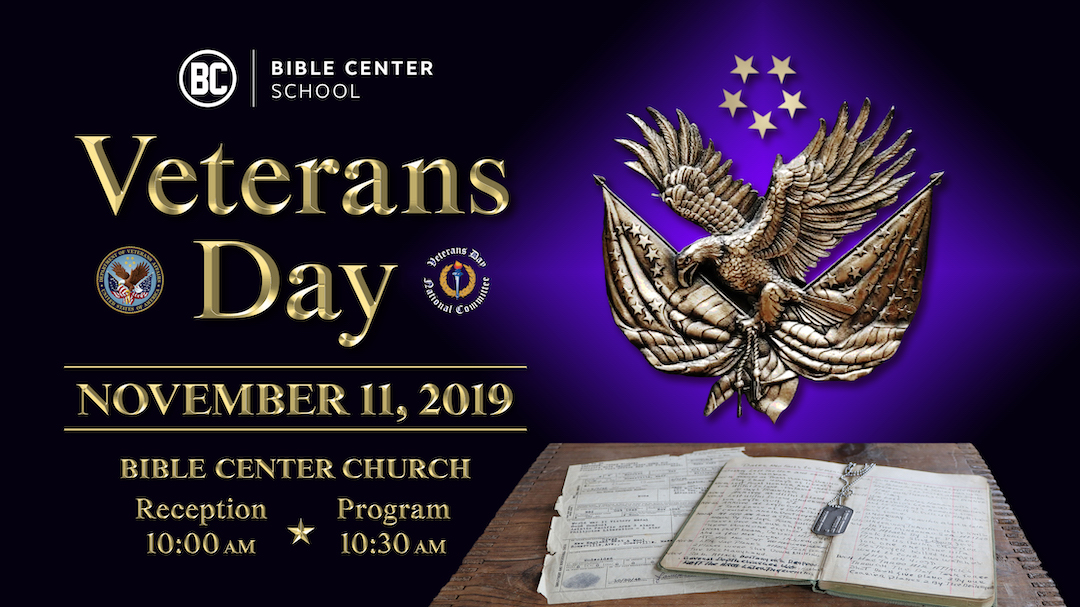 November 11, 2019​​
Reception: 10 AM • Program: 10:30 AM
Bible Center Church
Bible Center School will host the 19th annual Veterans Day Program to honor the men and women who have served and protected our country. Our guest speaker will be Lt. Col. Stephen J. Bohman, US Army Reserve. Everyone is invited! Bring friends, neighbors, and loved ones to enjoy the program, the reception, and the displays made by BCS students.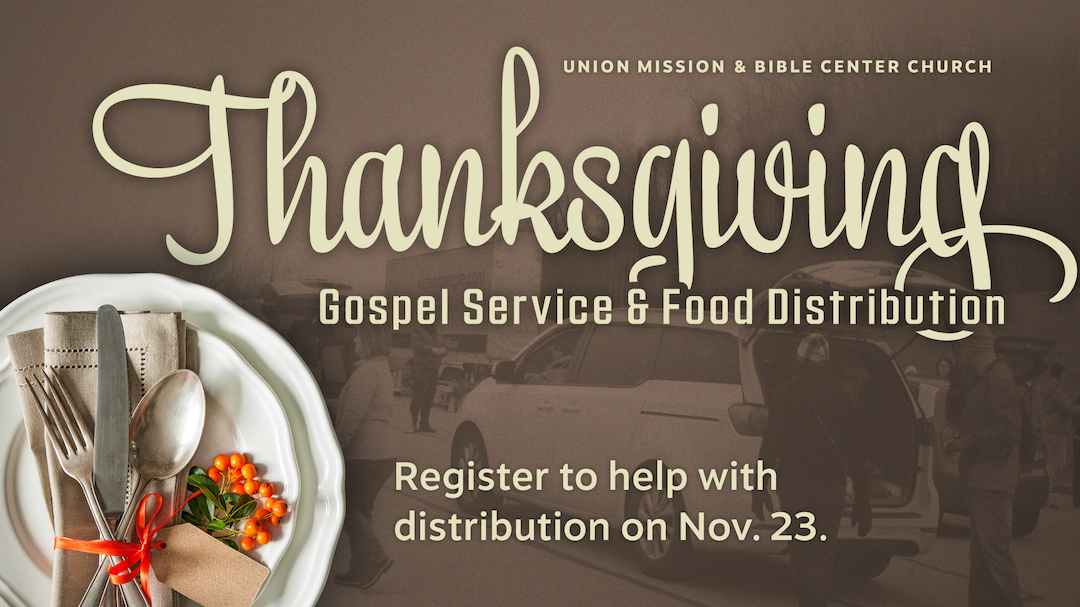 Beginning today, we're collecting non-perishable food for the Gospel Service & Food Distribution, which will be held on Saturday, November 23. Drop off donations at the Group Wall or at Bible Center School. To participate in the Distribution, register or contact Sheri (304-346-0431).
CHURCH LIFE
Baptism Class
Sunday, November 10 • 6 PM • Auditorium • For anyone interested in being baptized. Bring a photo or be prepared to have one taken. Questions? See Jane at the Connect Table. The next baptism will be held on November 24.
Core Class Intensive: End Times
November 15 • 6:30 PM • Auditorium • He is coming back! One day all will be made new. Are you ready for that day? Registration preferred. Snacks provided. Workbook: $5.
Memorial Poinsettias
We will be decorating our church with beautiful, red poinsettias in memory of those who have shared the joys of Christmases past with us. Forms are available at the Info Desk or order via the website or app. Order by Nov. 17.
Christmas Parade Helpers
Thur sday, December 12 • BCC will participate in the Christmas Parade again this year! Opportunities are available to help build the float, hand out candy along the route, or be a parade chaperone. Register or contact Jane.
A Christmas in Appalachia
Vision Appalachia will present a concert benefitting the youth of central Appalachia on December 7 at 7 PM at the Charleston Civic Arena Little Theater. Ticket information is available at chaswvccc.com or by calling (304) 345-7469.
---
FAMILY
Child Dedication
Sunday, November 10 • Register online or on the app today. For questions, email or text Jess Backus, (304) 941-2836).
Insomnia (High School & Middle School)
Friday, November 15 • 9:30 PM-7 AM (Saturday) • Bible Center School • Join us for escape rooms, Sky Zone, bowling, swimming, and more! Sign up today. Questions? Contact Pastors Matt or Josh. Cost: Now-Nov. 8: $50; Nov. 8-14: $60.
---
SCHOOL
BCS Employment Opportunities
Aftercare Attendant (3:15-5:30 PM, M-F, days are flexible) • Email Principal Stephanie Schafer.
---
BELONG
WVU Tailgate Party
Saturday, November 16 • Men's Ministry leaders will host a Tailgate Party in the church parking lot! Bring your family, friends, and food, and join us to watch the WVU/Kansas State football game. Time TBA.
12th Annual Men's Thanksgiving Luncheon
Wednesday, November 27 • 11:45 AM – 1:00 PM • Gathering Space • $12 • All men are invited to join Pastor Mike Graham for lunch! Guest speaker: Pastor John King. Registration preferred.
---
SERVE
South Charleston Football Concession Stands
November 8 • South Charleston High School • Sell refreshments in partnership with Fellowship of Christian Athletes (FCA) at a SCHS football game. Sign up on the BCC website or the app, or contact Tim Britton.