If you could trade places with someone famous, who would you pick? Maybe you'd love to be known as the world's greatest basketball player or business mogul. Perhaps you'd trade places with Joanna Gaines and paint your picture around the Silos. It's possible that you'd choose to be a well-known politician or an esteemed professor, or maybe even the world's best mom or dad.
One of the most fundamental and universal desires is to be known—truly known—by the people we care about. We want to feel that someone knows and understands us, deeply and thoroughly.
Lesson Learned from a Hospital Bed
A hospital bed taught Joni Eareckson Tada that she was more known than she had thought.
When Joni was seventeen, she had a diving accident that left her a quadriplegic, paralyzed from the shoulders down. During the first two years after the injury, Joni experienced depression bitterness, thoughts of suicide, and doubts about her Christian faith.
When she was in a rehabilitation hospital in the Baltimore area, she shared a room with three or four other young women who also suffered from debilitating conditions. One of the girls in her room was Denise Walters.
Denise had been a happy, popular seventeen-year-old high school senior in Baltimore, Maryland. One day when she was bounding up the steps at the high school, she stumbled with weak knees. By the end of the day, she could barely walk, so she went home and went to bed.
When Denise awoke for dinner, she found that she was paralyzed from the waist down. Not long afterward, she was paralyzed from the neck down, and then she went blind… just like that. It was a rare form of rapid-progression multiple sclerosis.
She lay motionless in her hospital bed, unable to move or see, and was barely able to talk. It was difficult to have any kind of conversation with her. Her roommates could have brief, fragmentary talks with her, but it wasn't long before she had no visitors but her mother.
But Denise and her mother were Christians, and every night her mom came in and read the Bible to her and prayed with her dying daughter. Denise knew she was dying, but death was not coming quickly enough to be considered merciful in any way. She lay there in a lonely hospital bed for eight long years. Then she died.
When Joni heard that Denise had finally died, she shared her struggle with a few friends, "How could a person like Denise still love Jesus and never complained in spite of such meaningless suffering?" One of them opened a Bible and first turned to Luke 15:10 which says…
In the same way, I tell you, there is rejoicing in the presence of the angels of God over one sinner who repents. (NIV)
Another friend opened a Bible to Ephesians 3:10…
Through Christians like yourselves gathered in churches, this extraordinary plan of God is becoming known and talked about even among the angels! (MSG)
Suddenly Joni got it! She understood. She saw the world differently!
The secular worldview says there is only this world. The here-and-now universe is the only reality. The natural world is real. There is no supernatural, no angels and demons, no spirits and souls, no God or devil.
But someone was watching her in that lonely hospital room—a great many someones!
The angels witnessed Denise's uncomplaining faith and gave glory to her Savior. The demons watched for her faith to waiver in hopes of mocking her Savior, to no avail. Most of all, Denise's Savior watched with grace-filled eyes and promised to give her a new body one day, in the new heaven and new earth. Though Joni has lived in a wheelchair since her dreadful accident, she has carried Denise's hope with her to this day.
Lesson Learned from History
Nearly 2,000 years ago, while Jesus was dying in the cross, He prayed the following…
Father, forgive them, for they do not know what they are doing. (Luke 23:24)
The rest of the New Testament teaches us that we are the "them." Jesus genuinely offers God's forgiveness, salvation, and eternal pardon to any one of us who will turn from our sin and trust Christ alone for salvation.
How could Jesus make such an offer? Did He really know us before we were born?
The people in our church take Jesus' promise at face value…
Are not two sparrows sold for a penny? Yet not one of them will fall to the ground outside your Father's care. And even the very hairs of your head are all numbered. So don't be afraid; you are worth more than many sparrows. Whoever acknowledges me before others, I will also acknowledge before my Father in heaven. (Matthew 10:29-32)
We're convinced the historical record is true: Jesus was born in Bethlehem, lived a perfect life, sacrificed Himself on our behalf by dying on a cross, arose from the dead on Easter morning, and lives today to save anyone who calls on His name.
What Now?
Believe in the Lord Jesus Christ. Receive His salvation. You might pray the following in your own words…
Lord, thank you for doing everything necessary to pay for my sin. I believe Jesus is Lord and offers me salvation today. I accept His free gift.
Whether that's your conclusion or not, perhaps the best thing you can do now is ask yourself, "Why do I desire to be known? From where did this craving come?"
I believe Someone put that yearning in your heart so it could only be satisfied in Jesus.
Matt Friend, a Charleston native and tenth generation West Virginian, graduated from the Southern Baptist Theological Seminary, has served in pastoral ministry since 2002 and at Bible Center Church since March 1, 2016 (as our sixth Lead Pastor). He and Sarah (his high school sweetheart) are raising two teenage daughters, Katie and Riley, and a son, Kadyn. Together, they are advocates for adoption and all things West Virginia. In his free time, he enjoys reading, camping, hiking, kayaking, golfing, and spending time with his family and two dogs, Queso and Wasabi.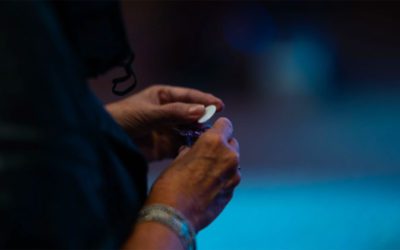 he church service is almost over. Stomachs are growling, infants are weepy, and the clock is ticking. It's at this point every week that I ask the congregation to take a minute of prayerful contemplation and self-examination, and then I...