The Christmas story is a true story. History, logic, fulfilled prophecy, and the spiritual experience of changed lives have left behind a smoking gun. However, not everything we've been told about the Christmas story is true.
In particular, here are six myths about the wise men—also known as the magi—in the Christmas story.
Myth #1 – There were three
Referring to the three wise men is almost as common as apple pie and the Fourth of July. Most of our nativity sets contain three of these characters.
However, the Bible never tells us that there were only three. They brought three kinds of gifts (gold, frankincense, and myrrh), but there were most likely many more than three in their huge entourage.
The oldest middle eastern Christian traditions number the magi at 12. It's possible there were even more than that. A group of traveling magi—on an international highway infested with bandits—likely included a small army.
However large their group, their arrival in Jerusalem was so pronounced that it stirred the whole city. They paraded into Jerusalem and earned an audience with the king.
When King Herod heard this he was disturbed, and all Jerusalem with him. (Matthew 2:3)
Are you a Disney+ fan? Have you seen the old or new Aladdin movies? Envision the moment when "Prince Ali" parades into the palace gates to court the princess. These men probably arrived in Israel with similar pomp and circumstance.
Myth #2 – They came to the manger where Jesus was born
Actually, they came days, weeks, months, or even over one year later to the Bethlehem home where Joseph and Mary were staying with their little boy.
On coming to the house, they saw the child with his mother Mary, and they bowed down and worshiped him. (Matthew 2:11)
Matthew chapter 2, the only biblical record of the wise men, tells us that when King Herod learned of Jesus' birth, he decreed the genocide of every child in the kingdom under two years of age. It's not likely that Jesus was two when the wise men arrived, but such a decree leads us to believe Jesus was no longer a newborn.
Assuming the wise men traveled from Babylon or Persia, the 800-mile journey along the Silk Road would've taken about a month. If they saw the star when Jesus was born and left immediately, finding Jesus in a house a month after his birth fits the timeline.
Myth #3 – They were kings
We three kings of orient… aren't.
For millennia, the ancient prophecies predicted that all the kings of the earth will one day fall down and worship Jesus. While that's still true, it's a stretch to impose such royalty on this group who are simply identified as "magi" in the Bible.
Who were the magi? They were wealthy, educated, Babylonian or Persian scholars whose expertise ranged from astronomy, mathematics, magic, medicine, philosophy, and prophecy. Our words "magician" and "magistrate" both come from the word "magi."
The Old Testament mentions the magi on multiple occasions, including over twenty times in the famous life of Daniel. It seems that God gave Daniel—the chief magi in Babylon (Iraq) and advisor to King Nebuchadnezzar—special revelation about how individual Scriptures would be fulfilled. Scriptures like…
A star will come out of Jacob; a scepter will rise out of Israel. (Numbers 24:17)
But you, Bethlehem Ephrathah, though you are small among the clans of Judah, out of you will come for me one who will be ruler over Israel, whose origins are from of old, from ancient times. (Micah 5:2)
Daniel would've passed down these teachings to the magi he managed. Evidently, they also shared Daniel's teachings with subsequent magi until, 500 years later, the wise men in the Christmas story saw Daniel's predictions fulfilled.
Myth #4 – They rode camels
The Parthian Empire ruled modern day Iraq and Iran during the time of Christ's birth and were known for their powerful cavalries. Though camels would've been in their entourage, these noble wise men most likely rode Nisean or Arabian horses.
The oldest paintings and carvings depict the magi on horses, not camels.
Myth #5 – Their names were Caspar, Balthasar, and Melchior
This myth came later, probably as the result of parents trying to spice up the story for their children. Neither the Bible nor credible history names them.
Myth #6 – The star was only a natural, astronomical event
Every Christmas the planetariums and astronomers offer explanations of the Christmas star. Some say it must have been a supernova, or a comet, or the conjunction of Jupiter and Saturn.
It's possible that Daniel had passed along divine details about a planetary or constellation alignment; but this event also drips with the supernatural, much like the time—around 1,500 years earlier—when God led the Hebrews through the wilderness with a hovering cloud and pillar of fire.
The experience of the wise men seems similar to that of the shepherds when a bright light appeared out of nowhere, accompanied by singing angels…
After they had heard the king, they went on their way, and the star they had seen when it rose went ahead of them until it stopped over the place where the child was. (Matthew 2:9)
Just as no scientific explanation is needed for God's creation of the world or for Jesus' incarnation or resurrection, no technical justification is needed for the Christmas star. Even if the star was an astronomical phenomenon, God orchestrated it all.
So what?
Why does any of this matter? Why would God include this true story in the sacred Scriptures for us to read 2,000 years later? Be encouraged with the following:
God wants all kinds of people, including people like you.
God is working out everything in your life for His glory.
Jesus is worthy to be followed and worshiped with great sacrifice.
Only Jesus can fulfill all your longings and desires.
What are your greatest longings and deepest desires? Only Jesus can satisfy those.
Then Jesus declared, "I am the bread of life. Whoever comes to me will never go hungry, and whoever believes in me will never be thirsty… Very truly I tell you, the one who believes has eternal life." (John 6:35, 47)
Believe on the Lord Jesus Christ and you will be saved!
God wants all kinds of people, including people like you.
Click To Tweet
God is working out everything in your life for His glory.
Click To Tweet
Jesus is worthy to be followed and worshiped with great sacrifice.
Click To Tweet
Only Jesus can fulfill all your longings and desires.
Click To Tweet
Matt Friend, a Charleston native and tenth generation West Virginian, graduated from the Southern Baptist Theological Seminary, has served in pastoral ministry since 2002 and at Bible Center Church since March 1, 2016 (as our sixth Lead Pastor). He and Sarah (his high school sweetheart) are raising two teenage daughters, Katie and Riley, and a son, Kadyn. Together, they are advocates for adoption and all things West Virginia. In his free time, he enjoys reading, camping, hiking, kayaking, golfing, and spending time with his family and two dogs, Queso and Wasabi.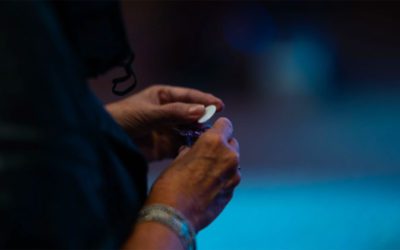 he church service is almost over. Stomachs are growling, infants are weepy, and the clock is ticking. It's at this point every week that I ask the congregation to take a minute of prayerful contemplation and self-examination, and then I...