History is filled with unsung heroes. From police men and women, to firefighters, to EMS personnel, to members of our military, to stay-at-home moms.
So, how can we—as men—become unsung heroes to the people we love? Here are nine lessons from an unsung hero in the true story of Christmas… Joseph of Nazareth, Jesus' human father.
#1 – Be moral
The Christmas story reminds us…
This is how the birth of Jesus the Messiah came about: His mother Mary was pledged to be married to Joseph, but before they came together, she was found to be pregnant through the Holy Spirit. (Matthew 1:18)
At the time of these events, Mary had been chosen for Joseph and they had signed the Jewish marriage contract, but they had not yet conducted the ceremony or consummated the marriage.
Thankfully, Joseph was a man of integrity. He did not excuse his actions by saying, "We're going to get married anyway. We might as well enjoy each other physically." No. Believing that sex outside of marriage didn't please the Lord, Joseph chose the path of morality…
Certainly, with God's strength and, perhaps, with the help of cold showers.
#2 – Love the Bible
What truth drove Joseph's life? The story continues…
Joseph her husband was faithful to the law. (Matthew 1:19a)
Joseph didn't base his life upon subjective truth that changed with each new scientific discovery. He didn't look inside his heart to find "his truth." Instead, he believed objective truth had already been revealed by God in the Bible.
Though he knew no mortal could live up to God's divine standard, Joseph still loved the Scriptures and made reading them a priority in his life.
#3 – Cut others some slack
What would you do if you found your fiancé pregnant with what appeared to be another man's baby? Here's what Joseph did…
Joseph her husband was faithful to the law, and yet did not want to expose her to public disgrace, he had in mind to divorce her quietly. (Matthew 1:19)
Surely Joseph was hurt. Perhaps he was tempted to be overcome with anger, resentment, or bitterness. He certainly didn't react by joining Johnny Mathis in singing, "It's beginning to look a lot like Christmas."
No, he assumes what any of us would conclude was going on, and he sets out to end their engagement. Actually, according to Jewish law at that time, Joseph could have had Mary stoned to death.
Imagine if Joseph had a hard, unmerciful temperament? How might the Christmas story have ended?
Instead, God honors him for being gracious. Even before he heard the full story, he decided to protect Mary from public embarrassment and harm. He was more concerned with Mary's reputation than his own. Joseph was known for cutting others some slack.
#4 – Think more than you speak
According to the Gospel of Matthew (1:20), the angel delivered a message to Joseph while he was meditating and contemplating somewhere by himself.
The greatest men do not check their brains at the door. The most honorable men are logical, thinking, and contemplative. As Matthew Henry says, "The Lord gives guidance to the thoughtful, not to the unthinking."
Have you ever seen a school or church Christmas play? Usually the cow and donkey have more speaking parts than Joseph. There's a reason for that. Not a single word from Joseph is mentioned in all of Scripture. Everything we know about Joseph comes as a result of what he does––not what he says.
#5 – Surrender to whatever God wants
What happened next?
When Joseph woke up, he did what the angel of the Lord had commanded him and took Mary home as his wife. But he did not consummate their marriage until she gave birth to a son. And he gave him the name Jesus. (Matthew 1:24-25)
Common sense probably shouted, "Conceived by the Holy Spirit? Come on!" Self-defense questioned, "Who will believe you? What will your family think?" Convenience reasoned, "Just when you were hoping to settle down and raise a family!" Pride tried to seduce him, "If she expects me to buy a tale like that and ruin my reputation…"
But God told him to do it… so Joseph surrendered and obeyed.
#6 – Bloom where you're planted
The Bishop of Geneva, Saint Francis de Sales (1567-1622) is credited with the quote, "Bloom where you are planted."
Joseph bloomed where he was planted––in the small town of Nazareth. Nazareth is a tiny town in the lower Galilean hills, halfway between the Mediterranean Sea and the Sea of Galilee. At that time, the population was around 500. In my home state of West Virginia, Nazareth would be similar to the small towns of Burnsville, Matewan, or Clay.
But Joseph was content where God had placed him in life.
#7 – Work hard
Most of the time, Joseph is referred to as "the carpenter" (Matthew 13:55). Like most men, he was known mostly for what he did for a living. Though not famous, Joseph did his job well enough to be respected and remembered.
A carpenter in Joseph's day not only worked with wood, but also with stone. One tradition says that Joseph worked in the nearby Hellenistic city and commercial center of Sepphoris, about 3 miles away. Due to a nearby rock quarry, the Romans built a large city there.
#8 – Be popular with your family more than anyone else
Joseph was a family man. After Jesus, Joseph and Mary evidently had at least six other children (Mark 6:3). While he lived, he tried to be present at key moments in his family's life.
#9 – Commit your life to Christ, the only true Hero
Here's perhaps the most beautiful verse in the Christmas story…
She will give birth to a son, and you are to give him the name Jesus, because he will save his people from their sins. (Matthew 1:21)
Even though we have no recorded sin committed by Joseph in the Bible, we know he was a sinner like all of us. How do we know? Because he died.
Joseph is not mentioned in the story after Jesus was 13. He wasn't alive when Jesus died on the cross because Jesus told John to take care of mother.
God's Word is clear…
The wages of sin is death, but the gift of God is eternal life in Christ Jesus our Lord. (Romans 6:23)
As much as we may desire, none of us are perfectly moral. None of us love the Bible as much as we should. We haven't always cut others the slack they deserve. We sometimes speak before we think and find it difficult to surrender to what God calls us to do. As much as we want to bloom where we're planted, our hearts sometimes crave "greener grass" on the other side of the fence.
Thankfully, the hope of Christmas doesn't end there. There's good news! God sent His son, Jesus Christ, into the world: to live a sinless life, to suffer and die on the cross as the substitute for our sins (absorbing the punishment we rightfully deserve), to rise again, to ascend back into heaven, and to grant forgiveness, righteousness, His Spirit, and eternal life at the moment anyone repents and believes.
Believe on the Lord Jesus Christ, and you will be saved!
Matt Friend, a Charleston native and tenth-generation West Virginian, graduated from the Southern Baptist Theological Seminary, has served in pastoral ministry since 2002 and at Bible Center Church since March 1, 2016 (as our sixth Lead Pastor). He and Sarah (his high school sweetheart) are raising two teenage daughters, Katie and Riley, and a son, Kadyn. Together, they are advocates for adoption and all things West Virginia. In his free time, he enjoys reading, camping, hiking, kayaking, and spending time with his family and two dogs, Queso and Wasabi.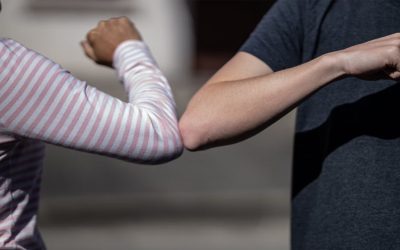 Today my son walked into school without a mask for the first time in almost two years. Instead of walking, I should probably describe him as having floated into school! When Sarah and I received the email from his principal yesterday announcing that masks are now...