Dear Friends,
Welcome to church! We're so glad you're here. Feel free to grab a cup of coffee and donut from the lobby and make yourself at home.
When you hear the word "disciple," what comes to mind? Maybe a Christian band whose members wear camouflage shirts? Perhaps a different London reggae band brandishing the same name? Maybe you've seen the 2014 horror film, Disciple, or perhaps you think of someone who follows a leader like Confucius, Buddha, or Rousseau?
In a biblical worldview, those of us who follow Jesus are known as disciples. Based on His final commission, our mission as a church is to glorify God by producing more maturing followers (disciples) of Jesus.
But what does a Jesus-follower look like? How do we know if we are maturing in our own faith, let alone the people we are trying to disciple? Where will this personal journey take us?
Today we conclude our 3-week series titled, "Authentic: The Marks of a Disciple," studying authentic discipleship and defining spiritual maturity. You can check out the entire series on our home page or on the app.
Two weeks ago, we heard Jesus' tender call to love God more. Last Sunday, Jesus invited us to love each other more, especially other Christians in the church. God will encourage us today to love our neighbors more. In order to saturate our city with the gospel, we'll want to first imbibe and embody all three qualities ourselves.
With you for the gospel and for our city,
Matt Friend • Senior Pastor
@PastorMattBCC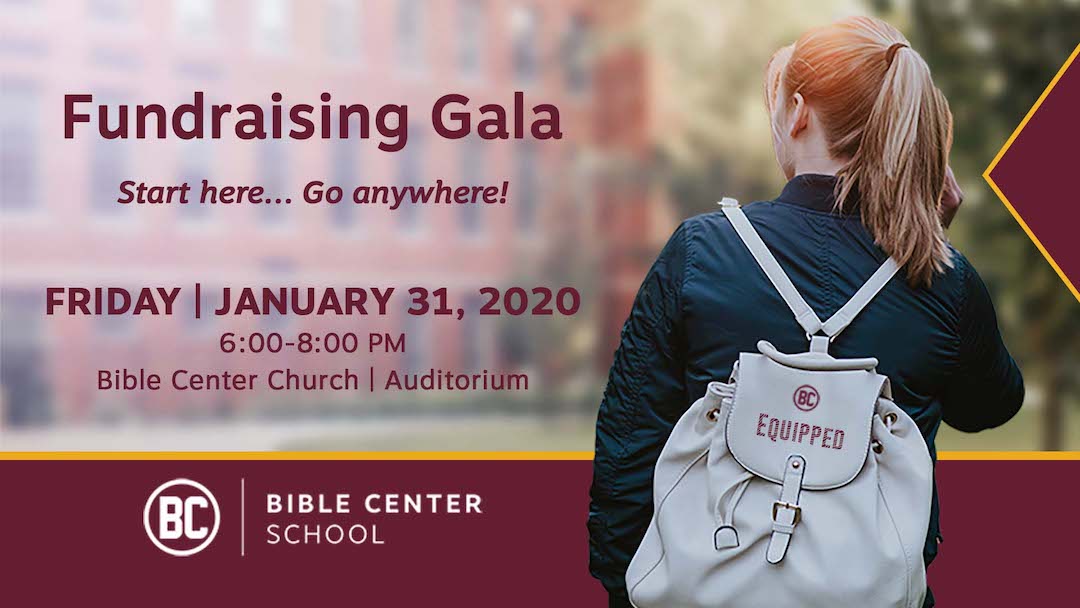 Be our guest and plan to join us for dinner, a silent auction, and stories of impact from BCS students and alumni. Tickets ($35) available at the Lobby, on the app or website.
Friday, January 31  |  6-8 PM
Bible Center Church Auditorium
100 Bible Center Dr.  |  (304) 346-0431
School
Open House: Bible Center School (Preschool – 8th Grade)
Thursday, Feb. 6 • 6 PM • School campus (1111 Oakhurst Dr., across from Ashton Place) • BCS has begun enrolling for Fall 2020, and everyone's invited to the Open House! Meet the faculty and staff, and tour the facility! Call the school office for questions. Note: Preschoolers enroll throughout the year.
---
Students
Beach Camp Deposits (Grades 6-12)
Reminder: $60 deposit due on Jan. 31. Remaining balance ($365) due May 4. At Beach Camp (June 15-19), students will be challenged by David Platt and will worship with music by Mosaic and Hillsong Young & Free.
---
Church Life
Baptism Classes
Choose from Wednesday, January 29 or February 5 • 6:30-7:30 PM • Rm. 3104 • While children's and student ministries enjoy their scheduled programming, Pastor Matt will teach a class for anyone interested in baptism (what it is, what to expect, etc.). Our next Baptism Sunday is February 9. Simply show up or email questions to mfriend@BibleCenterChurch.com.
Celebrate Recovery: New Time (with Light Dinner)
Beginning February 4, CR will start at 5:30 PM with dinner. Large group: 6:30 PM; small groups: 7:30 PM; dismissal: 8:30 PM. Email Poozie for info. CR is for everyone with hurts, habits or hang-ups.
Belong: Membership Weekend
February 7 (6:30-8:30 PM) & February 8 (8:30 AM-1:00 PM) • Learn more about Bible Center or what it means to be a member. Joining the church is not required at the end of the event, nor will pressure to join be placed on you. In the future, if you do decide to join, you'll already have the required class completed! Registration preferred. Note: Spouses, register separately. Only one needs to input child care info.
Financial Peace
Sundays, February 9-April 5 • 6:00-7:30 PM • Dave Ramsey & Team will walk you through budgeting, dumping debt, planning for the future, and more. Register today! Questions? Contact Jane.
Save the Date: Spiritual Gifts Workshop
Feb 22 • 9 AM-12:30 PM • $10, lunch included • Explore your unique gifts and passions.
---
Belong
Men's Breakfast
Saturday, February 1 • 8 AM • Ryan's in Southridge • All men are invited! Speaker: BCC Deacon Dan Miller. Dutch treat.
A Special Invitation for All BCC Ladies
Monday, February 10 • 6:30 PM • Lobby • There are so many ways to build each other up in our faith and to share it with the women in our city. Come listen or share ideas about how to navigate our next steps in 2020. Let's dream together! Light snacks provided; RSVP for yourself or a whole group.
Make Spiritual Friends
Jump into a group to get more connected. Group leaders (wearing lanyards) are available at the bistro table by the Group Wall.
---
Serve
Summer GO Teams — Info Meeting
Today • 10:15 AM & 12:15 PM • Rm. 3110 • For anyone interested in any of the following mission trips:
May 7-17 | Moldova – Led by Ted Tanzey (food outreach)
June 13-24 (may vary 1-2 days) | Africa – Led by Chris May (help teachers)
July 10-18 | Romania – Led by Corey Tornes (high school & college camp)