Several weeks ago, I had an unusual encounter with fear. Like a wrong turn into a dark alley, life's GPS seemed to unexpectedly glitch and brought me face to face with this formidable foe.
It all started when my wife began experiencing "mild" kidney stone pain. Partly because the stones have reared their ugly heads before, partly because she's a nurse, and partly because she gave birth to our two daughters… she recognizes the symptoms early. "I'll be alright," she whispered. "I can wait them out."
One day passed with no relief. Two days. Three days…
By the end of the third day, Sarah spiked a temperature of 103—which isn't good. A quick call to the doctor had us barreling down the road with the hospital in our crosshairs.
"This is good!" I naively thought. "She'll finally be in the care of her doctor and will probably be back home later this evening." However, I wasn't prepared for what happened next.
On the way to the hospital—in between groans of pain and temporary periods of irrational thinking—Sarah explained that she may be going septic. She urged me not to worry, but, "No matter what, take care of the kids."
"What does that mean?" I thought. "No matter what, take care of the kids??? I thought this was a 'simple' kidney stone?"
Upon entering the hospital, we were quickly informed that only she could enter… not me. The COVID-19 outbreak had marshaled stringent rules upon the whole world, including hospitals.
Looking back, I completely understand. Rules like this protected Sarah, the other hospital patients, our three children back at home, and also me. However, at the time, it wasn't easy to watch her meet the front door attendants alone, partly hunched over in pain.
I peered through the glass until she was out of sight, and then broke down like a schoolboy watching his best friend move away.
"Will I see her again? Will they get this thing resolved? How did this escalate so quickly? I help people for a living… Why can't I control my own fear?"
Have you ever been there? Maybe you're there now. Maybe you're…
Down to your last paycheck or your last prayer.
Afraid of pending layoffs at work, turnovers at headquarters, slowdowns in the economy, downturns in the market, or upswings of COVID-19.
Anxious over social distancing or the closing of travel, conferences, church services, theaters, graduations, restaurants, sporting events, and businesses.
Being sued, going broke, or concerned about the dark mole or a lump you just discovered.
Worried that you might not have the money you need, or the: luck, time, wisdom, skill, diapers, medical care, education, or job you need.
Fear is often so palpable you can cut it with a knife.
Thankfully, through emergency surgery, Sarah's doctor was able to remove a 6-millimeter stone from the duct, insert a stint, and immediately launch a colossal attack of antibiotics. Several weeks later, I'm happy to report that she's home, fully recovered, and infection-free.
The experience taught me four facts about fear…
#1 – Fear is a gift from God.
To some extent, fear is a gift from God. It sometimes serves as the canary in the coal mine, warning us of potential danger.
Healthy fear is not a sin. When our kids were little, we shamelessly scared them about running out in the street. Drivers ed classes show pictures of smashed cars where teens have been texting and driving. Fear is the appropriate, God-instilled reaction to a burning building, a growling dog, or a piping hot stove.
#2 – If unrestrained, fear can lead to much suffering.
Unfortunately, if we allow our fears to go unchecked, they can lead to all sorts of challenges.
Possible physical effects include: stomach pain, nausea, digestive trouble, headache, insomnia, fatigue, rapid breathing, shortness of breath, increased heart rate, sweating, trembling, or muscle tension.
Other complications could include: depression, difficulties with focusing, social withdrawal, total isolation, a loss of interest in sex, substance abuse disorders, or suicidal thoughts.
#3 – Some of us are more prone to fear than others.
Speaking anecdotally—as someone with two theology degrees and zero medical degrees—I'm told by health care professionals that some are more prone to fear and anxiety than others.
For some of us, it's in our DNA. Genetics matter.
For others, it's the result of a childhood trauma. Core memories are core memories, no matter how much we try to drown (or escape from) them with success, money, power, drugs, alcohol, or pleasure.
Learning to process our fears and anxieties can be a long journey. If conversations like this don't begin to scratch the surface of your pain, please see your doctor. He or she may hold the first domino to you being able to work through your fears with the help of loving friends and family.
#4 – Jesus is the only, ultimate hope through fear.
"Fear not!" is the most repeated command in the Bible. In fact, it's been said that there are 365 "fear nots" in the Bible—one for every day of the year. While that's not technically true (since "fear not" or "don't be afraid" is only mentioned about 100 times), the Bible does speak to fear over 500 times.
The Gospels alone record 21 occasions where Jesus says "do not be afraid," or "don't fear," or "have courage." (To put that in perspective, "Love God and love your neighbor" only appears eight times.)
Jesus takes our fears very seriously.
Recently, while reading Peter's historical account of Jesus calming a violent storm (as relayed through John Mark in Mark chapter 4), I was reminded that Jesus controls the wind and the waves of life, and only he can rebuke them like a disobedient puppy dog.
Jesus got up, rebuked the wind and said to the waves, "Quiet! Be still!" Then the wind died down and it was completely calm. (Mark 4:39)
Jesus cares for us in the storms, even when we feel like no one cares.
John, another fisherman in the boat with Jesus and Peter on that dreadful evening, later testified to this fact…
There is no fear in love; but perfect love casts out fear, because fear involves torment. (1 John 4:18)
Though God created the world to be good, disobedience and selfishness broke the world—and has broken us—inside and out.
Thankfully, Jesus came to destroy the root of sin and suffering and to conquer death once and for all. Having lived a perfect life, he sacrificed himself for us on the cross to pay the ancient price of our daily disobedience and save our souls.
As proof that God accepted his payment, Jesus arose from the grave on the third day, was seen by hundreds (if not thousands) of people, and stepped back through the invisible veil of the heavenly realm 40 days later.
He not only lives to save us, but also to transform us day by day. Will we ever be fully over our fear, anxiety, worry on this side of heaven? Probably not. But we can grow. We can trust God more today than we did yesterday.
Thankfully, God will one day restore all creation to its original intent. The last few chapters of the Bible forecast the story in vivid, apocalyptic language.
For the gospel-believer, everything will work out in the end. So, if it's not working out for you yet, take heart, it's not the end!
Matt Friend, a Charleston native and tenth generation West Virginian, graduated from the Southern Baptist Theological Seminary, has served in pastoral ministry since 2002 and at Bible Center Church since March 1, 2016 (as our sixth Lead Pastor). He and Sarah (his high school sweetheart) are raising two teenage daughters, Katie and Riley, and a son, Kadyn. Together, they are advocates for adoption and all things West Virginia. In his free time, he enjoys reading, camping, hiking, kayaking, golfing, and spending time with his family and two dogs, Queso and Wasabi.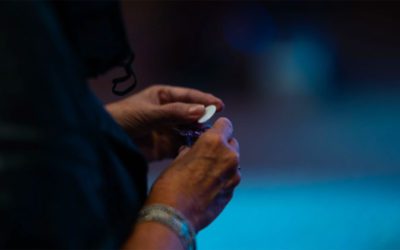 he church service is almost over. Stomachs are growling, infants are weepy, and the clock is ticking. It's at this point every week that I ask the congregation to take a minute of prayerful contemplation and self-examination, and then I...