Dear Bible Center family & friends,
Welcome to our Online Church Campus, and happy Pentecost Sunday!
What is Pentecost Sunday? First, the term Pentecost comes from a Greek word meaning "fiftieth." It refers to the Jewish festival celebrated on the fiftieth day after Passover.
In the New Testament, this holiday was enrobed with new meaning when the Holy Spirit descended upon the early Church while they were praying in Jerusalem (Acts 2:1–31), roughly fifty days after Jesus died on the cross and rose from the grave… and about ten days after He ascended, stepping back into the heavenly realm.
A few Christian traditions and denominations designate fifty straight days to celebrate the death and resurrection of Christ, culminating in Pentecost Sunday, in gratitude for God permanently bestowing His Spirit upon the Church. They often celebrate with a huge feast. (There's something enticing about this idea. Perhaps it's in our future as a church family?)
Though we're not yet gathering and worshiping as one unified, in-person church today, we are still one unified church because of the good news that unites us! Wherever and however you eat lunch today, bow your head low and (then) hold your glass high in celebration for the Spirit of Christ who lives within you, and each Jesus-follower around the globe (Galatians 2:20).
While my family and I are away on vacation, we're blessed to hear Pastor Mike Graham continue our Exodus series, "Divergent: What in the World Do We Do Now?" He's one of the finest Bible teachers I know, so be sure to take notes and encourage him.
Unified with you through God's Spirit,
Matt Friend • Senior Pastor
@PastorMattBCC
Church Life
Fellowship of Christian Athletes (FCA) Golf Scramble
Saturday, June 13 • Greenhills Country Club in Ravenswood, WV • Sign up to play or to be a sponsor by contacting our FCA Global Partner Tim Britton (304) 881-2561.
7:30 AM – Sign in
9:00 AM – Shotgun start
$100/person or $400/team
---
Students
High School Summer Camp | July 26-31 (upcoming 9th through graduated 12th graders)
Summer camp update: Due to COVID-19, Student Life (the organization that hosts beach camp) has canceled all camps in the month of June. Deposits will be refunded.
High School summer camp will now be hosted and run by Bible Center and will be held at Alpine (on the campus of Appalachian Bible College).
The cost is $381, due by July 12.  Activities include whitewater rafting, paintball, ropes courses, basketball tournament, and more! Cost includes all activities, meals, lodging, and transportation. Register now!
---
Belong
New Here or Wanting to Connect More?
If you're new to Bible Center, whether you've visited in person or online only during the pandemic, we'd love to connect with you and pray for you. Let us know how we can help! Text Connect to (304) 212-6188.
Outdoor Spaces Available to Reserve
Now that we are in Phase 2 of our Campus Re-Opening Plan, outdoor areas are available for your group to reserve. Restrooms on the North end of the building will be available while the rest of the building remains closed. Check out the Facilities page to view available areas and to request a reservation.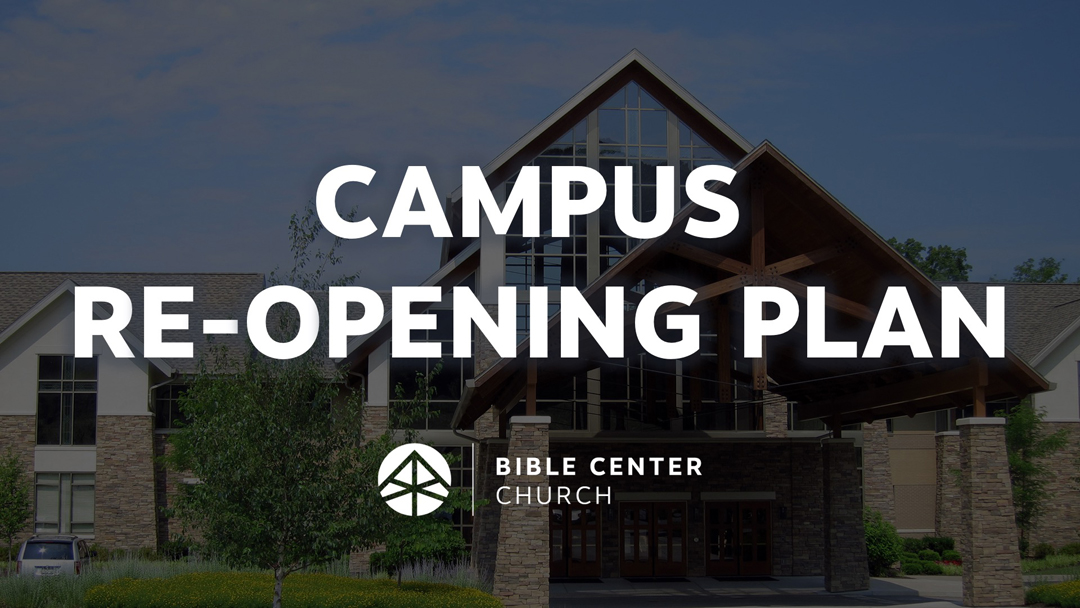 When will we re-open the church campus for in-person gatherings?
We trust you'll find the following information to be both caring and strategic as our Pastors, Staff, and Elders have worked hard and prayed much to lead us to this next step, continuing to follow local and CDC guidelines.
Though we hold the plans loosely since things are regularly changing, the information and a video explaining it can be found on our Campus Re-Opening Plan page.
Church Online
You're invited to worship with us Sunday
at 9 AM (multigenerational) or 11 AM (modern).