The following story is based on true events found in the Bible's New Testament. (Mark 6:45-53)
"If a sunny day doesn't work, then let's try a storm."
The respected rabbi, Jesus of Nazareth, whispered those words to Himself as He prepared His followers for a graduate-level discipleship course…
So Much for Sunny Days
Up to this point, everything about that day seemed perfect.
The sky was celestial blue, fading slowly into royal hues as the hours passed. The breeze from the water refreshed everyone on the lush green hillside. An army of clouds marched briskly across the sky with a cadence that intermittently covered the sun at just the right times. The air preserved a temperature only heaven's thermostat could maintain. Thousands of children played in perfect harmony with one another and, seemingly, with nature itself. Their parents leaned forward, enraptured by the best teaching of their lives.
Jesus spread the "icing on the cake" by performing the impossible… When a little boy gave Him his Lunchable, He turned the five breadsticks and two fish sticks into a meal for thousands!
Everything about that day was warm and inviting except the hearts of the twelve disciples following Jesus.
It wasn't nature's fault. It wasn't Jesus' fault. It was their fault. For some reason, they had hardened their hearts to the words and works of the greatest rabbi the world has ever known.
They Had Their Reasons
Had we interviewed His team about why they remained unmoved by the miraculous experience, they would've likely given the following answers:
"This seems like a waste of time. There's so many more profitable things we could do."
"The people on this side of the lake aren't worth our investment. We should be doing this on the other side—where our kind of people live."
"We have an empire to overthrow! Why in the world are we dillydallying with commoners?"
"Multiplying fish and bread is child's play. Bring on the demonic armies!"
"How long must we sit here and listen to the teacher drone on and on?"
Here Comes the Storm!
Knowing that His ragamuffin followers were still not totally ready to receive Him and His promises, Jesus intensified the curriculum…
Immediately Jesus made His disciples get into the boat and go on ahead of Him to Bethsaida, while He dismissed the crowd. -Mark 6:45
The boat wasn't their idea; it was His idea. Jesus made them get into the boat. He commanded them to do what they were about to do. And they were not prepared for what came next.
After waving bon voyage to His friends, Jesus climbed the mountain to overlook the sprawling Sea of Galilee. He prayed. Heaven answered. The disciples rowed. A dense fog rolled in.
"Crack!" "Boom!" "Roar!"
"Did you hear that?" Andrew asked John.
"Crack!" "Boom!" "Roar!" "Crack!" "Boom!" "Roar!"
"I sure did," John replied, "And it's coming in fast. Holy cow! The storm is already here!"
Within minutes the entire lake churned like a blender. The blustery wrath of the Golan Heights attacked them with unmistakable fury. Temperatures plummeted. Waves crashed. This storm was like no other they had ever seen in all their years fishing on those waters!
Seconds felt like minutes. Minutes felt like hours. The harder they rowed the less headway they made. The gusts seemed to have made a covenant with the whitecaps to chain their boat to the middle of the lake. The sea that had once been their life was about to become their cemetery.
The boat lurched and lunged like a kite in a thunderstorm.
Rain fell from the night sky in buckets.
Lightning sliced the blackness like an enchanted sword.
The wind ripped the sails to shreds.
How exhausted they must've been! How frustrated! They faced a dangerous situation––way beyond their ability to control­­––and they didn't think they would make it out alive.
Can You Relate?
Maybe you've not been in the "middle of the lake tossed by the wind," but maybe you've been…
In the middle of a divorce, tossed about by anger or guilt.
In the middle of debt, tossed about by creditors.
In the middle of a recession, tossed about by stimulus packages and bailouts.
In the middle of a pandemic, tossed about by confusing news cycles and politics.
You're probably very familiar with their fears. They're the same ones that haunt you and me at 2 AM in our beds and at 2 PM at our desks.
How the Story Ends
After eight hours of backbreaking work, just before all hope was lost, several disciples saw something move just beyond the breakers.
The strange object drew closer.
"What is THAT?" Matthew asked.
The strange object drew closer.
Mustering all the dogma in his soul, Peter warned, "It's a ghost! The angel of death! Surely we ARE about to die!"
The strange object drew closer.
It wasn't until it was about to pass by their boat that they realized, through the sideways rain, that it was no ghost… It was Jesus of Nazareth, the rabbi, walking on the waves!
He was nearly in the boat when they heard His clear, steady voice declare…
"Take courage! I'm here. Don't be afraid." -Mark 6:50
When Jesus climbed in the boat, the wind died down, and they were completely amazed. In their own way, they all declared or nodded, "Truly you are the Son of God!" (Matthew 14:33)
So, Why the Storm?
The Roman biographer, John Mark, says it best…
For they had not understood about the loaves; their hearts were hardened. -Mark 6:52
The miracle of the bread and fish on that sunny afternoon wasn't enough to open their hearts to the reality of who He is. Jesus knew that the only way they would know His power and trust His promises would be to go through a storm and discover that He is enough.
Jesus transformed His strongest followers with a storm… and He's still doing it today.
Wouldn't it be great if our hearts were most moldable on happy, sunny days? Absolutely! But the reality is that God molds our character and strengthens us most by taking us through storms.
The New Testament calls this the "training" of the Lord. God uses storms to train His children in love, joy, peace, patience, kindness, goodness, faithfulness, gentleness, and holy self-control.
Coaches train their athletes with rigorous practice. Armies train soldiers with stringent boot camps. God trains His children with storms.
Dear Christian friend and fellow Jesus-follower…
God is not against you; He's for you. He's working all things out for your good and His glory. Trust Him. Keep following Him. Learn from Him. Take courage. Don't be afraid. He has a design for the storm, even though it may not make sense right now. When the time is right, Jesus will come to you. He will meet you in your storm. And you'll have a magnificent story to share for ages to come!
But What If I'm Not a Jesus-Follower?
Please know that the point is NOT for you to seek favor with God through your own suffering. We could never do enough good to atone for our own sins.
Thankfully, there's good news! Jesus did do enough good and lived a sinless life. By suffering and dying on the cross (absorbing the punishment we deserve), Jesus earned the right to pay for your sins. As proof that God accepted His payment, Jesus arose from the grave and ascended back into heaven to offer forgiveness, righteousness, His Spirit, and eternal life at the moment anyone repents and believes.
Could the Lord be using a storm in your life to draw you close to Himself––to draw you to saving faith? Such has been the case for millions throughout human history.
Believe on the Lord Jesus Christ and you will be saved!
Matt Friend, a Charleston native and tenth-generation West Virginian, graduated from the Southern Baptist Theological Seminary, has served in pastoral ministry since 2002 and at Bible Center Church since March 1, 2016 (as our sixth Lead Pastor). He and Sarah (his high school sweetheart) are raising two teenage daughters, Katie and Riley, and a son, Kadyn. Together, they are advocates for adoption and all things West Virginia. In his free time, he enjoys reading, camping, hiking, kayaking, and spending time with his family and two dogs, Queso and Wasabi.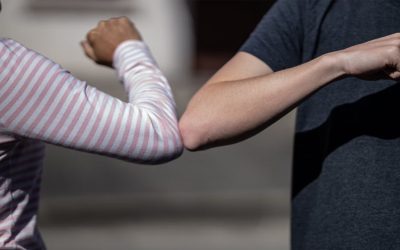 Today my son walked into school without a mask for the first time in almost two years. Instead of walking, I should probably describe him as having floated into school! When Sarah and I received the email from his principal yesterday announcing that masks are now...