Dear Bible Center family & friends,
Welcome to our Online Church Campus!
Can you believe it has been three months since we gathered in person for worship? My… how time flies! Before long I'll: be 40 years of age; be married for 20 years; prefer elastic-waist dress pants; feel stiff every morning when I wake up; and have three children, two dogs, and one trampoline. Oh, wait… That time is already here! By God's grace, I'm enjoying it all!
It's with great pleasure that I announce the reopening of our campus for in-person worship services next weekend. On Thursday, June 25th, and next Sunday, June 28th, we'll be open for the following opportunities to worship together:
In-Person
Thursday | 7 PM | Modern
Sunday | 9 AM | Multigenerational* (Early Childhood, Elementary, Middle & High School Ministries)
Sunday | 11 AM | Modern* (Early Childhood, Elementary, Middle & High School Ministries)
*Weather permitting, attenders may also bring a chair and enjoy the service via loudspeaker and monitor in the north woods (in the natural grass-amphitheater beyond the picnic tables).
We understand that not everyone will be ready to return to the building; therefore, the following will still be available:
Online/TV
Sunday | 9 AM
Sunday | 11 AM
Sunday | Fox 11 TV at 11 AM
For those who are ready to return to the building, please note the following 10 guidelines humbly offered by the Board, the Staff, and me (as a part of both):
Those who: are sick, feel as if they may be getting sick, have been exposed to others who are sick, have recently been exposed to unfiltered crowds, or are in a vulnerable demographic (e.g., those 65 and older)… are asked to stay home for a while longer and watch the services online or on TV.
Seating has been arranged to allow for at least 6 feet of social distancing between family units.
Sanitizing stations have been placed around the building, and good hygiene will be encouraged.
All staff and volunteers will wear masks, except when on the platform.
Attenders should wear masks or face coverings to our indoor services so that we can care well for one another.
Food and drinks may not be brought into the building, nor will they be served in the building.
Attenders will be dismissed by sections at the conclusion of each service.
Nothing will be passed before, during, or after the services (offering baskets, bulletins, etc.)
Bible Center's strict cleaning regiment remains in place with additional cleaning taking place during and between the services, per CDC guidelines.
Recently added service options will facilitate proper distancing.
Thankful to be on this journey with you! 
Much love,
Matt Friend • Senior Pastor
@PastorMattBCC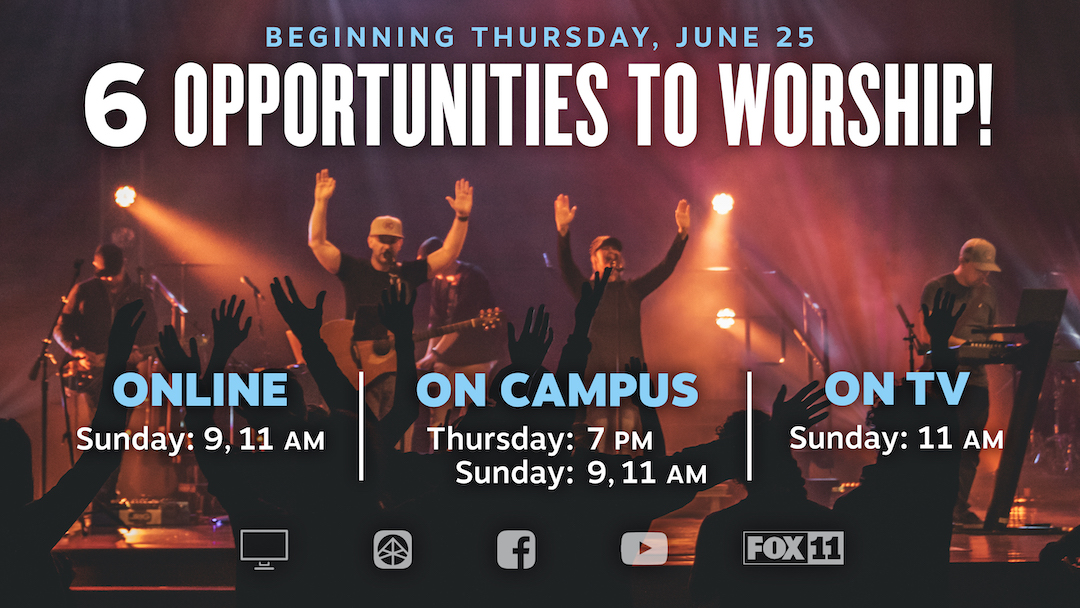 Mark your calendars!
Thursday, June 25 | 7 PM
Sunday, June 28 | 9 AM & 11 AM
Church Life
---
Member Meeting | June 28 | 6 PM
Our Member Meeting is going virtual! Stay tuned for details on how to attend and vote electronically next Sunday.
Make plans to join us as Pastors Matt and John share their hearts and clarify our vision for the decades ahead. You'll hear updates on pandemic decisions, the upcoming rollout of our new Member Statement of Faith, staff transitions, and property developments. We'll also vote on the 2020-21 budget and more.
Bible Center School
---
BCS Employment Opportunities
Full-time 4th Grade Teacher
Full-time 5th Grade Teacher
Part-time Aftercare (Days are flexible; 3:15-5:30 PM)
Kids
---
VBS | July 12-15 | 6:30-7:45 PM
It can be funny when things get out of focus. It's also super de duper hard to see where we are going! We feel like the last few months have been a little blurry… How about you? We will bring things back into focus during VBS!  Check out Pastor Steve's video on what to expect. More details will follow on procedures for entering and how we will social distance. Invite your friends, and get ready for a crazy-fun week!
Students
---
Middle School Parks & Rec Camp | July 6-9 | Schedule & details
If you just finished 6th, 7th, or 8th grade, this camp is for you. Different activities will take place each day (tubing and a day on the river, a trip to Ace Adventures Wonderland Water Park, rafting on the New River, and games at the church). It is going to be a great week of connecting as a student ministry to each other and in our relationship with God. Today is the last day to register. The cost is $150. For questions, contact Pastor Josh.
High School Summer Camp | July 26-31 (upcoming 9th through graduated 12th graders)
High School summer camp will now be hosted and run by Bible Center and will be held at Alpine (on the campus of Appalachian Bible College). The cost is $381, due by July 12. Activities include whitewater rafting, paintball, ropes courses, basketball tournament, and more! Cost includes all activities, meals, lodging, and transportation. Register now!
Belong
---
New Here or Wanting to Connect More?
If you're new to Bible Center, whether you've visited in person or online only during the pandemic, we'd love to connect with you and pray for you. Let us know how we can help! Text Connect to (304) 212-6188.
Church Online
You're invited to worship with us Sunday at 9 AM (Multigenerational) or 11 AM (Modern).