Dear Bible Center family & friends,
Welcome to our Online Church Campus!
After a long quarantine, I'm thrilled we can re-open our physical campus this weekend for in-person worship services. By way of reminder, here are the opportunities:
In-Person
Thursday | 7 PM | Modern
Sunday | 9 AM | Multigenerational*
Sunday | 11 AM | Modern*
*Weather permitting, attenders may also bring a chair and enjoy the service via loud speaker and monitor in the north woods (in the natural grass-amphitheater beyond the picnic tables).
We understand that not everyone will be ready to return to the building; therefore, the following will still be available:
Online/TV
Sunday | 9 AM
Sunday | 11 AM
Sunday | Fox 11 TV at 11 AM
For those who are ready to return, please note the precautions we're all trying to take, linked here.
May God help us manage our individual expectations:
Things will continue to be uncomfortable, probably for a while longer. We all have different opinions and preferences about the pandemic, quarantine, and state re-opening plans. Nevertheless, let's remember the inspired words of Paul to the congregation at Philippi two millennia ago…
Therefore if you have any encouragement from being united with Christ, if any comfort from his love, if any common sharing in the Spirit, if any tenderness and compassion, then make my joy complete by being like-minded, having the same love, being one in spirit and of one mind. Do nothing out of selfish ambition or vain conceit. Rather, in humility value others above yourselves, not looking to your own interests but each of you to the interests of the others. In your relationships with one another, have the same mindset as Christ Jesus: Who, being in very nature God, did not consider equality with God something to be used to his own advantage; rather, he made himself nothing by taking the very nature of a servant, being made in human likeness. And being found in appearance as a man, he humbled himself by becoming obedient to death—even death on a cross! –Philippians 2:1-8
Much love,
Matt Friend • Senior Pastor
@PastorMattBCC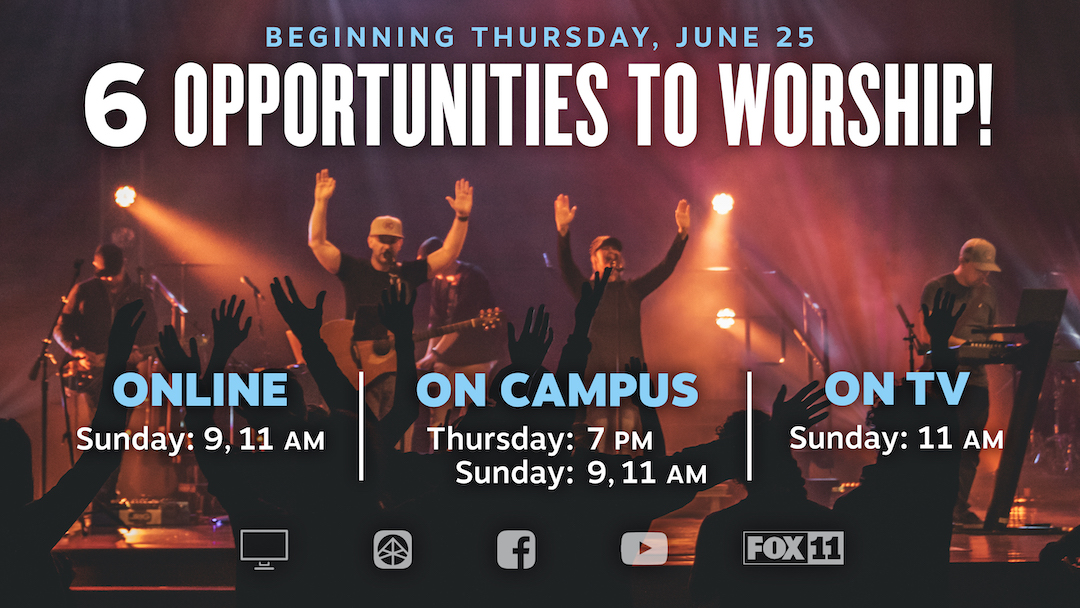 Thursdays | 7 PM
Sundays | 9 AM & 11 AM
Church Life
---
Member Meeting | June 28 | 6 PM
Our Member Meeting is going virtual! An email will be distributed on Sunday afternoon with the link for the meeting and instructions on voting for the budget.
Bible Center School
---
BCS Employment Opportunities
Full-time 4th Grade Teacher
Full-time 5th Grade Teacher
Part-time Aftercare (Days are flexible; 3:15-5:30 PM)
Kids
---
VBS | July 12-15 | 6:30-7:45 PM
It can be funny when things get out of focus. It's also super de duper hard to see where we are going! We feel like the last few months have been a little blurry… How about you? We will bring things back into focus during VBS!  Check out Pastor Steve's video on what to expect. More details will follow on procedures for entering and how we will social distance. Invite your friends, and get ready for a crazy-fun week! Sign up now!
Students
---
Middle School Parks & Rec Camp | July 6-9 | Schedule & details
If you just finished 6th, 7th, or 8th grade, this camp is for you. Different activities will take place each day (tubing and a day on the river, a trip to Ace Adventures Wonderland Water Park, rafting on the New River, and games at the church). It is going to be a great week of connecting as a student ministry to each other and in our relationship with God. Today is the last day to register. The cost is $150. For questions, contact Pastor Josh.
High School Summer Camp | July 26-31 (upcoming 9th through graduated 12th graders)
High School summer camp will now be hosted and run by Bible Center and will be held at Alpine (on the campus of Appalachian Bible College). The cost is $381, due by July 12. Activities include whitewater rafting, paintball, ropes courses, basketball tournament, and more! Cost includes all activities, meals, lodging, and transportation. Register now!
Belong
---
New Here or Wanting to Connect More?
If you're new to Bible Center, whether you've visited in person or online only during the pandemic, we'd love to connect with you and pray for you. Let us know how we can help! Text Connect to (304) 212-6188.
Church Online
You're invited to worship with us Sunday at 9 AM (Multigenerational) or 11 AM (Modern).