To my Sarah Elizabeth,
Thank you for the last 20 years of being my wife, and for the last 24 years of your friendship. From our first date at Waves of Fun till now… you've made life's journey exceedingly more meaningful, colorful, flavorful, and fun.
God Created Us
God created you just the way He wanted you to be: for you, for Him, for our children, for your friends, for the world, for your hospital patients, and for me. There's no stray DNA in you anywhere. Your laugh, your smile, your eyes, your hair—all of these are God's gifts to me.
Could anyone but God create someone with such joyful, optimistic energy? Like no one else I've met, you have the ability to make everything come alive with your passion and excitement for life. Somehow, you're able to transform the mundane into a party. Who else could tell so many stories, giggling repeatedly into the night? Does anyone watch and laugh at silly memes and dog videos more than you?
And then there's that time you freaked me out by wearing a Bob Ross wig to bed, or emerging from our closet wearing a Dr. Seuss "Thing 1" and "Thing 2" costume. Your spontaneity is God's gift to our three children (each of whom is quick to join you in the mania) and to me (whose life would be otherwise overrun by nonfiction books, serious conversations, and Twitter).
Of all God's complex creations, you are my favorite.
Sin Has Broken Us
Thank you for taking the journey with me as we've both learned the depth of our brokenness. Over the years, we've learned that our Awana ribbons, Sunday school trophies, Bible sword-drill awards, and pats on the back did nothing to earn us favor with God.
At some point in our journey, God opened our eyes to see that we are like Adam and Eve. Given the opportunity, we too would've made the same choice they made. Instead of waking up to the reality of our depravity and declaring in the Garden of Eden, "Good! God has arrived. He'll know what to do!" …We would've done what they did… "Quick! Run and hide!" Much of our early religious and devotional lives were feeble attempts to clothe ourselves in our own righteousness, to manage God with religion, and to earn God's favor through good works.
My favorite Sarah Elizabeth quote will always be, "I would have such a big problem if I wasn't even slightly controlled by the Holy Spirit." Me too, sweetheart. Me too.
Jesus Has Saved Us and is Transforming Us
Amazingly, we have experienced Jesus' salvation and continual transformation—together! Because God so loved the world and gave His only Son, and because God has awakened our hearts with the inviting whisper of faith, we have much more than a marital union. By grace, we have eternal and deep communion in the Spirit.
Oh, how I wish I could go back 20 years and explain to my younger self how 2 Corinthians 5:21 applies to our marriage: "God made Jesus who had no sin to be sin for us, so that in Jesus we might become the righteousness of God." Seeing the back doors of that church open to reveal your radiance in that wedding dress (two decades ago today) pales in comparison to the brilliance of your position in Christ. Knowing that God sees us both as righteous as Jesus—because of Jesus' active obedience, death, and resurrection—how could we ever hold a grudge? How could we see one another in anything other than the sweet perfections of grace?
As we grow to be more like Jesus each day (with me, especially, having a very long way to go), may the Lord form our spirits and character by His grace. I pray the Lord will spare us from a form of Christianity that has been shaped more by Aristotle than Jesus, simply developing habits and trying to self-help our way into holiness and virtue. May God save us from using prayer and Bible study as kingdom magic in an attempt to discipline ourselves into an alien form of godliness. May God equally spare us from trying to fix each other. Instead, may God's gentle Spirit continually remind us of our union with Christ and of our eternal sharing in the divine life of Christ—whether we perform our spiritual duties on a particular day or not.
When we do open our Bibles, bow our heads to pray, sit in moments of solitude and silence, worship with God's church, or listen to an elderly saint… may our simple goal be to see God's face. May we, more and more, see these postures as means of grace and less as spiritual disciples or duties. Let's drink together from His fountain of joy and watch it spill over to others much more in the next 20 years than we ever could've envisioned in our last 20 years. Let's drench the altar of Mount Carmel together and wait with open hands and open hearts for the fire to fall from heaven.
God Will Restore Us
I hope we have 50+ years left together in this life. Could we be married, one day, for 70 years? Hopefully so! Rest assured, if that's the case, I'll still be chasing you around the house, flirting, and annoying you with incessant talks about productivity and goal setting. I can't help it… only Jesus will be able to save me (and you) from this curse.
However, when the day comes for us to take our last breath here and step through the heavenly veil, may we drop faith and hope forever, spending an eternity clinging only to the buoy of God's love.
For me, still, the most disappointing verse in all the Bible is Matthew 22:30, "At the resurrection people will neither marry nor be given in marriage; they will be like the angels in heaven." Yet, even on that day, I pray God lets us remain best friends. I'm putting in my request now to be in heaven's "deck furniture-making department" and "luggage-packing department" where I'm sure you'll be my supervisor in both.
Happy 20th wedding anniversary, sweetheart. Thanks for being my Sarah Elizabeth.
Matt Friend, a Charleston native and tenth-generation West Virginian, graduated from the Southern Baptist Theological Seminary, has served in pastoral ministry since 2002 and at Bible Center Church since March 1, 2016 (as our sixth Lead Pastor). He and Sarah (his high school sweetheart) are raising two teenage daughters, Katie and Riley, and a son, Kadyn. Together, they are advocates for adoption and all things West Virginia. In his free time, he enjoys reading, camping, hiking, kayaking, and spending time with his family and two dogs, Queso and Wasabi.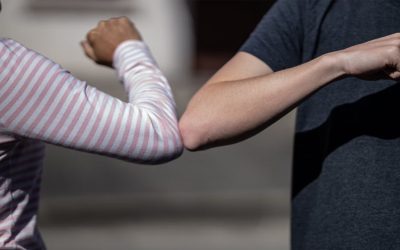 Today my son walked into school without a mask for the first time in almost two years. Instead of walking, I should probably describe him as having floated into school! When Sarah and I received the email from his principal yesterday announcing that masks are now...