Dear Bible Center family & friends,
Welcome to church! Thanks for visiting in person or tuning in online or on TV.
Today we continue our series, Media on the Mount, hearing Jesus' inspired words from His Sermon on the Mount. Through this famous homily, Jesus invites us into true beauty (e.g. the beatitudes). The more we behold the beauty of Jesus, the more we're transformed into His image.
Last week we saw the greatest influence on social media is a flourishing follower of Jesus. We learned that flourishing is much more than temporal happiness. In dendrology, it refers to rapidly growing and thriving trees. In psychology, it refers to a state where people experience positive emotions, psychological and social functioning, most of the time. In the Bible, it refers to overall shalom; wholeness; to be at peace with one's self, with others, and with God. In life, it plays a part in physical, intellectual, social, emotional, spiritual, financial, sexual, occupational, environmental, and family wellness. In many ways, a flourishing life is a "balanced" life; that is, there's no place where one part of a person's life is fighting against another part of his or her life.
Today we'll dive into Matthew 6 and discover "How to Manage Your Media." In a world of second-by-second news coverage, what practical steps can we take to protect ourselves from overload while still staying current? That's what we'll discuss today.
With you for the gospel and for the city,
Matt Friend • Lead Pastor
@PastorMattBCC
P.S. As a friendly reminder… our TV services are aired from the previous week. Additionally, on Sunday, September 13, our TV services will transition from Fox 11 at 11 AM to WCHS (ABC) at 10 AM.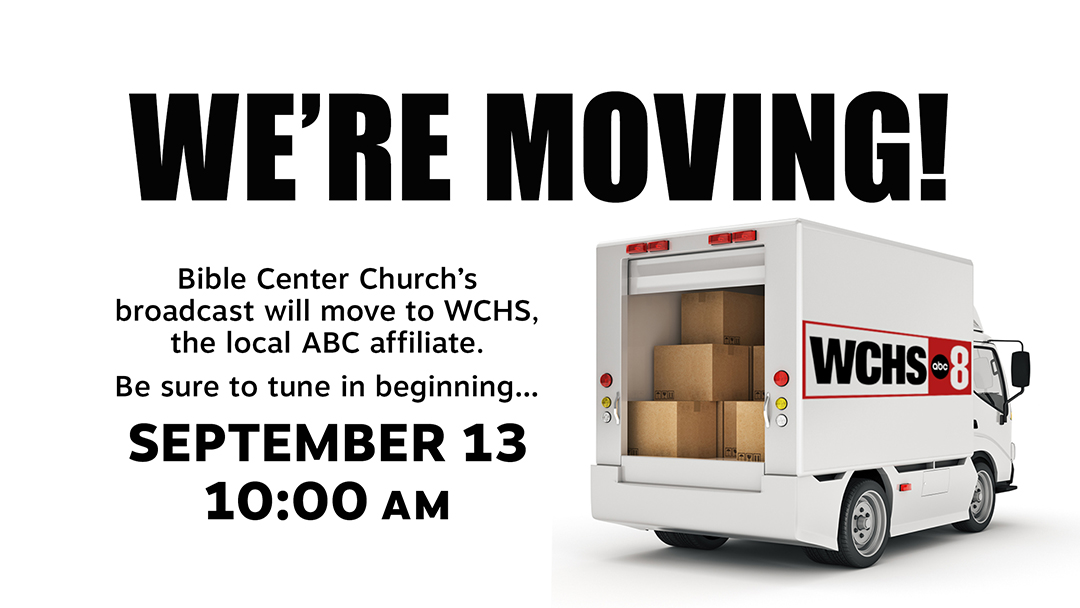 Church Life
---
Financial Peace University
Sundays | September 20-November 15 | 7:30-8:30 PM | Virtual Classes | Learn to manage your money with confidence! Do you struggle to keep your finances in check? Are you spending more than you make? Do you want to learn how to save and invest? Plan for retirement? Financial Peace is for you! Financial Peace University includes nine lessons that focus on how to build a starter emergency fund and how to budget, pay off all debt, save, invest for the future and build wealth, and more! The class will be 100% virtual, utilizing Zoom. Cost: $129.99. Register now!
Belong
---
3 Ways to Find Belonging
Whether you're ready to attend in person or you're still more comfortable at home, there are several ways to connect and find community.
Visit our Groups web page and choose an in-person or online group that fits you best.
Join our brand new Online Group, led by Matt Garrison.
Become a part of our Bible Center Facebook Group where you can connect with others, join in conversations, and even enjoy some random questions (and maybe even some corny jokes!) from Online Campus Pastor Matt Garrison.
Laughter on the Lawn
Friday, September 4 | 6:30-8:30 PM | North Lawn | Come join women of all ages and stages of life as we hang out together and enjoy some social distanced fun. This event is BYO—bring your own chair, snacks, friends, and games!
Family
---
Coming Up in Children's Ministry
September 6 | Move Up Sunday
Now-November | Every Wednesday | Fun activities outside with devotional/discipleship time.
Middle School Ministry (MSM)
Meet in the Middle | Wednesdays, now to September 9 | 6:30-8:00 PM | Middle School students will meet outdoors at the church for games, a short devotional, and hanging out with friends!
High School Ministry (HSM)
Wednesday, September 16 | 7:30-9:00 PM | Kick-off at the RIM (school campus)
Wednesday, September 30 | 7:30-9:00 PM | Alive (Night of Worship) at the RIM (school campus)
Bible Center School
---
BCS Employment Opportunities
If you are interested in the following positions, email Stephanie Schafer.
Full-time Preschool Teacher

Part-time Preschool Teacher's Aide

Extended Care Attendants (Monday-Friday; 3:30-5:30 PM. Days and hours are flexible)

Substitute Teachers (Grades and days are flexible.)
Athletic Coaches Needed
As BCS prepares for the Fall, several coaches are needed. Many of our coaches were parents of 8th grade students who have graduated. If you are interested in the following positions or know someone who may be a good fit, please email Stephanie Schafer or Dick Riffe. They would love to sit down and talk about what it means to coach middle school students at BCS!
Cheerleading Coach
Girls Basketball Coach & Assistant Coaches
Boys Basketball Assistant Coach
Track Coach & Assistant Coaches