The week ahead may be the most stressful season—politically speaking—that most of us have ever seen. I can't recall an election in my lifetime with more anxiety on both sides of the aisle.
The American Psychological Association recently posted an article entitled, "2020 Presidential Election a Source of Significant Stress for More Americans than 2016 Presidential Race."
Their header graphic grabbed my attention: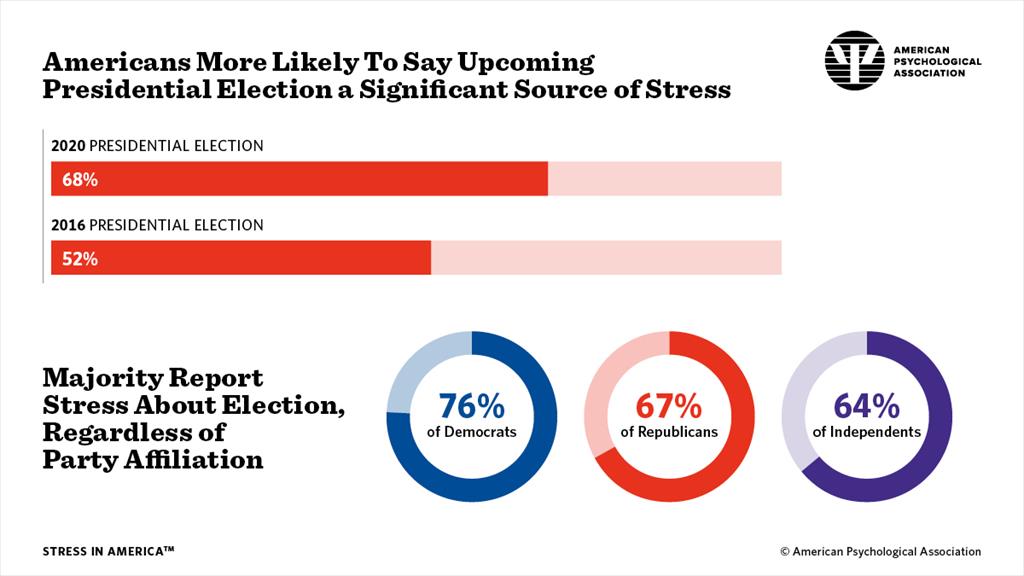 Do you wish you could buy a stress ball in the shape of your candidate's rival? Amazon has you covered. Would you benefit from soothing music? One neuroscientist created what he calls a "Prozac Playlist" for your iPod to help you make it through the election, featuring B. B. King, The Beach Boys, Bob Marley, and Tchaikovsky.
Deriving my worldview from the Bible, here are three tips to help you thrive in this political season.
#1 – Pray for your government leaders
Nearly two millennia ago, an inspired writer urged…
First of all, pray for all people. Ask God to help them; intercede on their behalf, and give thanks for them. Pray this way for kings and all who are in authority (1 Timothy 2:1-2 NLT).
Imagine the impact if we prayed more and more often for our president, governor, congressmen and congresswomen, state legislators, mayors, and local officials! It's far more difficult to hate people when you pray for them. 
#2 – Thank God for your government leaders
In the Scripture reference above, the same biblical writer encourages us to "give thanks… for kings and all who are in authority."
This tip is most definitely harder for me. This one moves us from JV to Varsity. Doing this requires divine grace.
Think about it: it's easy to thank God for the leaders with whom we agree, but what about the "bad" leaders, or the ones we categorize as bad because they don't agree with us?
The historical context of the reference above answers that question for us. When Paul wrote these words to the Ephesian church and Pastor Timothy, Nero was Emperor of Rome. Nero had already enacted terrible persecution against Christians because they refused to acknowledge him as "King of kings and Lord of lords."
At the command of Jesus, first-century Christians paid their taxes and were good citizens, but because they considered Jesus to be King of kings and Lord of lords, Nero despised them.
Nero had Christians killed in horrible ways:
Slaughtered by lions in coliseums
Mercilessly murdered by gladiators
Tied to the posts of his garden, covered in tar, and burned alive
How were these early Christians supposed to pray and be thankful for someone like Nero? They understood that God had providentially allowed him to be appointed as king. For them, that was enough.
Fortunately, we are a long way from Nero, but expressing gratitude to God for our political leaders is still a great way to help stave off Election week anxiety.
#3 – Try to live a peaceful and quiet life.
The God of the Bible desires this for you and me…
Pray this way for kings and all who are in authority so that we can live peaceful and quiet lives marked by godliness and dignity. This is good and pleases God our Savior (1 Timothy 2:2-3 NLT).
When was the last time you had a peaceful and quiet day? Your children, career, friends, or responsibilities may prevent it most days; however, God invites us to experience an inner peace no matter the noise around us.
How is this possible in an election year? By being completely convinced of peace-sustaining truth. For me, the following truth has paved the way for inner peace during this election season…
No matter who becomes President, Jesus will always be King.
In the subsequent verses, the biblical writer continues his description of God our Savior…
[He] wants everyone to be saved and to understand the truth. For there is one God and one Mediator who can reconcile God and humanity—the man Christ Jesus. He gave his life to purchase freedom for everyone (1 Timothy 2:4-6 NLT).
According to the thousands of eyewitnesses who saw his miracles, heard him teach, and saw him risen from the dead—and according to the true stories they passed down to subsequent generations—Jesus is God in the flesh. God with us. Emmanuel.
According to reliable first-century witnesses, Jesus lived a perfect life and gave himself as a sacrificial substitute for our sins, absorbing on the cross the judgment we rightfully deserved. He rose again three days later, ascended back to heaven 40 days later, and still offers forgiveness, righteousness, His Spirit, and eternal life at the moment anyone repents and believes.
We can trust Jesus with our future because He holds it in His hands.
Why do I want you to believe in Christ? Because I want you to experience a quiet and peaceful life. More importantly, I want you to experience a rewarding eternal life.
Please don't assume that you're a Jesus-follower simply because of your political party or because of the way you vote on abortion, gun control, education, the economy, immigration, or other social issues. Believe on the Lord Jesus Christ, and then you will be saved.
As we head to the polls this week, and as we await the election results, let's remember…
No matter who becomes President, Jesus will always be King.
Matt Friend, a Charleston native and tenth-generation West Virginian, graduated from the Southern Baptist Theological Seminary, has served in pastoral ministry since 2002 and at Bible Center Church since March 1, 2016 (as our sixth Lead Pastor). He and Sarah (his high school sweetheart) are raising two teenage daughters, Katie and Riley, and a son, Kadyn. Together, they are advocates for adoption and all things West Virginia. In his free time, he enjoys reading, camping, hiking, kayaking, and spending time with his family and two dogs, Queso and Wasabi.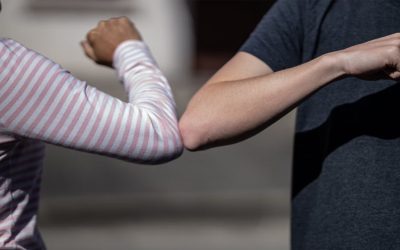 Today my son walked into school without a mask for the first time in almost two years. Instead of walking, I should probably describe him as having floated into school! When Sarah and I received the email from his principal yesterday announcing that masks are now...