In 2001, my wife and I could have died.
Well, we may never know for sure, but the odds were high. Here's the story…
As newlyweds, we delivered newspapers during our senior year of college. Each morning at 3 AM we crawled out of bed, put on our "paper route clothes," climbed into our gold Geo Prism (with "designer" hub caps and illegally tinted windows), and headed east on Highway 74 toward Shelby, NC to pick up our stack of newspapers from the Shelby Star.
For two newlyweds with part-time jobs, the extra revenue from the paper route made us feel as if we had ascended into the "rich" category of society. We were able to dine out for dinner twice per week instead of once per week. 🙂
Morning after morning, one goal was on our minds: finish delivering the papers as soon as possible and get back home with enough time to sleep a couple more hours before our first class.
One winter morning we sped down Highway 74 like every other day. "The faster we finish, the faster we'll get back to sleep," we thought.
As we approached an intersection, it felt as if something grabbed my left side. The tingling sensation—just below my bottom left rib—forced me to let off the gas and decrease well below my usual Indy 500 paper route speed.
"Why are we slowing down?" Sarah asked. "It's like something has grabbed me on my left side," I groaned.
Just then… it happened.
Up ahead, a small Ford Ranger darted across the intersection—from left to right—going what seemed like 100 mph. (There's no way to know for sure, but I've seen big league baseballs thrown at slower speeds.) The truck didn't brake. It didn't slow down. The guy had probably either fallen asleep, experienced a medical emergency, or was under the influence.
The night silence was pierced with a "Crash!" and the sound of buckling metal and plastic.
My first thought was, "Was that a drunk driver? Is that guy alive?" (Thankfully, I'm happy to report that he lived, at least as far as we know when we left the scene.)
However, when the ordeal was over, reality set in. "That guy would've hit me on the driver's side had we not slowed down! What was the invisible hand that grabbed me? Who was it that caused us to slow down? Was it a guardian angel?"
Only heaven knows. However, the Bible has much to say about angels and the supernatural world.
#1 – What is an angel?
A highly intelligent, morally good, spiritual being created by God.
Angels are mentioned many times in the Bible, appearing in 34 of the 66 books. They are discussed 108 times in the Old Testament and 187 times in the New Testament. That's a total of 295 times!
#2 – Will we become angels after we die?
No. Followers of Jesus will become like the angels, but we'll not become angels.
When Christians are raised from the dead at the last judgment, we will be glorified—like Jesus and the angels—with some kind of new "heavenly" body; however, humans are always distinct from angels.
#3 – In addition to being created, in what ways are angels like us?
Angels have limited knowledge, just like us. They can only know what they've learned. They have limited power, just like us, and they can only be in one place at one time.
#4 – In what ways are angels not like us?
In many instances, the Bible teaches that angels are stronger than us, more powerful than us, and—when not disguised—their appearance is impressive and overwhelming.
Here are two famous descriptions…
I looked up and there before me was a man dressed in linen, with a belt of fine gold… around his waist. His body was like topaz, his face like lightning, his eyes like flaming torches, his arms and legs like the gleam of burnished bronze, and his voice like the sound of a multitude… So I was left alone, gazing at this great vision; I had no strength left, my face turned deathly pale and I was helpless. Then I heard him speaking, and as I listened to him… my face to the ground. A hand touched me and set me trembling on my hands and knees. (Daniel 10:5-10)
There was a violent earthquake, for an angel of the Lord came down from heaven and, going to the tomb, rolled back the stone and sat on it. His appearance was like lightning, and his clothes were white as snow. The guards were so afraid of him that they shook and became like dead men. (Matthew 28:2-4)
Furthermore, unlike us, there's no forgiveness or salvation available to the ones who have turned their back on God. In his second inspired letter, the Apostle Peter makes this very clear…
God did not spare the angels who sinned, but cast them down to hell and delivered them into chains of darkness, to be reserved for judgment. (2 Peter 2:4)
The ramifications of this reality are far too expansive for a blog post like this one; however, be encouraged that angels and humans need not suffer the same fate.
For God so loved the world that he gave his one and only Son, that whoever believes in him shall not perish but have eternal life. (John 3:16)
According to reliable first-century witnesses, Jesus of Nazareth lived a perfect life and died on the cross, giving himself as a sacrificial substitute for our sins and absorbing the judgment we rightfully deserved. He rose again three days later, ascended back to heaven 40 days later, and still offers forgiveness, righteousness, His Spirit, and eternal life at the moment anyone repents and believes.
Believe on the Lord Jesus Christ and you will be saved!
#5 – What do angels do in heaven?
They worship God and are part of His staff team.
#6 – What do angels do on earth?
They patrol the earth as God's representative, wage war on Satan and his demons, and serve, guard, and protect us.
On one occasion, God granted spiritual eyes to a man who needed faith, "He looked and saw the hills full of horses and chariots of fire all around Elisha." (2 Kings 6:17)
Other promises include:
For he will command his angels concerning you to guard you in all your ways. (Psalm 91:11)
Are not all angels ministering spirits sent to serve those who will inherit salvation? (Hebrews 1:14)
Additionally, they serve as God's messengers and carry out God's judgments.
#7 – Does everyone have a guardian angel?
We can't be sure. The Bible is clear that angels guard particular nations, churches, and people; however, the Scriptures never teach that each person—or even each believer—has his/her own guardian angel.
Jesus' words about children in the Gospel of Matthew is as close as the Bible gets to a definitive statement on guardian angels…
See that you do not despise one of these little ones. For I tell you that their angels in heaven always see the face of my Father in heaven. (Matthew 18:10)
Does "their angels" indicate a specific, one-on-one guardian angel for each child? Possibly. Only heaven knows.
To use a basketball image, it's clear that the angels (at least) seem to play "zone" defense, if not "man-to-man."
#8 – Are all angels alike?
No. Angels are innumerable and seem to have different names, ranks, and job assignments. The only three mentioned by name are Michael, Gabriel, and the fallen angel Lucifer (Satan).
#9 – Can we see angels?
Yes, but only if one of the following is true:
First, we can see angels if God opens our eyes to the spiritual world. On one of many occasions…
The Lord opened Balaam's eyes, and he saw the angel of the Lord standing in the road with his sword drawn. So he bowed low and fell facedown. (Numbers 22:31)
Furthermore, it's quite possible that we've met angels disguised in human form. It happened to the ancient Jewish patriarch Abraham, and again to the witnesses of Jesus' empty tomb.
The writer of Hebrews cautions us…
Do not forget to show hospitality to strangers, for by so doing some people have shown hospitality to angels without knowing it. (Hebrews 13:2)
#10 – What's the big idea to remember about angels?
Angels are always near to remind us God is here.
As mere representatives of God's presence, let us be thankful for the angels around us; however, let us be even more grateful for the God who loves us enough to send them.
Angels are always near to remind us God is here.
For more study on angels, see the Crafted series page.
Matt Friend, a Charleston native and tenth-generation West Virginian, graduated from the Southern Baptist Theological Seminary, has served in pastoral ministry since 2002 and at Bible Center Church since March 1, 2016 (as our sixth Lead Pastor). He and Sarah (his high school sweetheart) are raising two teenage daughters, Katie and Riley, and a son, Kadyn. Together, they are advocates for adoption and all things West Virginia. In his free time, he enjoys reading, camping, hiking, kayaking, and spending time with his family and two dogs, Queso and Wasabi.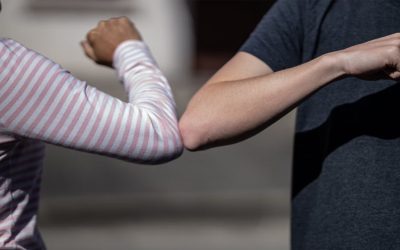 Today my son walked into school without a mask for the first time in almost two years. Instead of walking, I should probably describe him as having floated into school! When Sarah and I received the email from his principal yesterday announcing that masks are now...